Mumbai Shopping Guide - Find where and what to shop and buy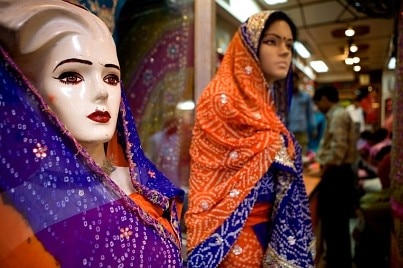 Mumbai isn't a shopping paradise along the lines of Singapore or Bangkok. Even though this is a great city of commerce. Mass retail has yet to really catch on and department stores or shopping malls are very thin on the ground. Instead, visitors should aim for eclectic market purchases or excellent second-hand buys.
Gathered around the Fort area are Mumbai's celebrated second-hand book vendors. These stalls line the walls of most buildings in the area and dusty paperbacks and leather-bound classics are piled high and accessed by nimble assistants on ladders.

Traditional garments like the salwar kameez for women or the kurta for men are particularly good value in Mumbai and most of the fabric is weaved and dyed locally. The downtown Melange boutique that stocks bright and flashy Bollywood-style accessories and leather goods typifies Mumbai high-end shopping.


Colaba Street Market
Running down the Colaba Causeway and busy well into the night is this nexus of pirated DVDs and CDs, designer knock-offs and every type of incense, oil and perfume imaginable. Stop off for refreshments at any of Colaba's café s and bars before re-joining the fray.


Bhuleshwar Market
Several blocks of the Fort region are taken up by this diverse and very busy market that specializes in fresh produce (any fruit you can peel, such as mangos and bananas, are safe to eat and very delicious) as well as leather goods and antiques.


Central Cottage Industries Emporium
A combination of gallery, museum and shopping center, the Emporium is a showcase of regional handicrafts and traditional fabrics and garments. Located near the Gateway of India, it is more formal and organized than the outdoor markets and the Emporium offers outstanding range and competitive prices.


Mumbai shopping tips
Be sure to take plenty of cash when you hit the Mumbai stores or street markets as credit card facilities are uncommon, even inside air conditioned shops. Haggling for the best price is mandatory at any Mumbai market, but not accepted at formal, indoor retailers. If you don't have an expert eye, buy 'antiques' for their decorative value only, and pay accordingly.
Discover
Find your perfect holiday in Mumbai
From 1100 hotels.