5 Great Rooftop Restaurants in Paris
Paris Restaurants with Amazing Views
This list of great rooftop restaurants in Paris will please all those who dream of a dinner with a view in "the City of Lights". Unlike New York City or Bangkok, Paris is not famous for its skyscrapers as most of its buildings are not that tall. But who said that you need to go super high to enjoy a stunning view in a city that's over 2,000 years old and filled with historical landmarks? We've picked out a few great options for a range of budgets, boasting romantic and vibrant atmospheres and, of course, views to die for.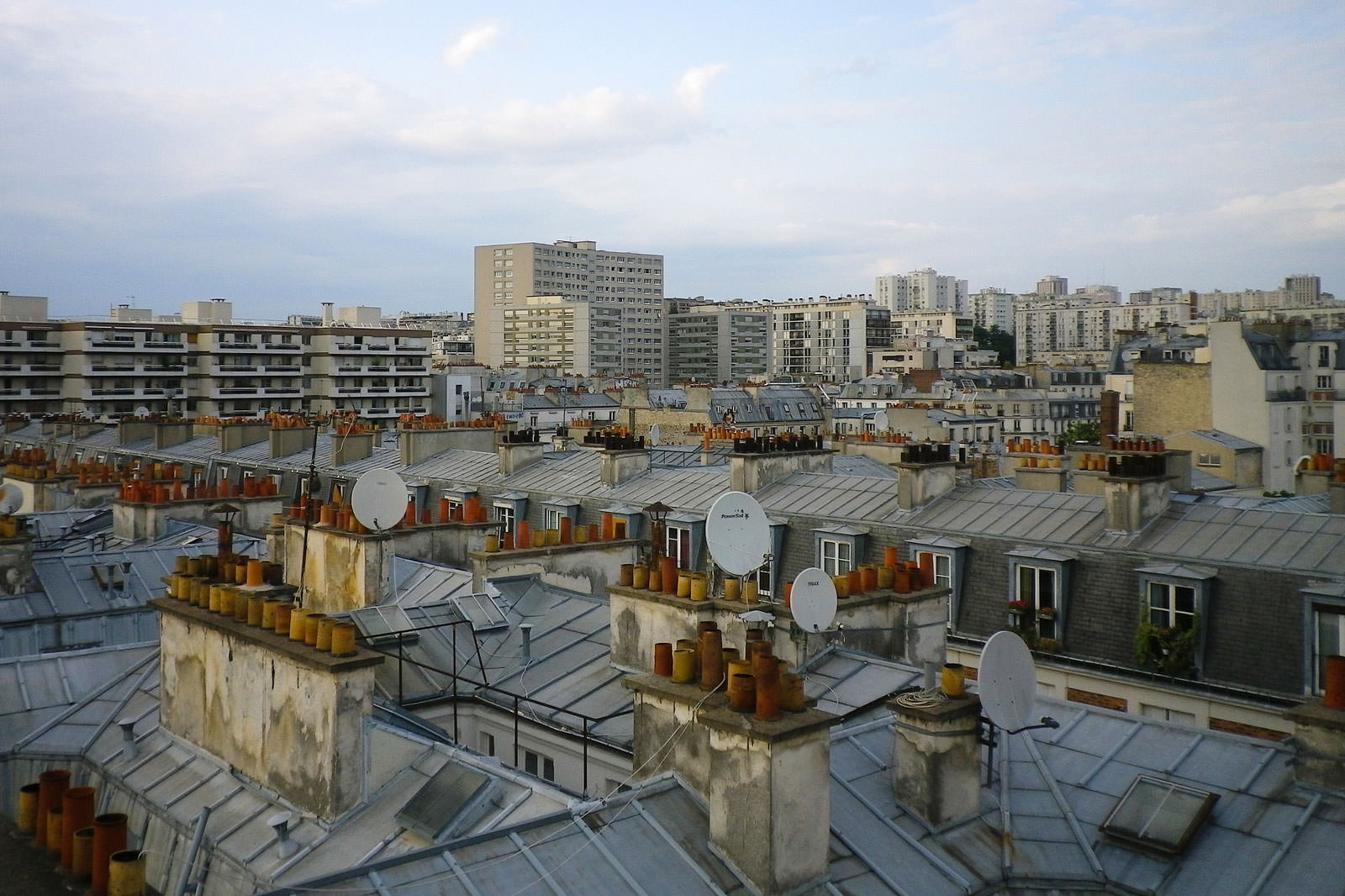 Le Perchoir
Cool rooftop cocktail bar and restaurant in Ménilmontant
This popular hipster rooftop bar and restaurant sits on the 6th and 7th floors of an industrial building 600 metres northwest of the Père Lachaise Cemetery. The rooftop terrace is huge and offers great views of Paris and especially of the Sacré-Coeur Basilica. With a vintage industrial design, Le Perchoir features covered and open-air areas. It's reasonably priced and it has a great vibe and party atmosphere on weekends. Choose a hotel near the 10th Arrondissement for short walking distances.
Location: 14 Rue Crespin du Gast, 11th Arrondissement, Paris, France
Open: Monday – Thursday from 6pm to 2am, Friday – Saturday from 4pm to 2am, Sunday from 2pm to 12am
Phone: +33 (0)1 48 06 18 48
photo by Sam Nabi (CC BY-SA 2.0) modified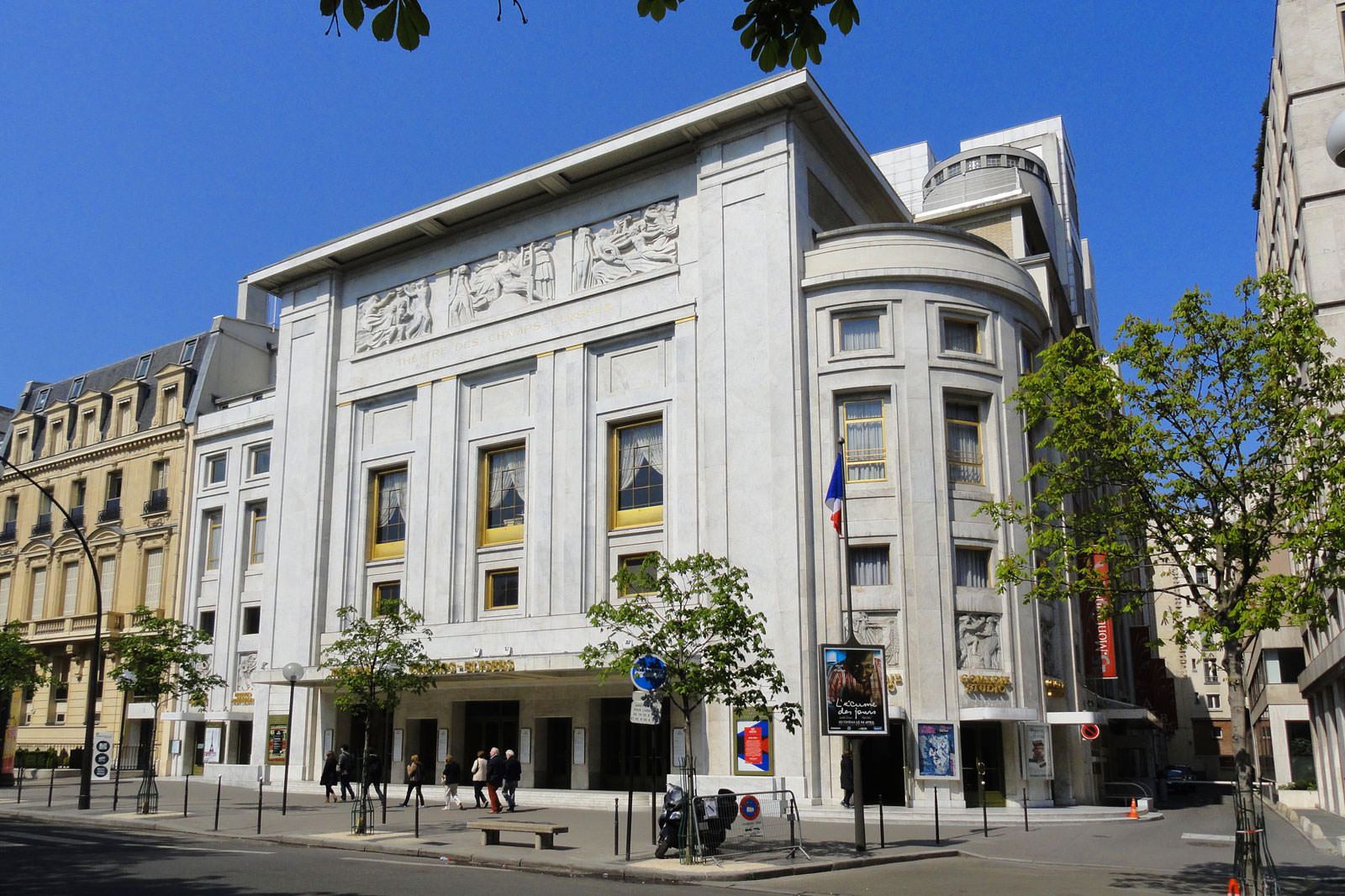 Maison Blanche
First-class cuisine with breathtaking views of the Eiffel Tower
Maison Blanche is a posh venue on the rooftop of the Champs-Elysées Theatre. Occupying 2 floors, it features 2 outdoor terraces named George V and Montaigne, as well as a glass-roofed dining room. The terraces offer breathtaking views to the Eiffel Tower, the Dôme des Invalides, and the Seine River. The cuisine served at Maison Blanche is first-class, and the restaurant becomes a trendy nightclub on weekends. Hotels near the 8th Arrondissement are a good option if you're looking to stay closeby.
Location: Avenue Montaigne, on the rooftop of Théâtre des Champs-Elysées, 8th Arrondissement, Paris, France
Open: Monday – Friday from 12pm to 2pm and from 7pm to 10.30pm, Saturday – Sunday from 7pm to 10.30pm
Phone: +33 (0)1 47 23 55 99
photo by Coldcreation (CC BY 3.0) modified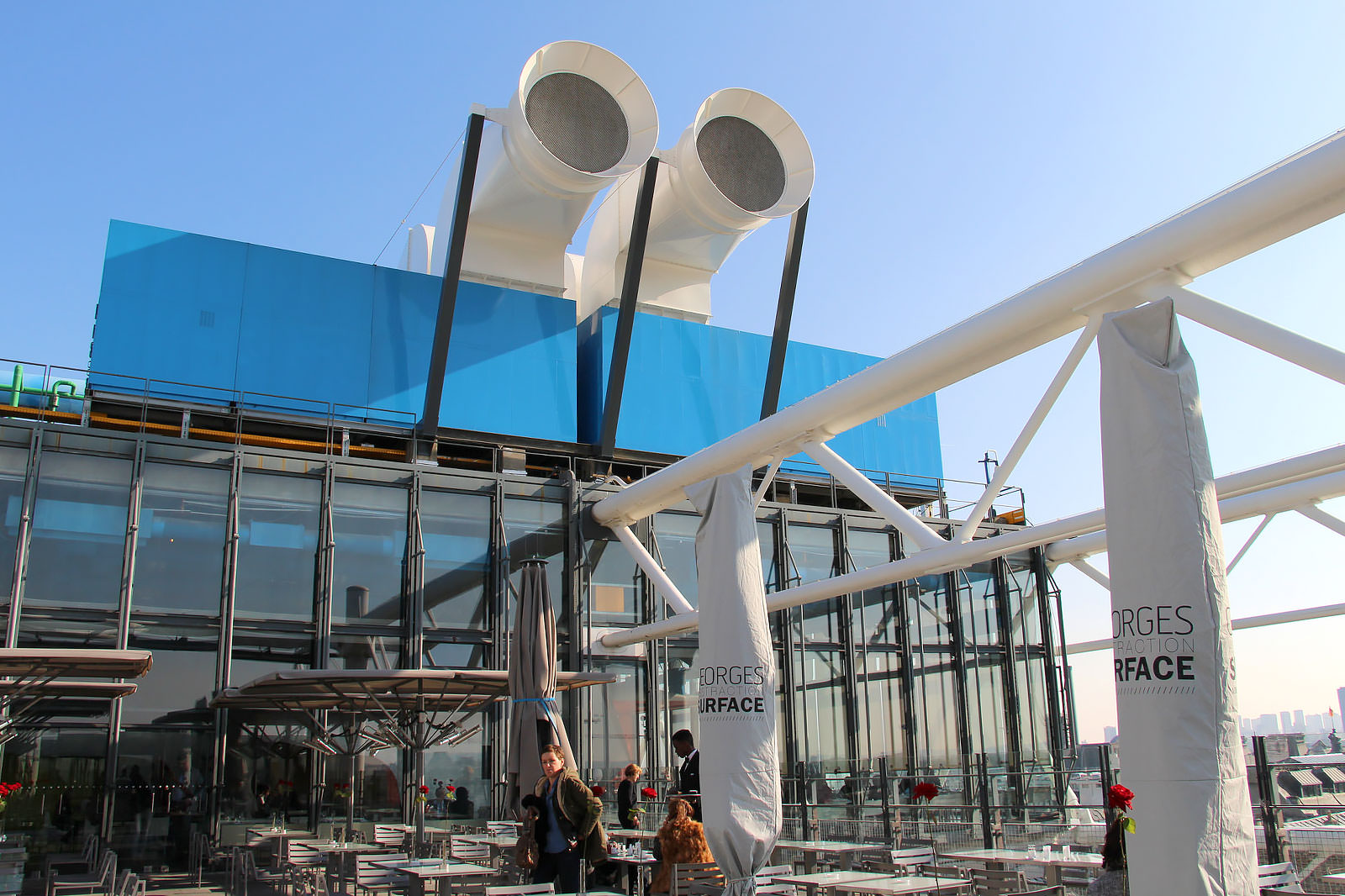 Georges
Contemporary-style restaurant on the roof of a Paris landmark
Indulge yourself with a drink or a meal on the rooftop of the famous Pompidou Centre, which hosts a stylish bar and restaurant. In line with the Modern Art Museum underneath, Georges is a modern venue that offers stunning views of Paris, encompassing the Eiffel Tower and Notre-Dame Cathedral. You can fully enjoy the views whatever the weather as both covered and outdoor spaces are available.
Location: On the rooftop of the Georges Pompidou Centre, 4th Arrondissement, Paris, France
Open: Wednesday – Monday from 12pm to 12am (Closed on Tuesdays)
Phone: +33 (0)1 44 78 47 99
photo by Fred Romero (CC BY 2.0) modified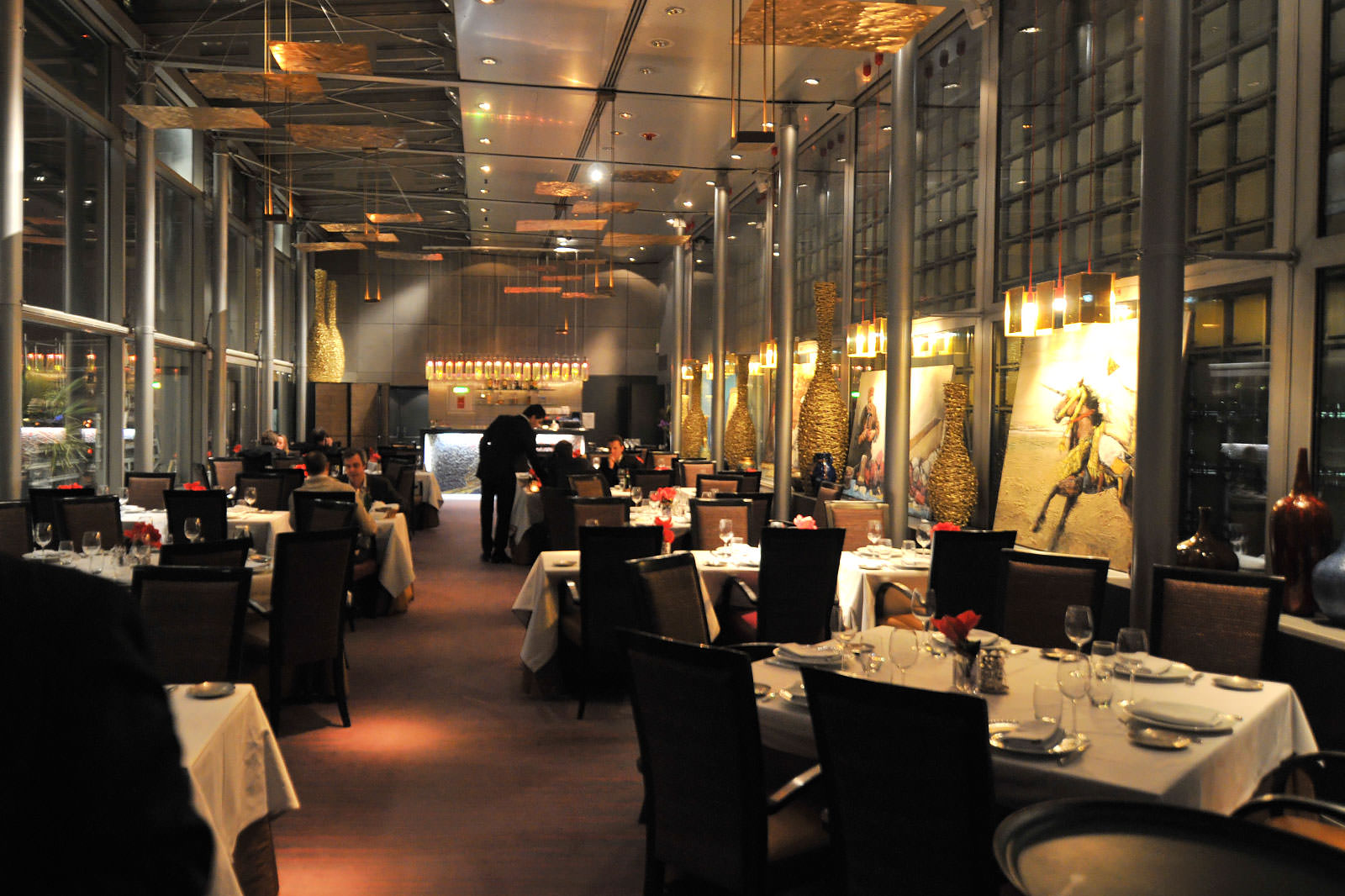 Le Zyriab by Noura
Delicious Lebanese cuisine and great views of the Seine River
Le Zyriab by Noura is a chic venue by the side of the Seine River, on the rooftop of the splendid Arab World Institute. Featuring a Middle East-inspired modern design, the restaurant specialises in Lebanese cuisine. From the terrace, you have a superb view of the Seine River, Saint-Louis Island and Notre-Dame Cathedral.
Location: Arab World Institute, 5th Arrondissement, Paris, France
Open: Tuesday – Saturday from 12pm to 3pm and from 7.30pm to 11pm, Sunday from 12pm to 3pm (Closed on Mondays)
Phone: +33 (0)1 55 42 55 42
photo by Serge Melki (CC BY 2.0) modified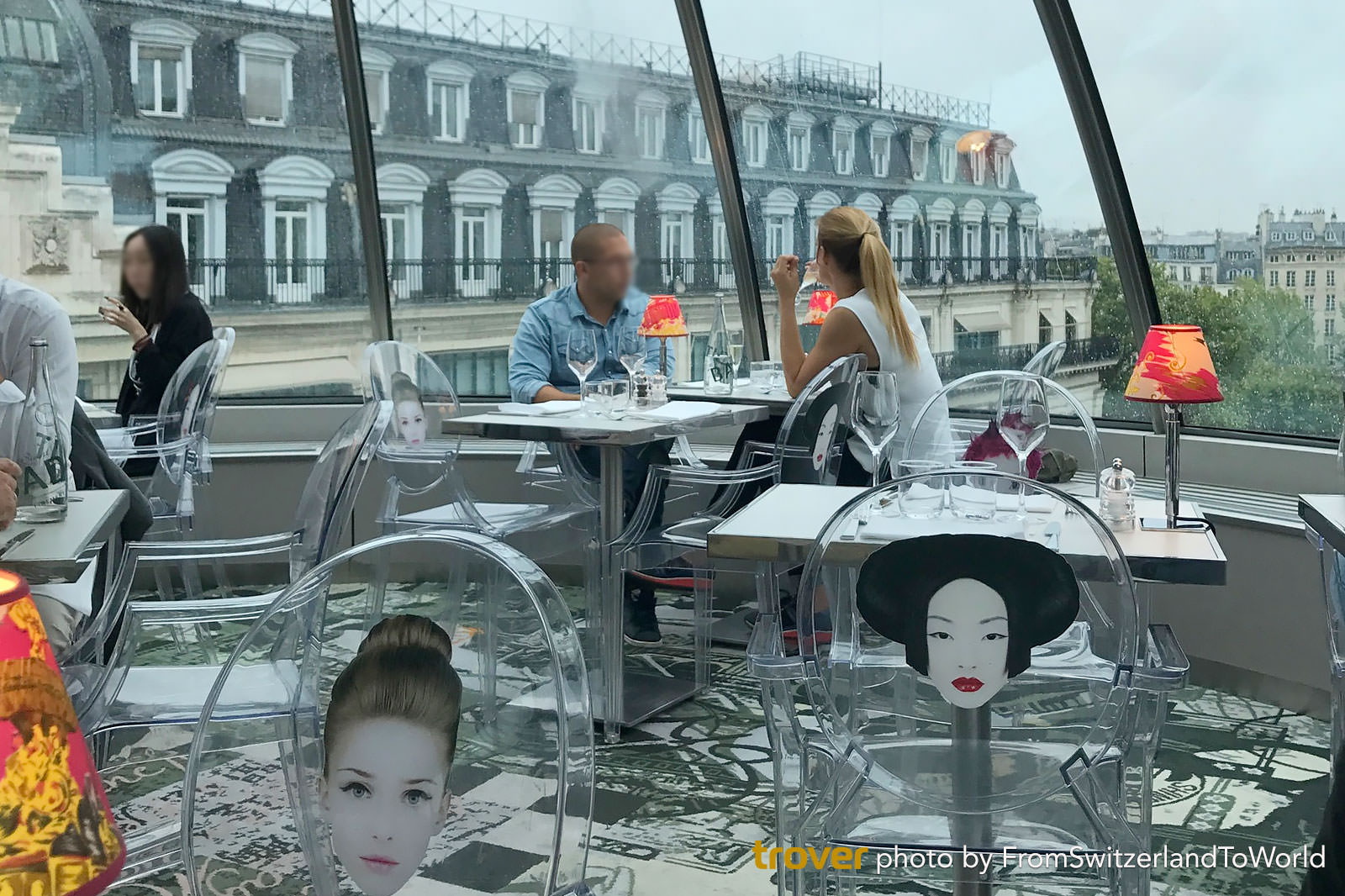 Kong
Cosmopolitan experience with a view of downtown Paris
"Audacious, unique and spectacular" are the 3 adjectives that Kong uses to describe itself. Settled on the 5th floor of a Haussmannian building, this fashionable Japanese/Asian restaurant features a glass-roofed dining room which offers great vistas of Paris rooftops, the Pont Neuf and the Seine River. Prices are a bit steep, but you'll have a unique cosmopolitan experience here. Where else can you eat Asian cuisine in a sophisticated restaurant on top of a 19th-century French building? It perfectly suits the motto.
Location: 1 Rue du Pont Neuf, 1st Arrondissement, Paris, France
Phone: +33 (0)1 40 39 09 00