10 Best Beaches in Germany
Which German Beach is Best For You?
If I say "white-sand beaches lapped by warm, turquoise seas" Germany is probably not your first thought. The Baltic Sea and the North Sea lack the attractive reputation of, say, the Mediterranean or Adriatic. However, what little coastline Germany does have is often just as inviting as that of Italy, Spain and Southern France.
You'll find sun, sea, sand, surf, and stuff to do at plenty of great German beach resorts, but we've picked out the best of the lot. We've focussed on variety, so you'll hopefully find the best beach for you and your specific needs among our selection. Even so, most have plenty of the distinctive Strandkörbe – the uniquely German beach chair with built-in windbreak.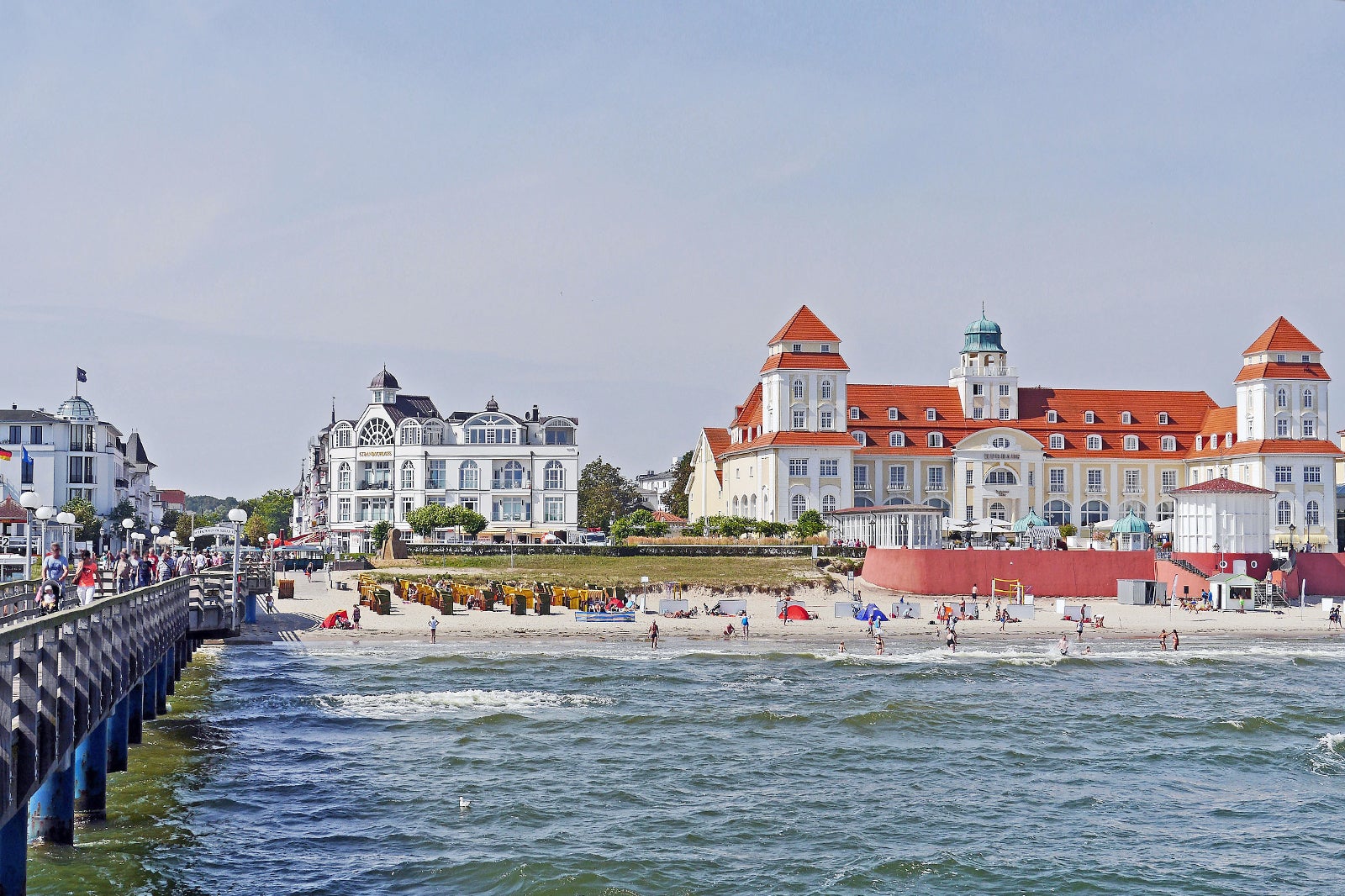 Binz Beach, Rügen
Germany's sunniest beach…one of them, anyway
Rügen is the biggest of Germany's islands and is ringed by many excellent beaches. It's been a popular resort destination for decades, thanks to the beautiful turquoise seas, white chalk cliffs, ancient beech forests and, of course, lovely white-sand beaches. It gets an average of 1,800 hours of sunshine per year, making it one of the hottest and sunniest parts of Germany. Of the 60 km of sandy shores to choose from, Binz is among the most popular beaches. The town itself has a lovely historical charm, with tree-lined boulevards and old-fashioned buildings. For a relaxing break, choose hotels found in the area around Binz.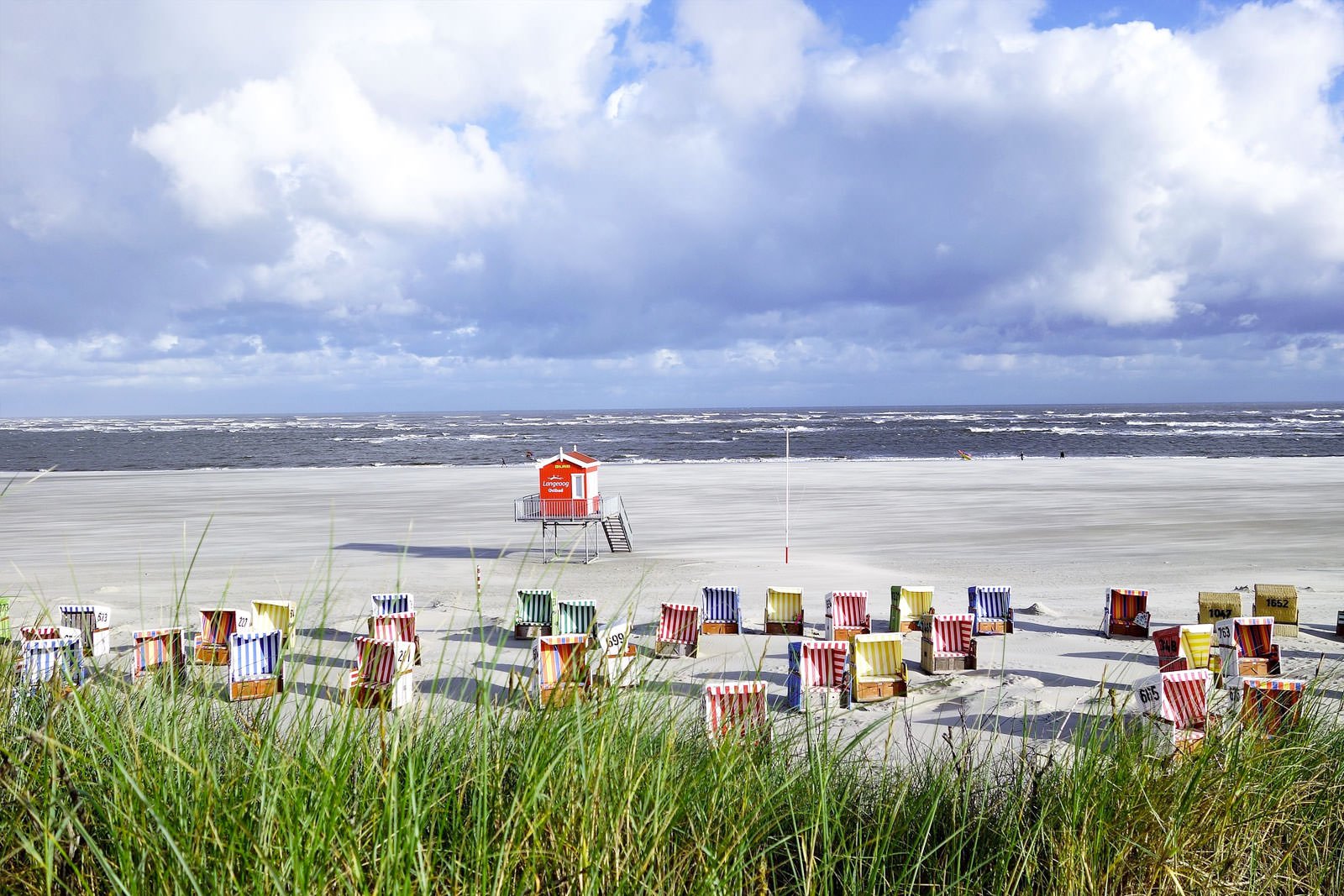 Langeoog Beach, Langeoog
The best for a quiet getaway
Among the islands that line the northwest coast of Germany, Langeoog stands out as one of the best. Cars are not permitted on the island, so you can only get around on bicycles and horse-drawn carriages, as well as a very short rail line between the port and the main town. It's a very picturesque place, with a long white-sand beach running the entire length of the island and plenty of colourful Strandkörbe.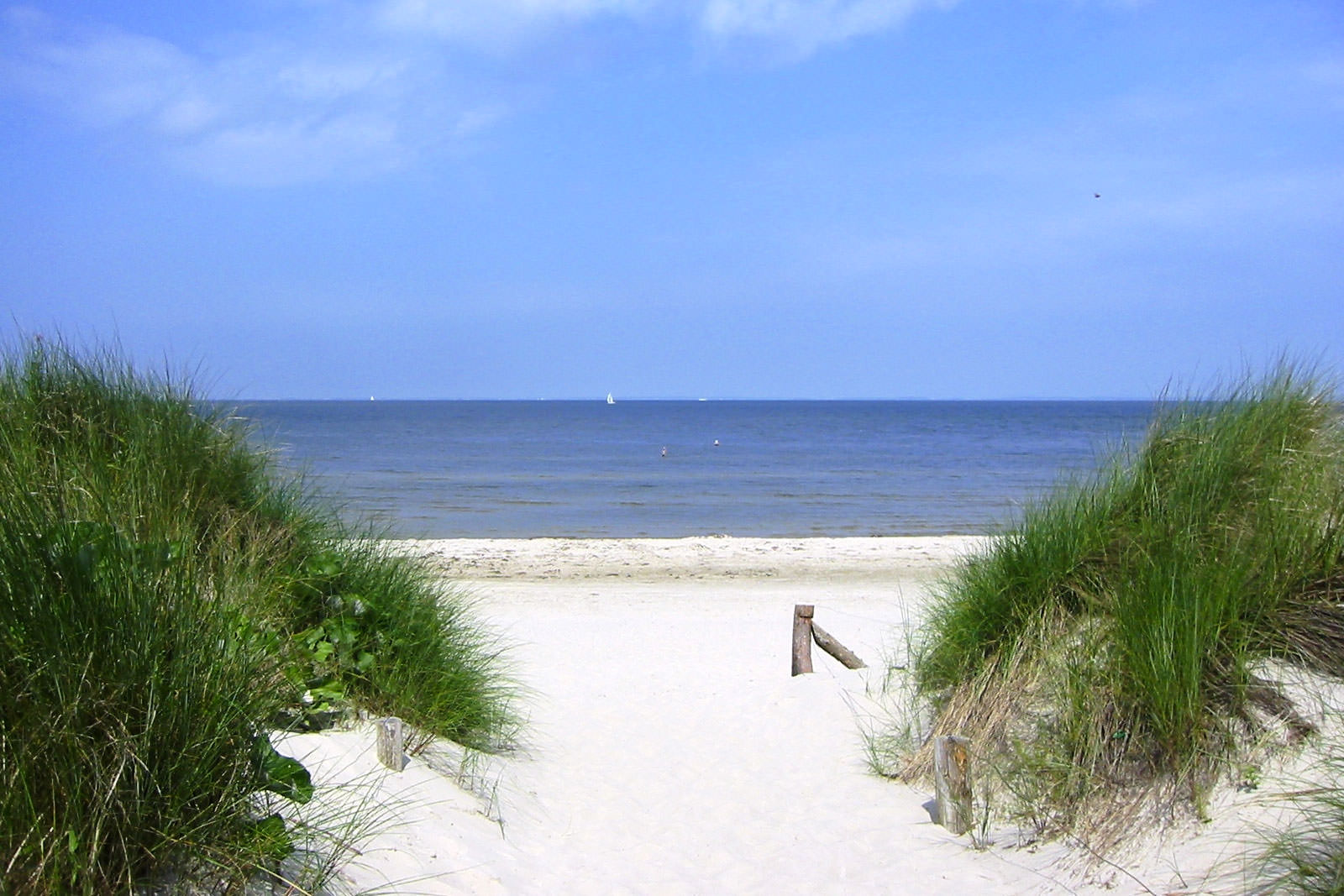 Lubmin Beach, Griefswald
Best nudist beach in Germany
We had to mention Germany's famous nudist culture at some point! Freikörperkultur is firmly embraced on the beach of Lubmin on the Baltic coast. It's also a genuinely nice beach, with lovely scenery provided by the rugged cliffs and pine forests nearby. There are plenty of outdoor activities you can enjoy when you're not working on your all-over tan, including hiking, horseback riding, and fishing.
photo by Assenmacher (CC BY-SA 3.0) modified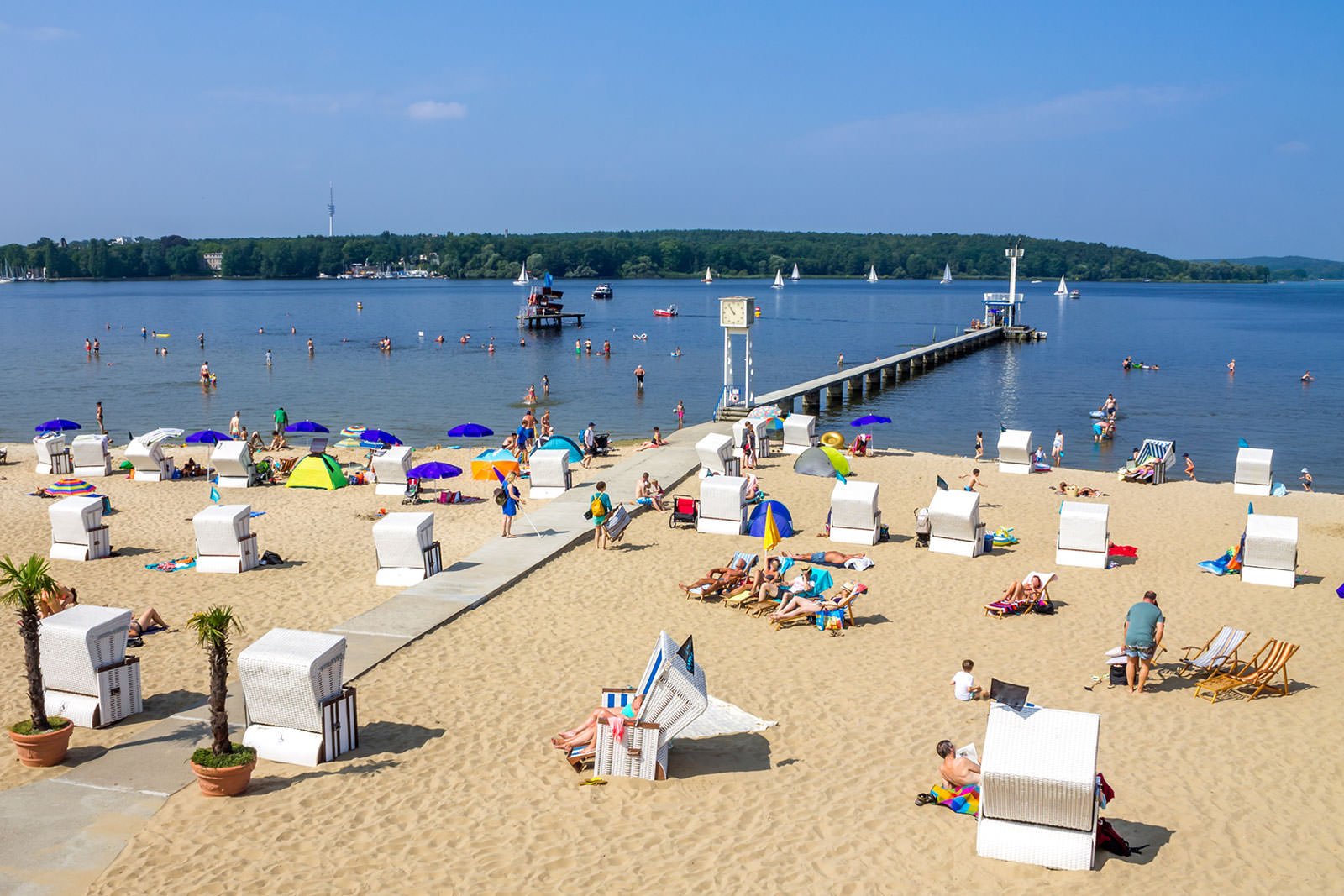 Wannsee Beach, Berlin
Best lake beach
Germany doesn't have a massive amount of coastline, compared to other European countries, but it makes up for it with some really fantastic (and very large) inland lakes. The Wannsee Lake, being the biggest around Berlin, is very popular on warm weekends. Aside from being a good spot for sailing, there are some lovely white-sand beaches where you can escape the city for a day without having to travel too far. Opt for nearby accommodation in the Zehlendorf area.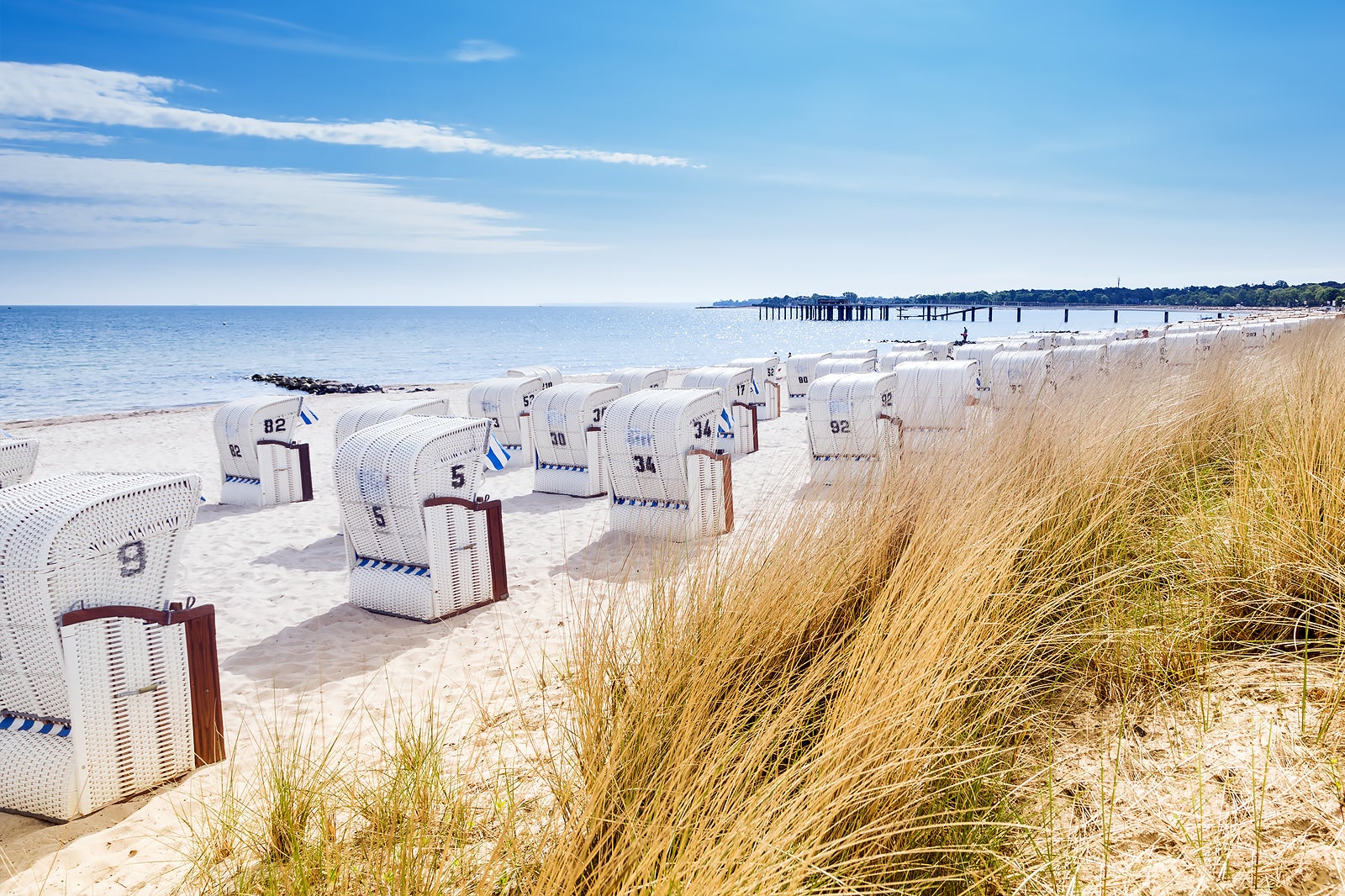 Timmendorfer Beach, Niendorf
Best for beach sports
The beaches around Lübeck are a bit of a local secret – widely known and popular among Germans, but with very few overseas visitors. This isn't a quiet, sleepy place, though. The 6 km sandy beach is lively, with a beach volleyball arena, beach football at the sports club, and regular seaside concerts. There are plenty of other fun attractions nearby, making this a particularly good spot if you get bored of sunbathing quite quickly.
Families
Budget
Adventure
Unusual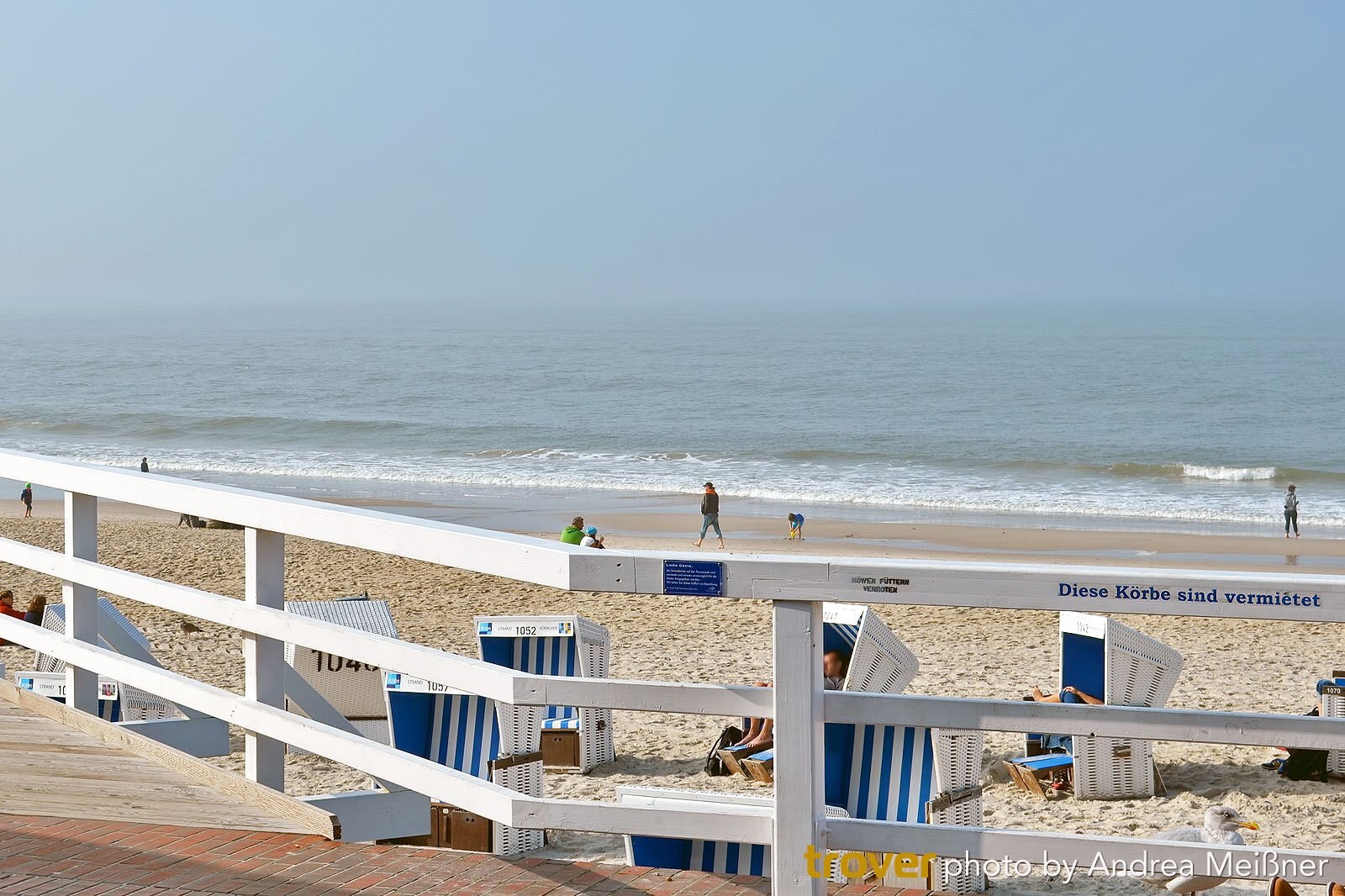 Westerland Beach, Sylt
Germany's best luxury beach destination
Westerland is effectively the Monaco or Cannes of Germany – the place where the rich and famous go to relax. Sylt is the northernmost of Germany's islands, known as the 'Queen of the North Sea', and has nearly 40 km of pristine sandy beaches. There's quite a lot of variety available, but Westerland has that distinctive luxury atmosphere, made all the more special when you're enjoying probably the best seaside sunsets in the country.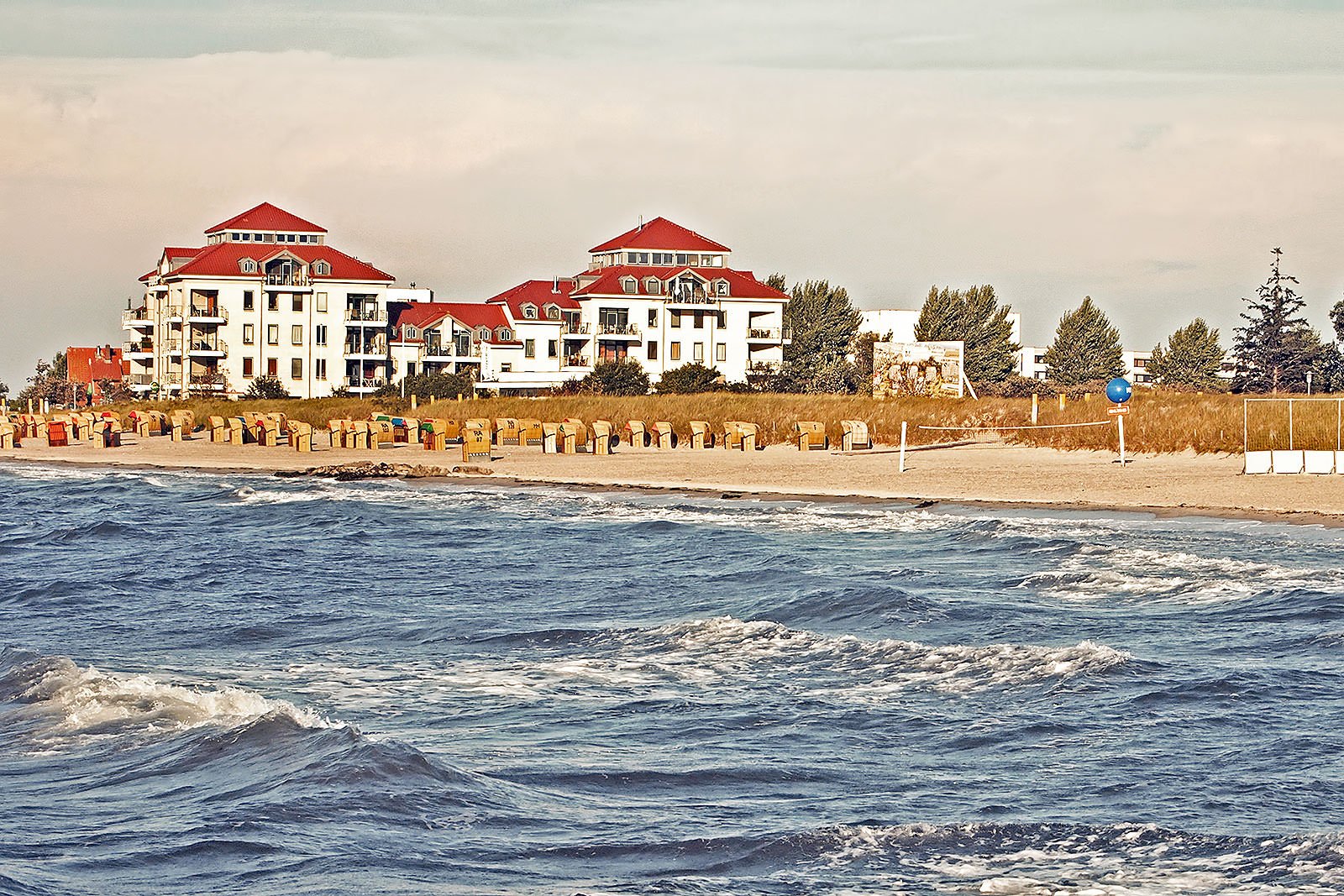 South Beach, Fehmarn
Best place in Germany for watersports
Fehmarn Island, in the Baltic Sea, is Heaven for kitesurfers and windsurfers. Naturally, this means it's a little windy for the average beachgoer and doesn't have the same 'gentle sea breeze' idyll that other places around Germany have but, if you want to catch some big air off the top of a wave, there are few finer places, regardless of your skill level and experience. It's also a good spot for bird-watchers, with egrets and cormorants aplenty in the Wallnau Water Bird Reserve on the west side of the island.
photo by Torsten Behrens (CC BY 2.0) modified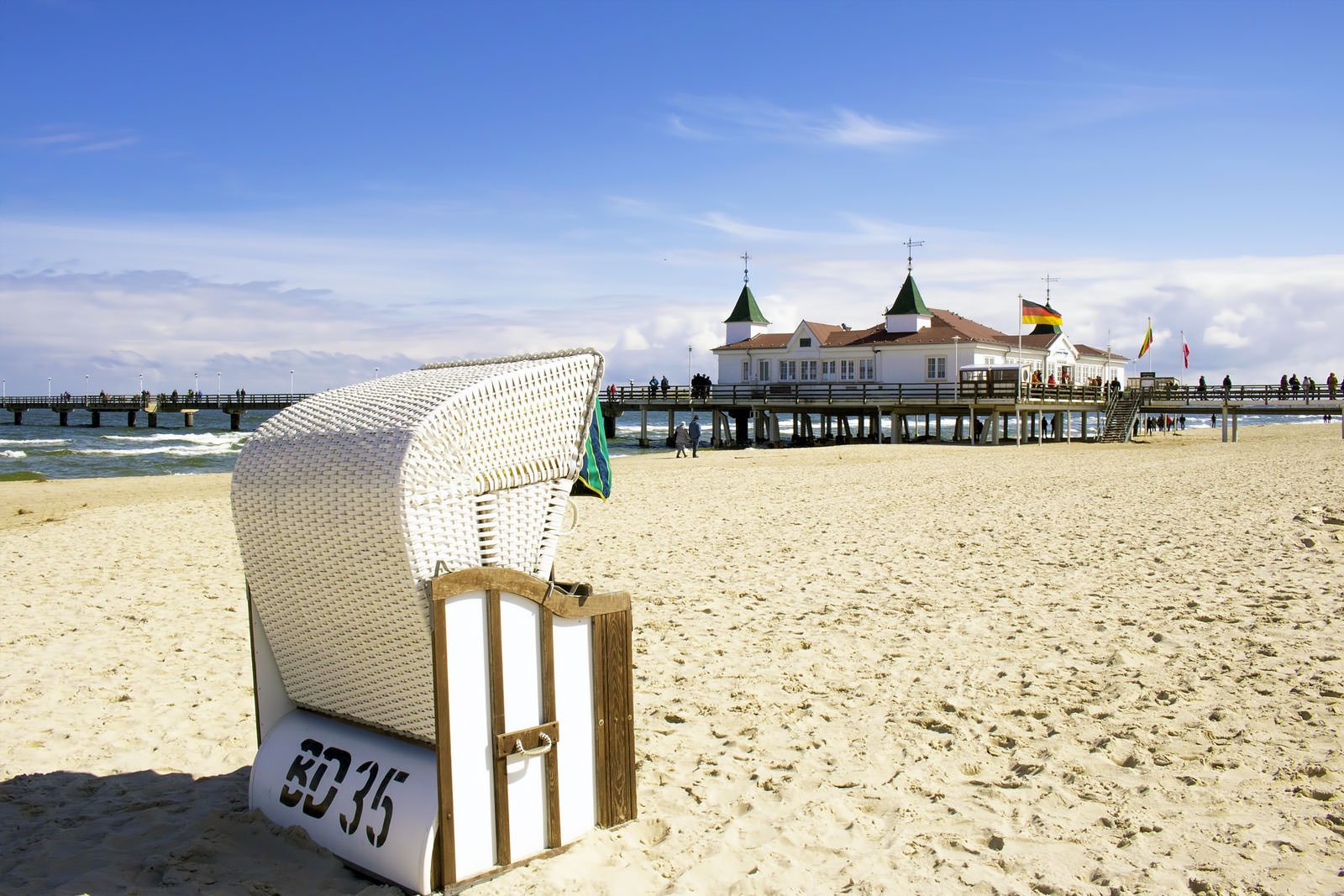 Ahlbeck Beach, Usedom
Germany's noisiest beach
It's an odd thing for a beach to be noteworthy for, but the sands of the Baltic Island of Usedom are famous for 'singing'. When the wind is blowing in just the right way, the fine grains rub together to create a ghostly squeaking sound. The island was once a popular weekend retreat for the German emperors and monarchs, so has the genteel feel of old-fashioned luxury. Ahlbeck, in particular, has a uniquely German feel, thanks to its historical pier and promenade, as well as plenty of places to enjoy traditional German treats.
History
Photo
Budget
Unusual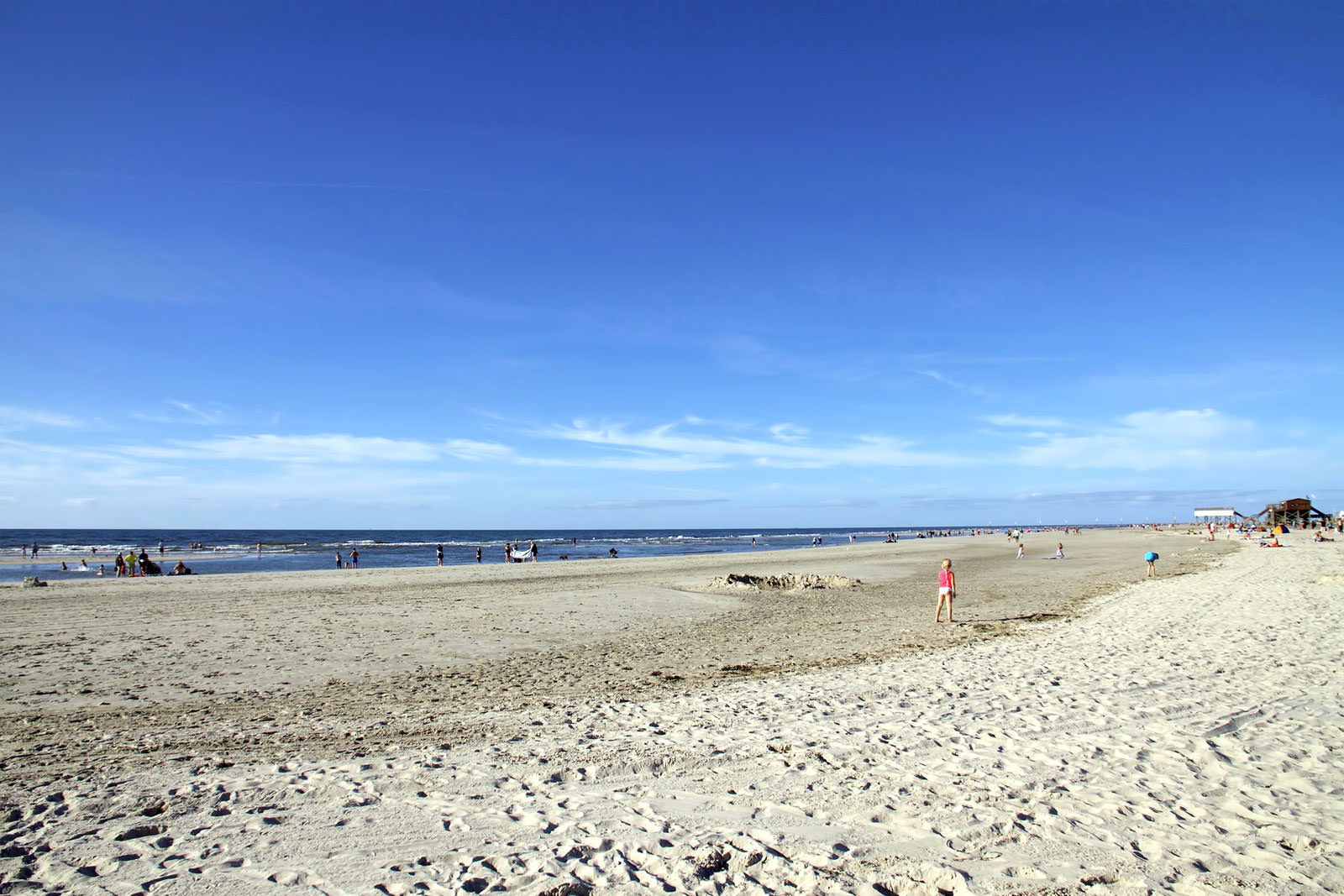 Ording Beach, St. Peter-Ording
Best for health and wellness
St. Peter-Ording boasts the same fame as Scarborough in the UK does – a seaside town noted for its sulphurous springs. The healing properties of such water is debateable, but the fact that numerous spas and wellness centres have sprung up here makes it a great place for a properly relaxing getaway. The massive sandy beach is almost an afterthought, as are the waves that make this among the better surfing spots in Germany.
Couples
Budget
Luxury
Adventure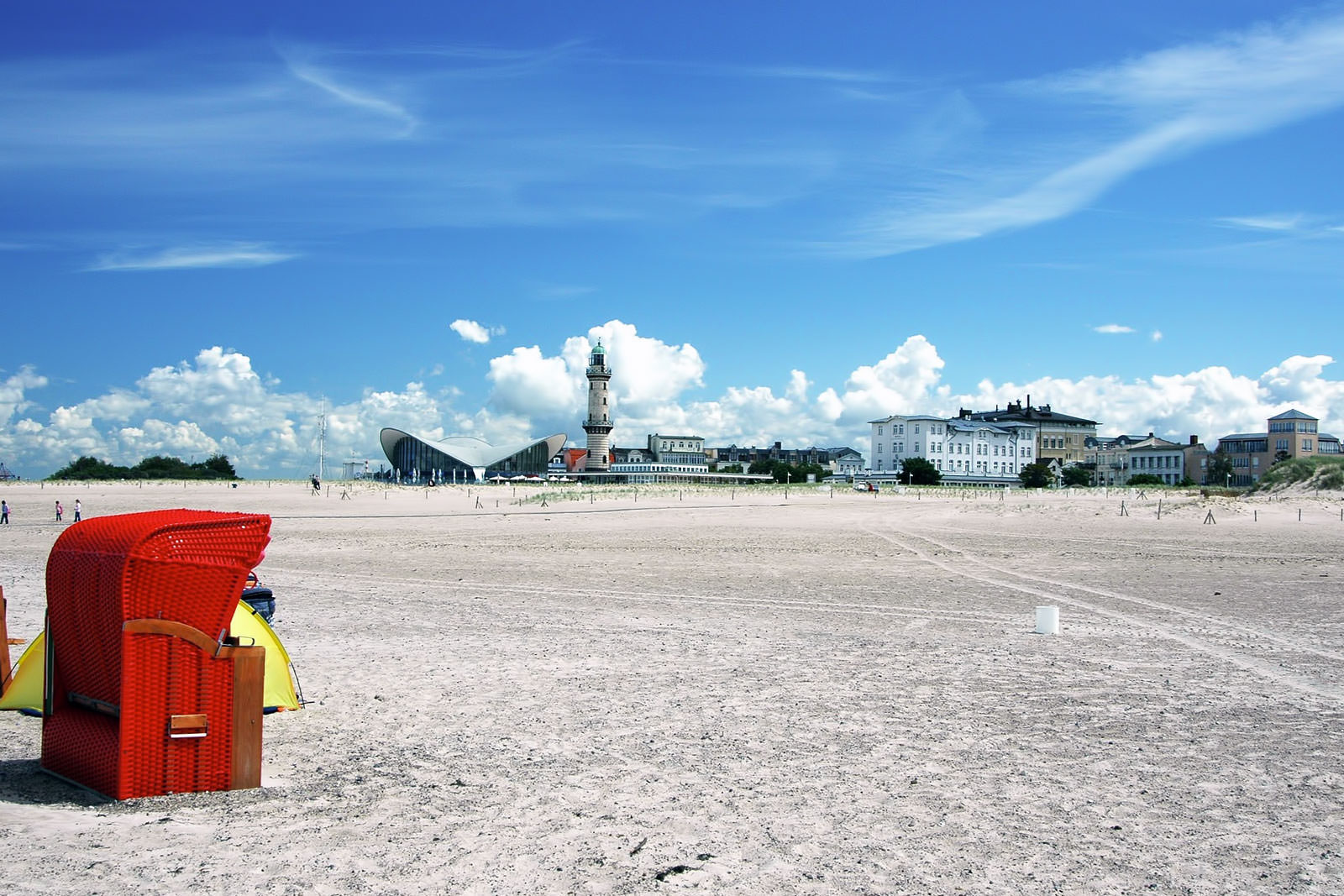 Warnemünde Beach, Rostock
Best family beach in Germany
Warnemünde Beach is conveniently close to the popular town of Rostock, and is the nearest beach to the busy cruise terminal there. It's a great destination for a family holiday since there are plenty of fun activities and attractions nearby. This outlying district of the major port town is packed with hotels, restaurants, and parks, and the nearby marina provides the opportunity for boat trips or trying your hand at sailing. The water stays quite shallow for a good distance from the shore, making it a safe place for children to take a dip, too. For accommodation near Warnemunde Beach, there's a few options to choose from.