9 Best Restaurants in New Territories
Where to Eat in New Territories Hong Kong
Some of the best restaurants in the New Territories cater mainly to locals, which means fans of authentic Cantonese cuisine are in for a real treat! Whether its fresh seafood or a dim sum lunch, you can find the real taste of Hong Kong in this region.
Having spent some time exploring the New Territories' charm, your trip would not be complete without stopping for a meal at these long-running restaurants. You'll also find international venues dotting the New Territories, from seaside to roadside dining.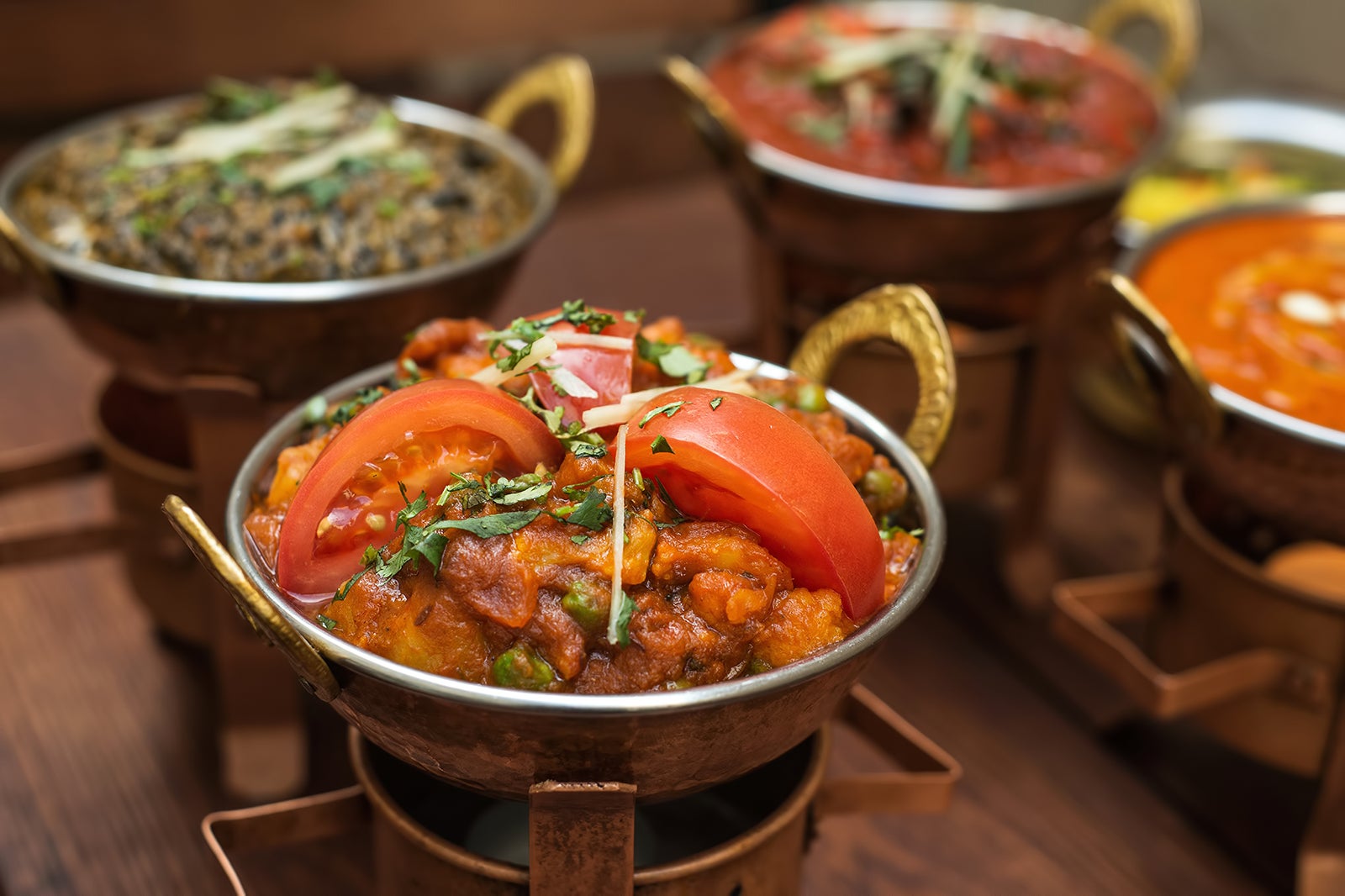 Asra Indian Restaurant serves authentic dishes such as tandoori naan, seafood curry hot pot, mutton paneer, and tikka masala. Located on the first floor of Sha Tin Galleria on Shan Mei Road, this family-run restaurant also has a vegetarian menu, as well as halal options for those with specific dietary needs. Delivery services are available for dinner.
Location: Shop No. 15, 1/F, Shatin Galleria, 18-24 Shan Mei Street, Fo Tan, Shatin, New Territories, Hong Kong
Open: Daily from 11am to 3pm and from 5pm to 10pm
Phone: +852 3188 0852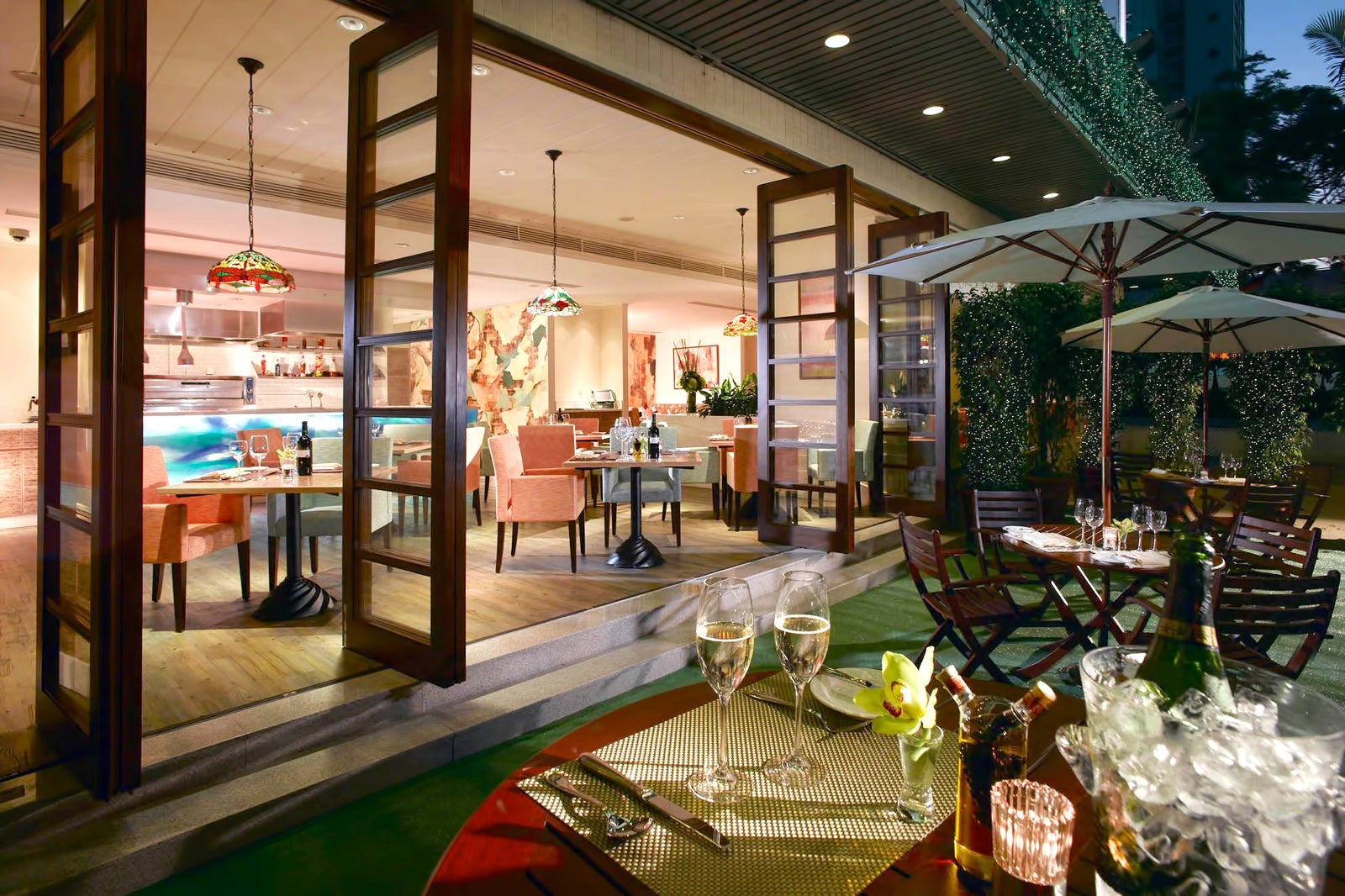 Avanti Pizzeria occupies the 1st floor of Regal Riverside Hotel Hong Kong, and offers a relaxing riverside dining experience. The restaurant serves 7 types of authentic Italian-style pizzas, freshly baked in a wood-fired oven. You can also find steaks, pastas, soups and salads on the menu. Avanti Pizzeria is popular among those looking to enjoy a traditional Italian candlelit dinner setting.
Location: G/F, Regal Riverside Hotel, 34-36 Tai Chung Kiu Road, Shatin, Hong Kong
Open: Sunday–Thursday from 11.30am to midnight, Friday–Saturday from 11.30am to 1am
Phone: +852 2132 1235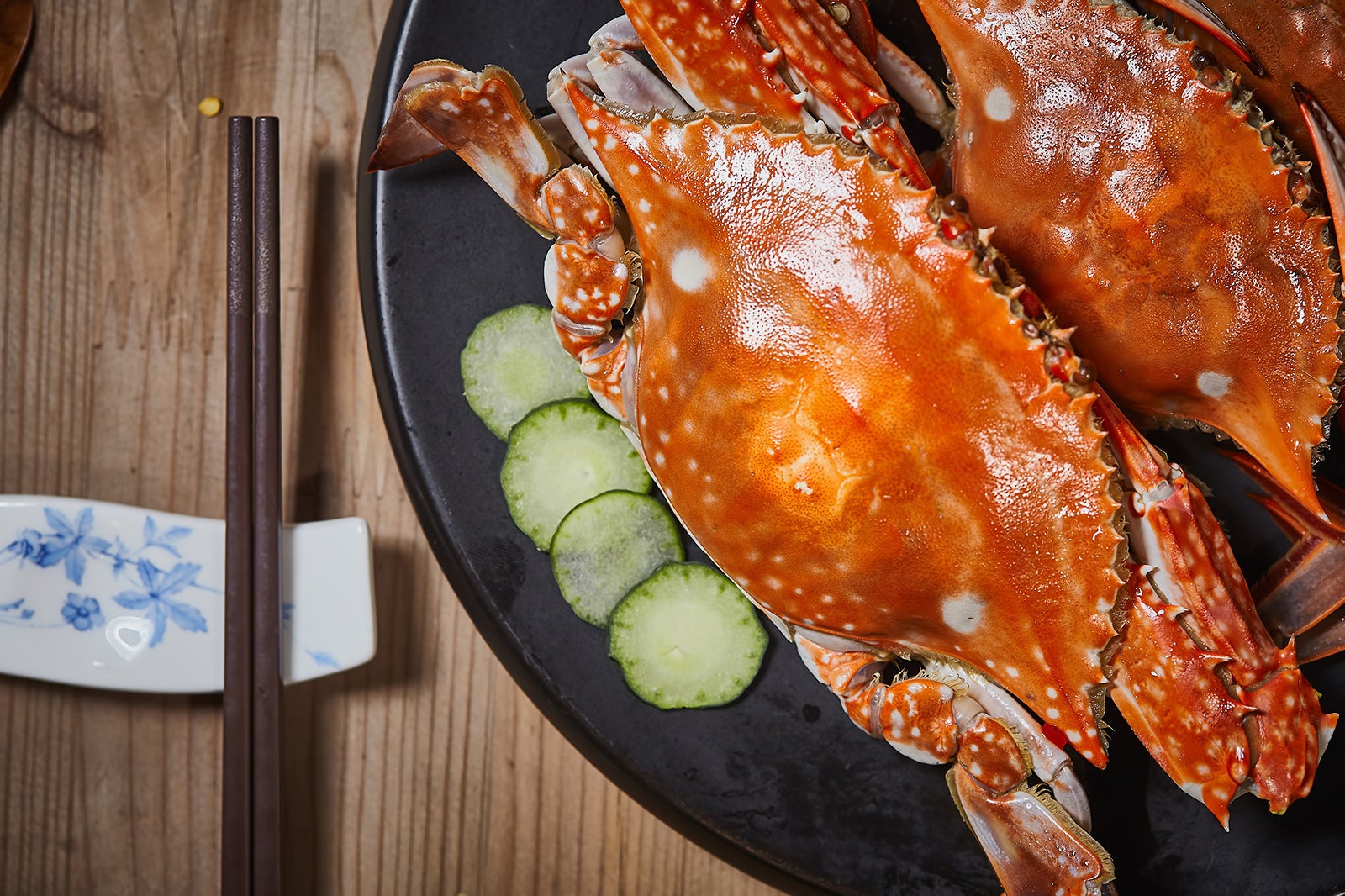 Chuen Kee Seafood Restaurant
Chuen Kee is a typical Chinese seafood restaurant in Hong Kong's Sai Kung district. Located near the harbour, you'll find scallops, shrimps, crabs, prawns, abalone, lobsters and fish on the menu, all directly sourced from adjacent fishmongers.
To order, just select your preferred protein swimming in large tanks in front of the restaurant. You can have it cooked according to your preference – usually steamed, deep-fried, or poached.
Location: Sai Kung Hoi Pong Street, Sai Kung, Hong Kong
Open: Daily from 11am to 10.30pm
Phone: +852 2791 1195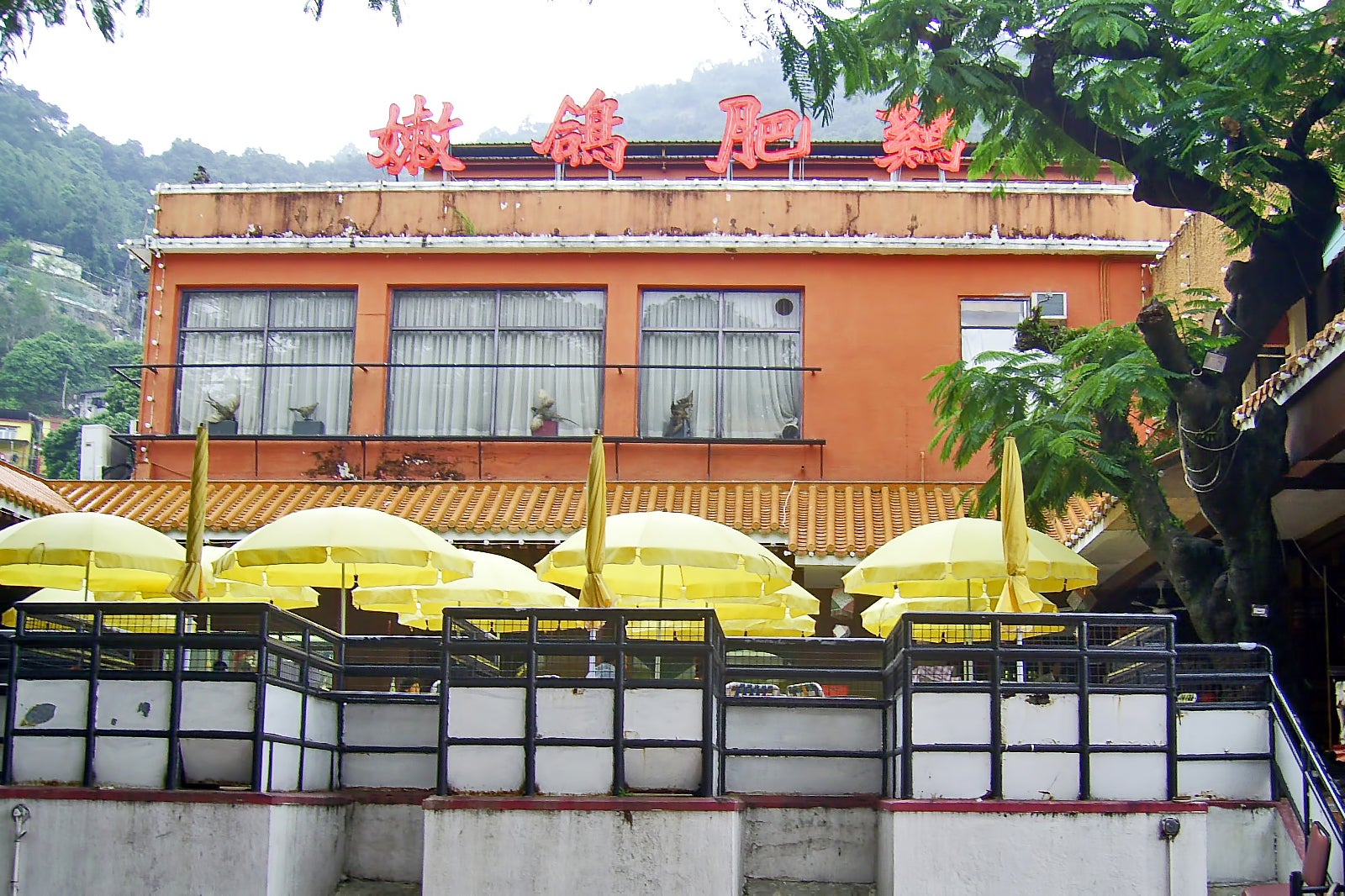 Lung Wah Hotel is actually a restaurant in Shatin that specialises in roasted pigeons. Originally a hotel back in the 1950s, it was converted into a dining venue after ceasing operations in 1958.
Pigeons have been used in Chinese royal cuisine since the Tang Dynasty, and Lung Wah Hotel is arguably one of the best places to enjoy this dish. It uses only 26-day-old baby pigeons and prepare them with different ways, including rock salt, soya bean sauce, and spring onion with ginger.
Location: 22, Ha Wo Che Village, Shatin, New Territories, Hong Kong
Open: Daily from 11.30am to 10.30pm
Phone: +852 2691 1594
photo by Chong Fat (CC BY-SA 3.0) modified
Outback Steakhouse, located on the ground floor of Park Central, is one of the many Outback branches in Hong Kong. Its extensive food menu includes steaks made with quality beef from the USA and Australia, jacket potatoes, and Alaskan king crab legs. The popular Australian-inspired steakhouse has over a dozen outlets in this city-state, as well as plenty more across Asia.
Location: Shop G43, G/F, Park Central, 9 Tong Tak Street, Tseung Kwan O, New Territories, Hong Kong
Open: Daily from 11.30am to 10pm
Phone: +852 3107 1218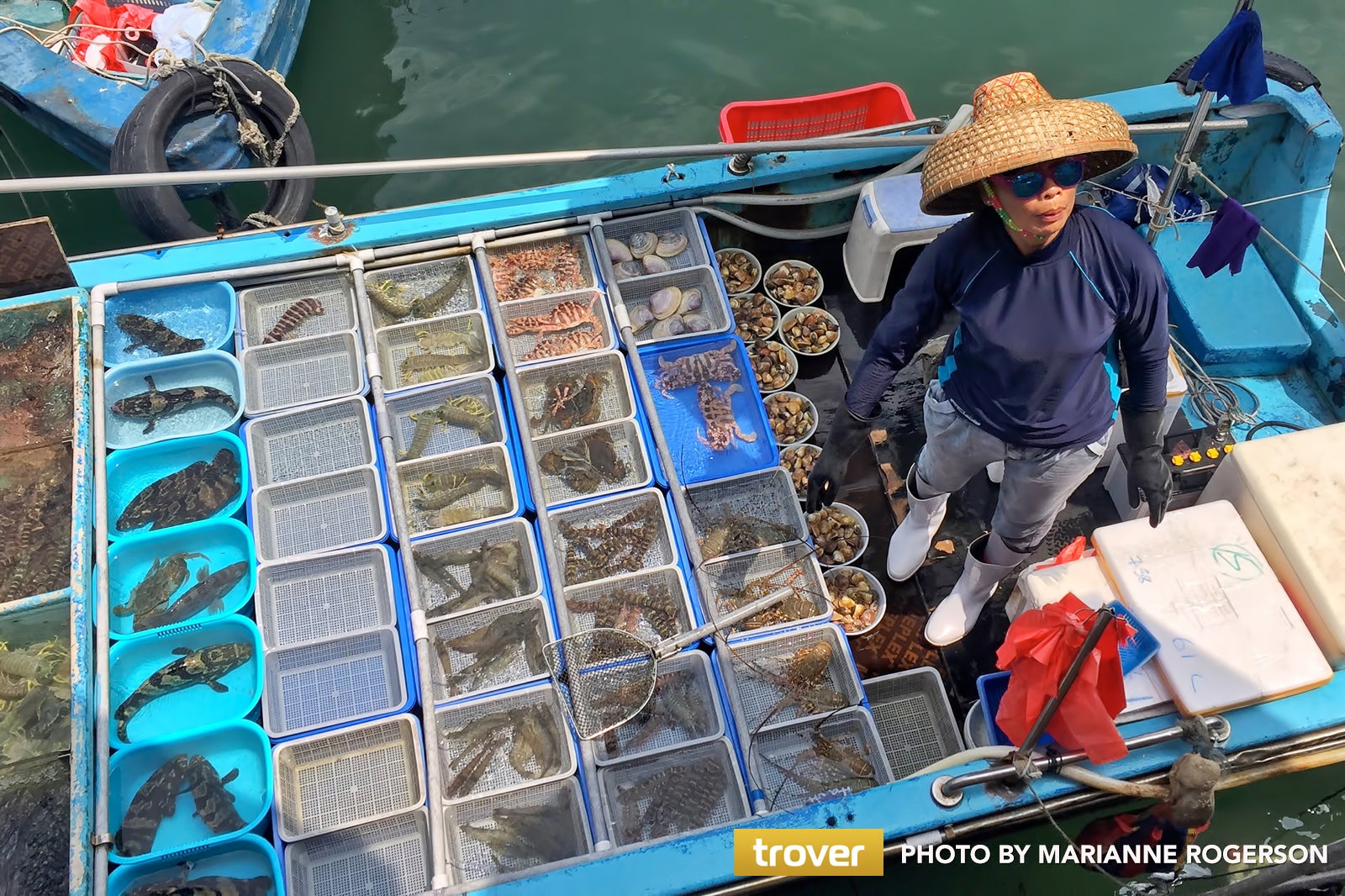 Many people familiar with Hong Kong claim that Sai Kung in the New Territories is the place to go to sample fresh local seafood. There are many restaurants located in small coastal villages, where the dining is unpretentious but world class.
The Sai Kung Seafood Street draws a huge crowd to its seafront promenade, where local fishmongers sell freshly caught fish straight off the deck or, in some cases, straight from the boat. Pick your choice of fish or crustacean, take it to one of the promenade restaurants, and have it cooked according to your preferences.
Location: Market Street, Sai Kung, Hong Kong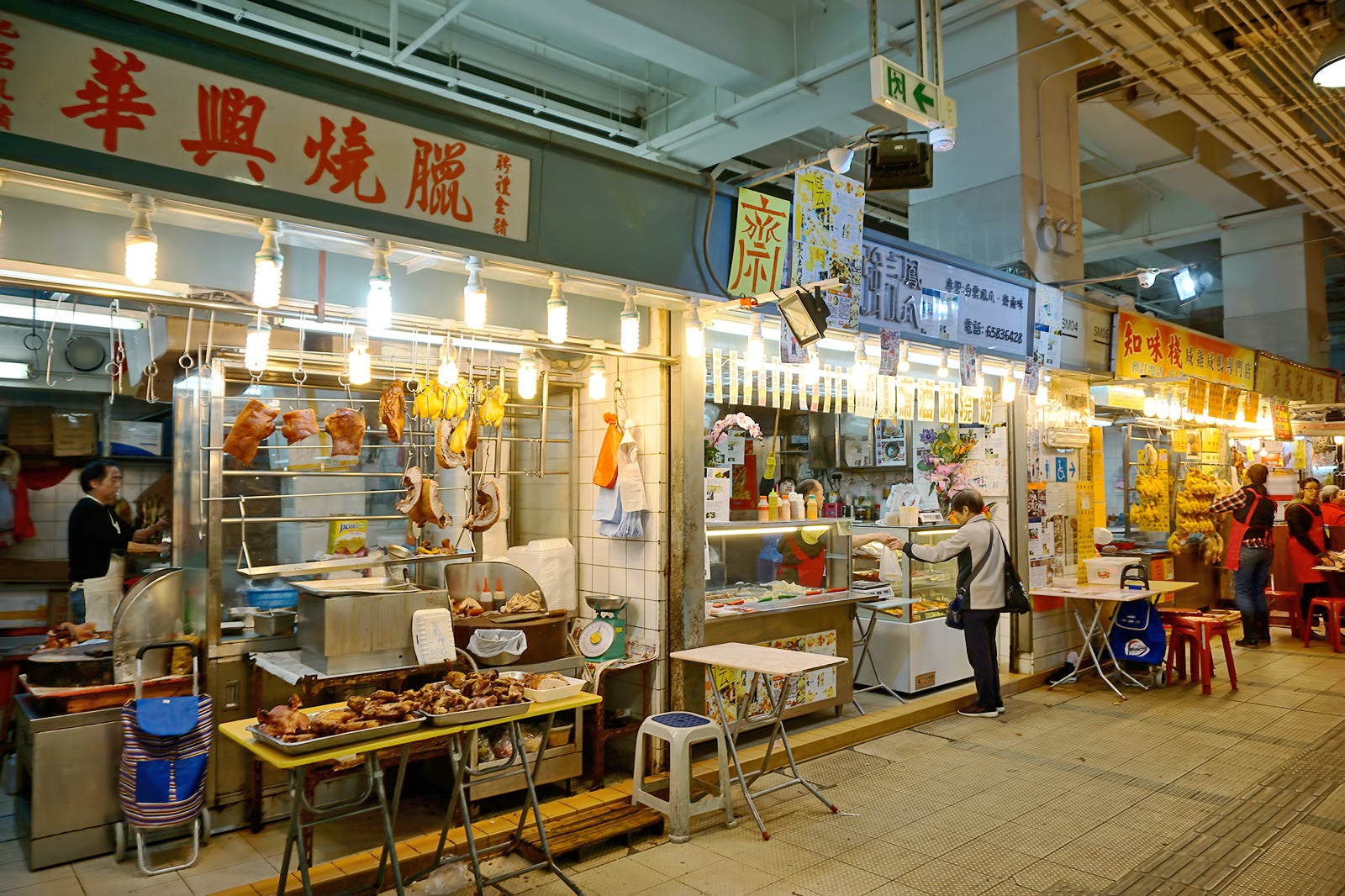 Tai Po Hui Market has dozens of food vendors offering a large variety of cuisine at affordable prices. Those travelling on a budget can find Chinese dim sum, congee and noodles, as well as sushi and Indonesian fried rice The fresh market operates until 8pm, while the cooked food centre stays open (and busy) until late.
Location: Tai Po Complex, Heung Sze Wui Street, Tai Po, Hong Kong
Open: Monday–Saturday from 6am to 2am, Sunday from 6am to midnight
photo by Prosperity Horizons (CC BY-SA 4.0) modified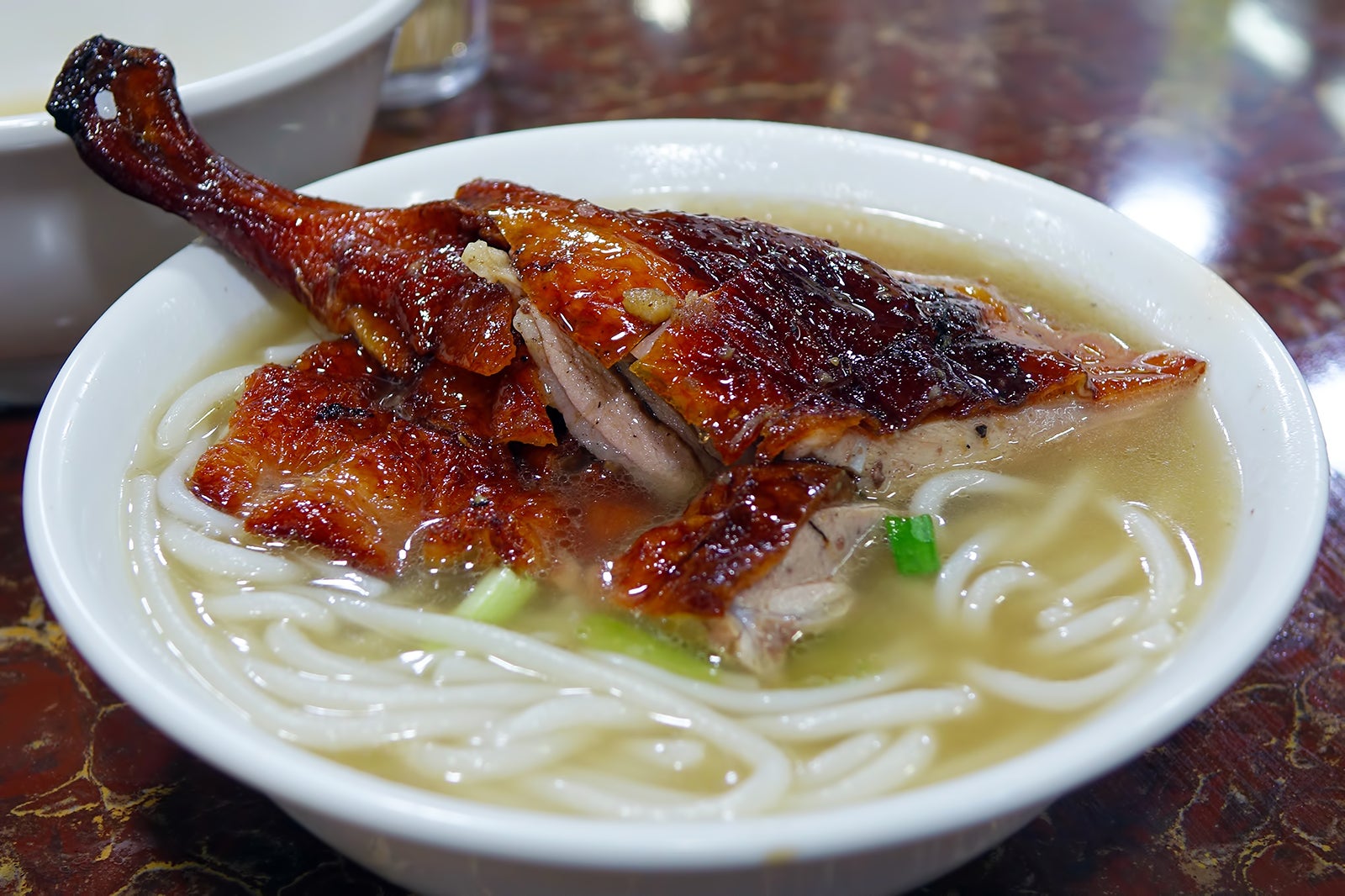 Yue Kee Roast Goose Restaurant
Open since 1958, Yue Kee Goose Restaurant on Sham Hong Road features traditional Chinese food including some well-known soups (must-tries include bean sprout soup and watercress soup with duck kidneys), seafood, and vegetables dishes.
The most famous of all is their charcoal roast goose. Yue Kee has its own goose farm in the rural area of Guandong that uses a natural diet with no artificial ingredients. The outcome is that their geese have a unique taste.
Location: 9 Sham Hong Road, Ting Kau, Hong Kong
Open: Daily from 11am to 11pm
Phone: +852 2491 0105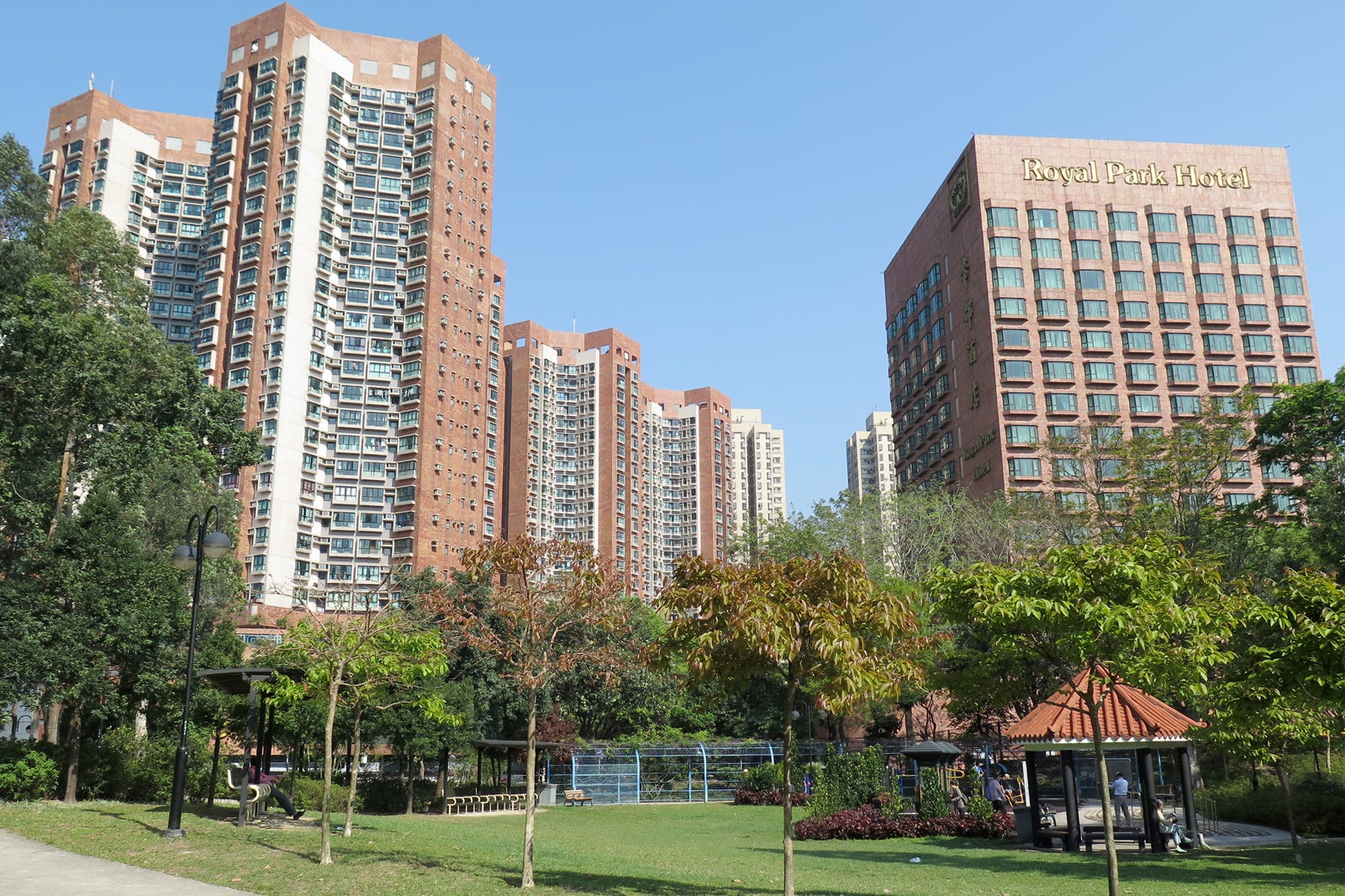 One + One Bar at Royal Park Hotel
One + One Bar at Royal Park Hotel is an elegant dining venue with floor-to-ceiling glass overlooking the Shatin district of Territories. Enjoy afternoon tea, all-day breakfast, and desserts during the day, and a wide range of cocktails and imported wines in the late evenings. It's a comfortable and inviting option for after-work drinks, with happy hours available from 5pm to 9pm (9pm to 1am from Sundays to Thursdays).
Location: Royal Park Hotel, 8 Pak Hok Ting Street, Shatin, Hong Kong
Open: Cafe: daily from 11am to 9pm. Bar: Sunday–Thursday from 4pm to midnight, Friday–Saturday from 4pm to 1am
Phone: +852 2694 3886
photo by Wing1990hk (CC BY 3.0) modified