10 Best Things to Do in Cagliari
What is Cagliari Most Famous For?
Cagliari is sunny Sardinia's fantastic capital with history, culture and spirit to boot. The city's unique backdrop of towering mountains and rolling hills against the Mediterranean Sea makes it a place unlike any other in Italy. Layers and layers of rich history result in some captivating architecture throughout the city… and even the city's cuisine exemplifies this.
Walk along the charming curves of the city, visit historical sites or simply sit in the sun with an aperitivo. Whether on a city break or heading for the rest of Sardinia afterwards, this city knows how to treat its visitors well. Below, we've compiled some of the best things to do in the vibrant Sardinian capital.
What are the best things to do in Cagliari?
Start the day at San Benedetto Market
Fill your tummies with delicious local produce
San Benedetto Market is the place to go if you're looking to taste and buy the very best of locally-grown fresh produce. As one of Europe's largest fresh markets, you'll be easily impressed with its rows and rows of freshly baked bread, cheese and organic fruit and vegetables. Its seafood section is just as endless – though not odourless…
Each of the 240 stalls that have set up shop here is equally as enthusiastic and welcoming as the next and they'll often let you try their samplers. Foodies will end up spending a few hours here admiring the freshness of the food. Just don't forget to bring an empty stomach.
Location: Via Francesco Cocco Ortu, 46, 09128 Cagliari CA, Italy
Open: Monday–Friday from 7am to 2pm, Saturday from 7am to 3pm (closed on Sundays)
Phone: +39 070 677 5602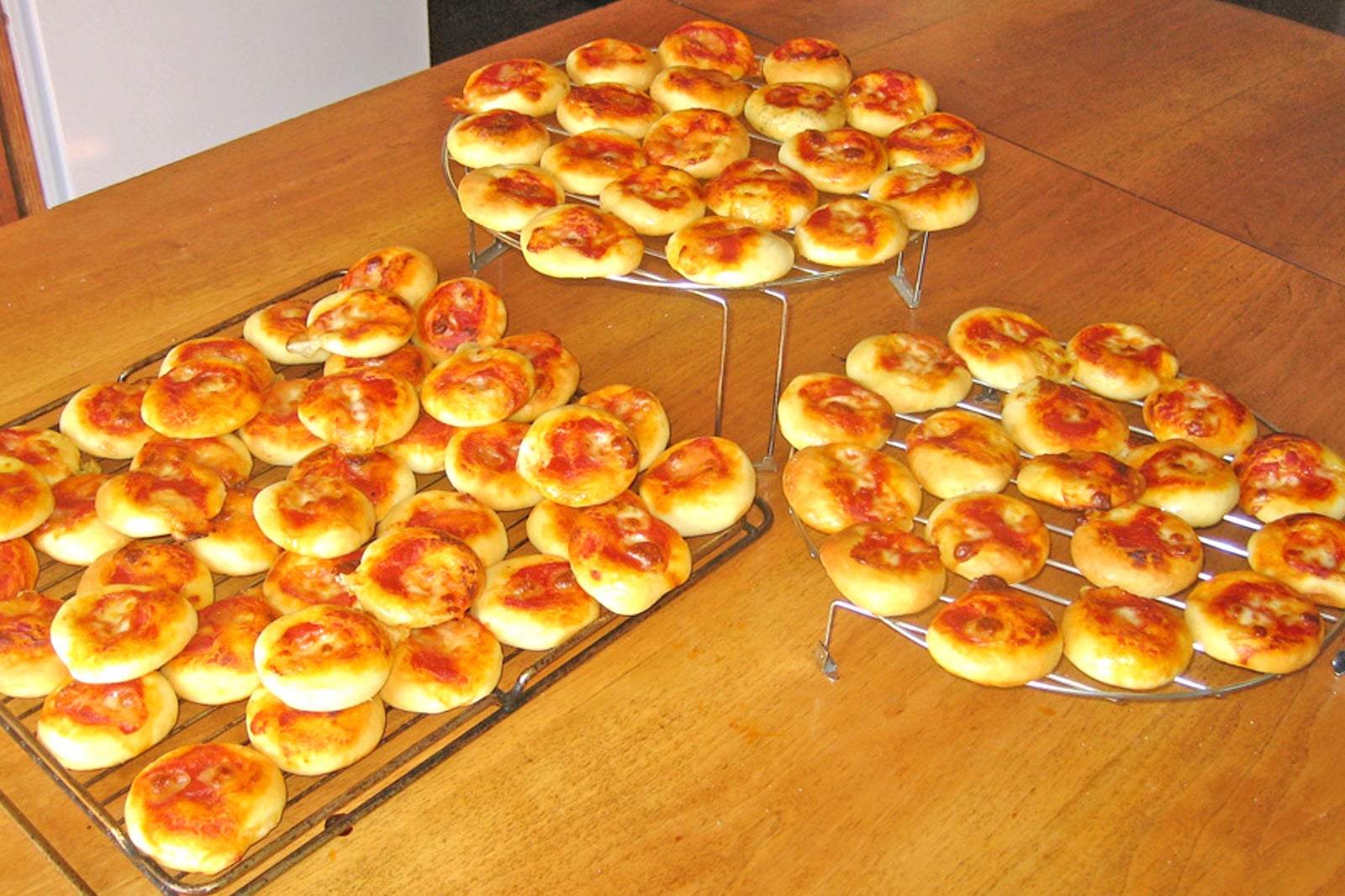 Grab a pizzetta sfoglia
Try the local-favourite pastry
Pizzetta sfoglia is a small puff pastry stuffed with tomatoes, oregano, capers (and often, anchovies), which is then baked to golden perfection. This small parcel of deliciousness can be found during breakfast, for an aperitif and in almost any bar you come across in Cagliari.
If you're spending a day walking around the city or heading to the beach – or, simply if you're just feeling a bit peckish – this is the homegrown go-to snack. Conjuring a feeling of nostalgia and fondness for any local, it's more than just a tasty snack – it's a shared experience and a great way to get a snippet of local life.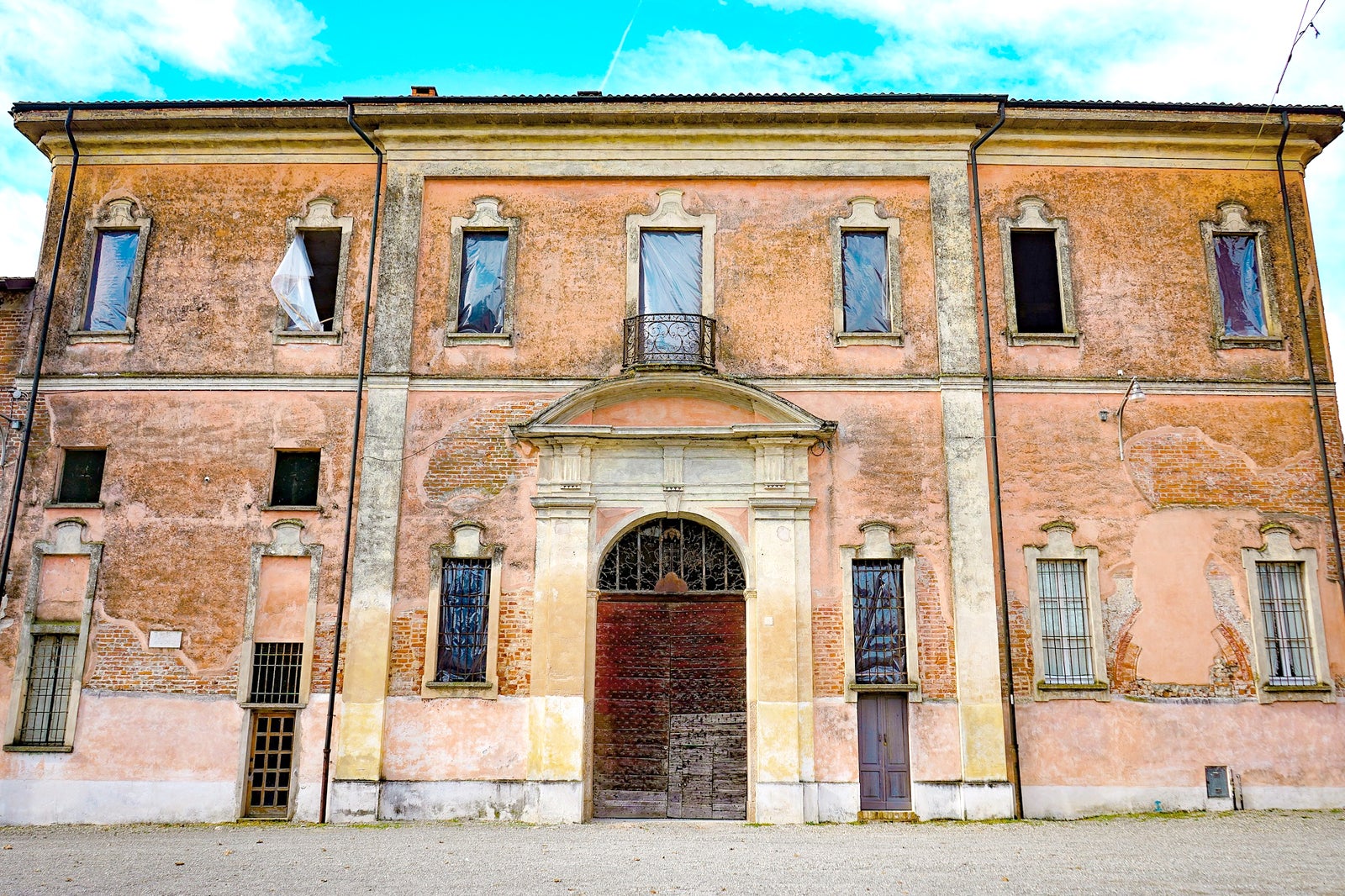 Explore the Villanova neighbourhood
Wander around narrow, pastel-coloured streets
Villanova is one of the more recent of the 4 historical quarters of the city, which dates back to the 13th century. The neighbourhood makes for a gorgeous day out strolling around its narrow streets and alleyways, which is saturated in pastel shades with a small-village charm.
This feeling lives along Via San Giovanni, which is decked out with a spectrum of blossoming flowers. Pop into the churches of St James and St Dominic for this same peaceful atmosphere. As you wander around these cobbled streets, you'll come across carpenters and small artisanal shops. For those looking for a spot of high-end shopping, head to Via Garibaldi or Via Sulis, near Saint Remy Bastion.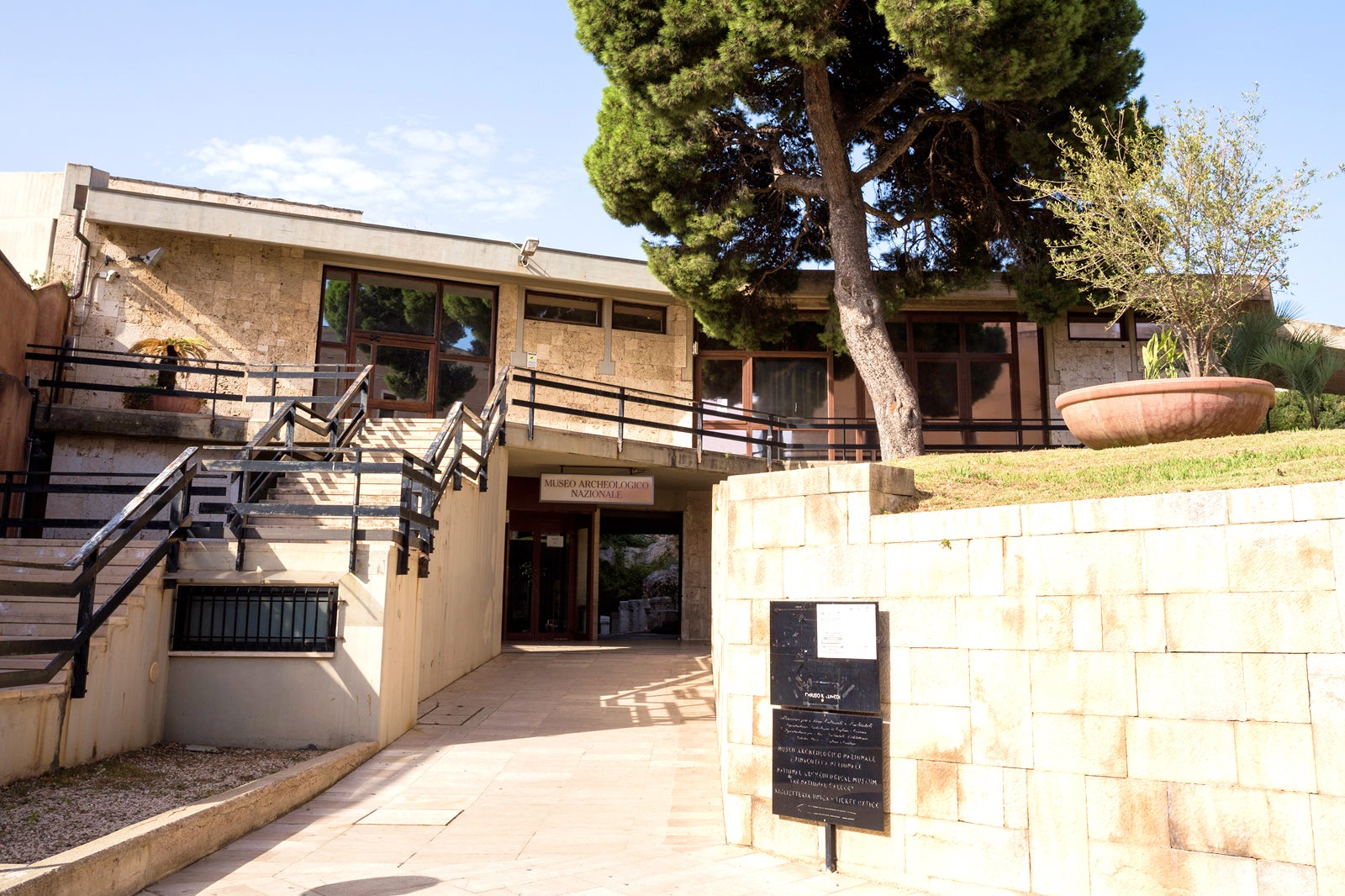 Visit the National Archaeological Museum
Uncover Sardinia's rich history at the island's very best
The National Archaeological Museum is a history lover's paradise in Calgiari with a huge collection of objects from the Neolithic to the Roman period, including the island's emblematic and mysterious Nuragic civilisation. Part of the Cittadella dei Musei, this is the undisputed star of the 4 museums.
For a family day out or if you're just interested in learning more about Sardinia's history, this museum is your port-of-call. Highlights of the museum include a series of colossal figures known as the Giganti di Monte Prama and an excellent collection of bronzetti, which are also linked to Nuragic culture.
Location: Piazza Arsenale, 1, 09124 Cagliari CA, Italy
Open: Tuesday–Sunday from 9am to 7.15pm (closed on Mondays)
Phone: +39 070 655911
Families
History
Single
Group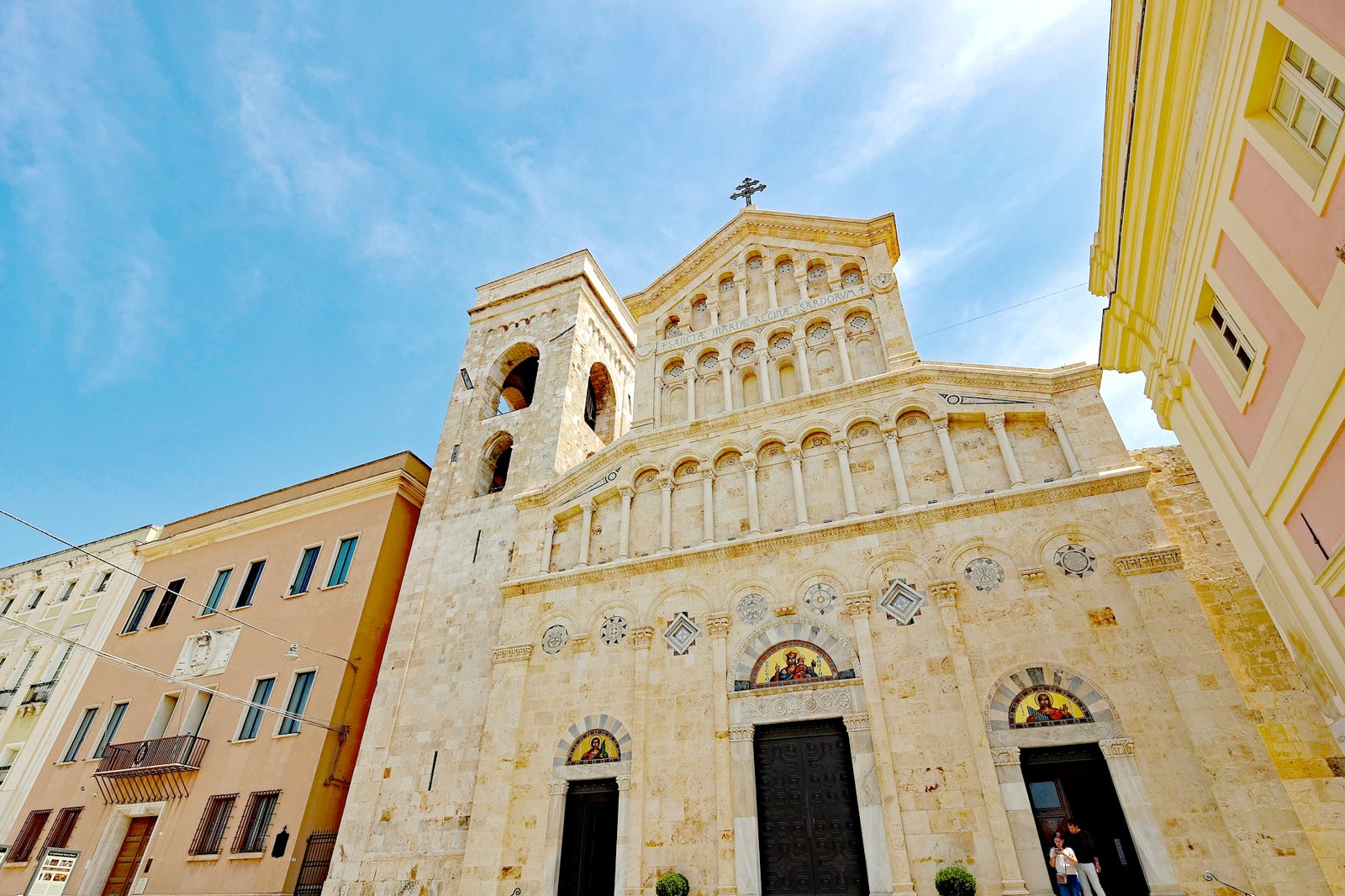 Must-See: Cattedrale di Santa Maria
Admire the exquisite and varied architecture
The Cattedrale di Santa Maria is a graceful 13th-century beauty that stands on the charming Piazza Palazzo. The only thing remaining of its original Gothic structure is the belltower. A wander inside sees its sweeping walls covered in decadent Baroque-style decor, which was added in the late 17th century.
The Pisan-Romanesque facade is a 20th-century imitation, added between 1933 and 1938. Get lost in a flurry of whirls and frescoes as you float around in the majestic atmosphere of the cathedral. Visit the crypt to see the Santuario dei Martiri – 179 martyrs lie here.
Location: Piazza Palazzo, 09124 Cagliari CA, Italy
Phone: +39 070 663837
Families
History
Photo
Budget
Single
Group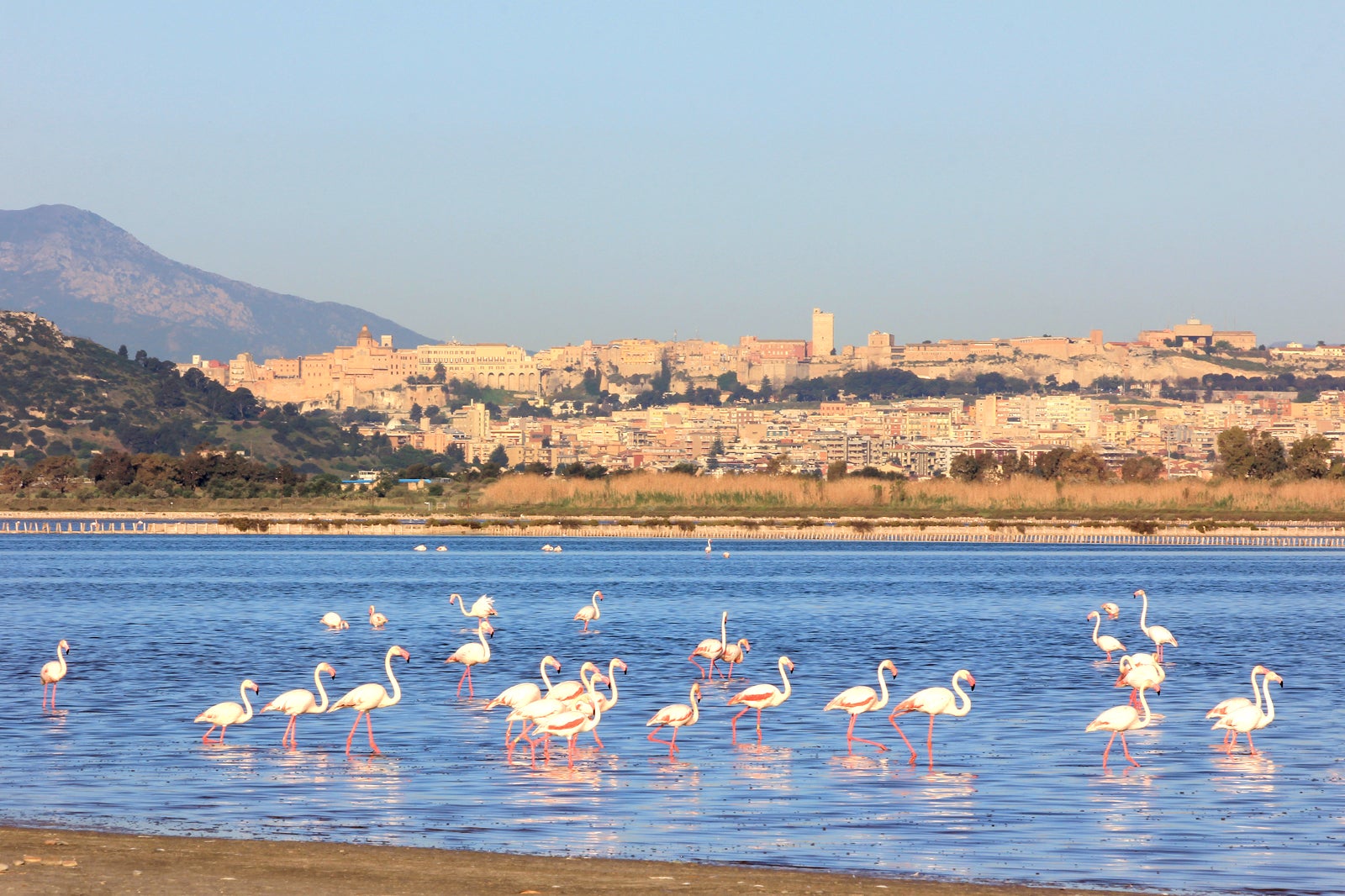 Watch pink flamingos at the Molentargius-Saline Regional Park
Experience some of Sardinia's most outstanding natural beauty
In the deep south of Sardinia, the Molentargius-Saline Regional Park exists in unrefined beauty. Made up of a wetland of shallow pools, salt was once harvested here but it now serves as the home to an array of birdlife. This protected territory contains ancient salt mines, which dates back to the Roman times, and the Molentargius Pond — the go-to hangout for the park's birds.
The park is found between Urpinu Hill and Poetto Beach, so you can spend the morning in the park and spend the afternoon snoozing on the beach. A great and quick way to explore the park is by bicycle, which can be easily rented throughout the city.
Location: Via la Palma, 09126 Cagliari CA, Italy
Open: Daily from 8.15am to 8.15pm
Phone: +39 070 379191
Families
History
Photo
Adventure
Single
Group
photo by Stefano Marrocu (CC BY-SA 3.0) modified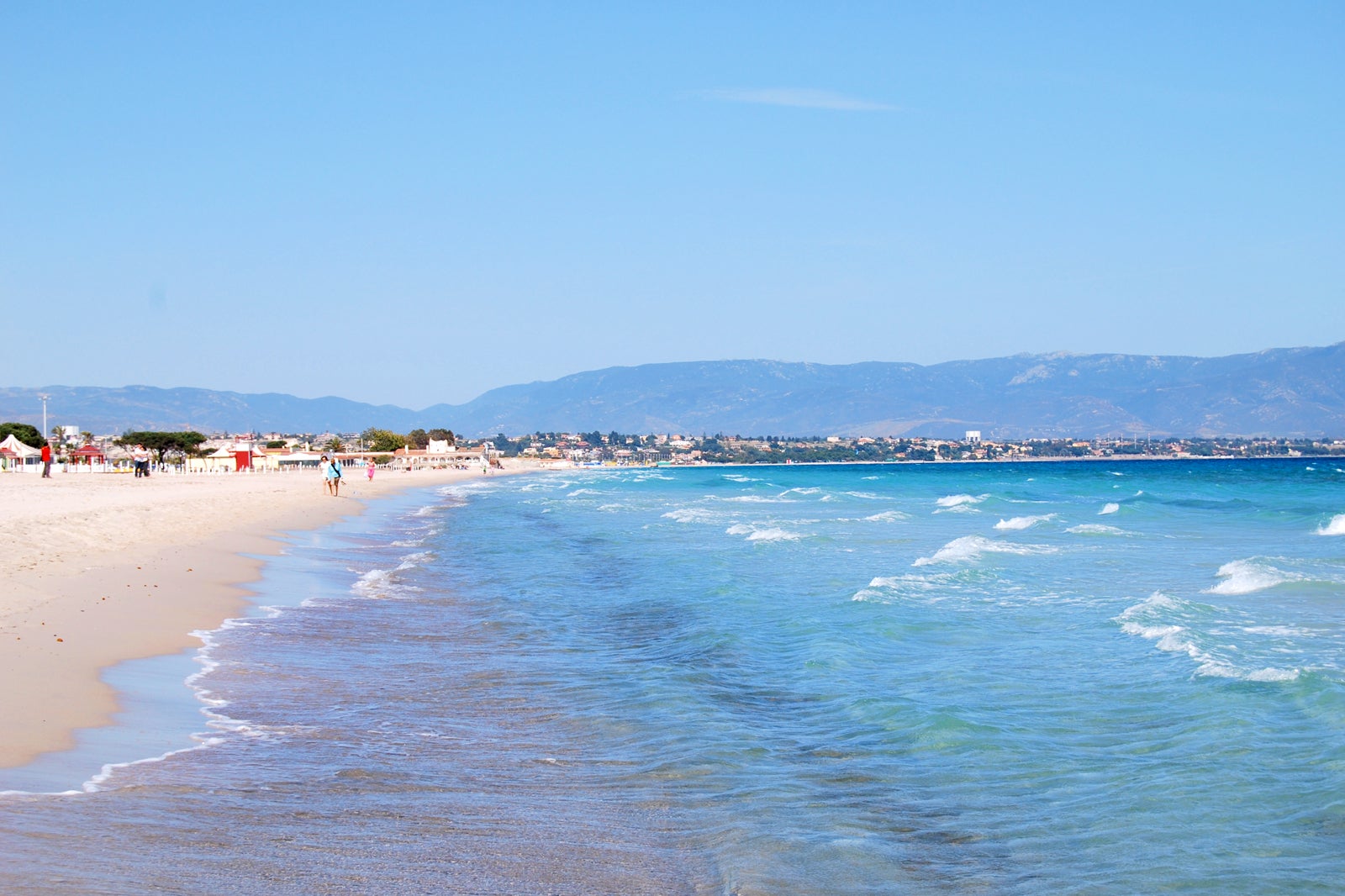 Pop over to Poetto Beach
Hop on a bus to this nearby natural beauty
Just a hop, skip and jump away from Cagliari, Poetto Beach is a 7-km-long stretch of glimmering sand and sea. As one of the longest beaches in Sardinia and Italy, you'll find a host of activities stretched out across the sand: bars, restaurants, lively beach clubs, food and drink vendors, sun loungers and umbrellas available to hire. Families will enjoy the range of water sport activities available, as well as its shallow, clean water.
In summer, come early to nab a good spot, as much of the city's youth hurry over to bake in the sun and party on the beach. To reach the beach, either hire a car and park along the beach or take the bus from Piazza Matteotti. For a little something extra, walk to the end of the beach towards Sella del Diavolo, a small rocky cape: a little wander around will make for an enjoyable 2-hour walk with the view of the bay adding that sweet cherry on top.
Location: Poetto, Spiaggia del Poetto, Italy
photo by claire rowland (CC BY 2.0) modified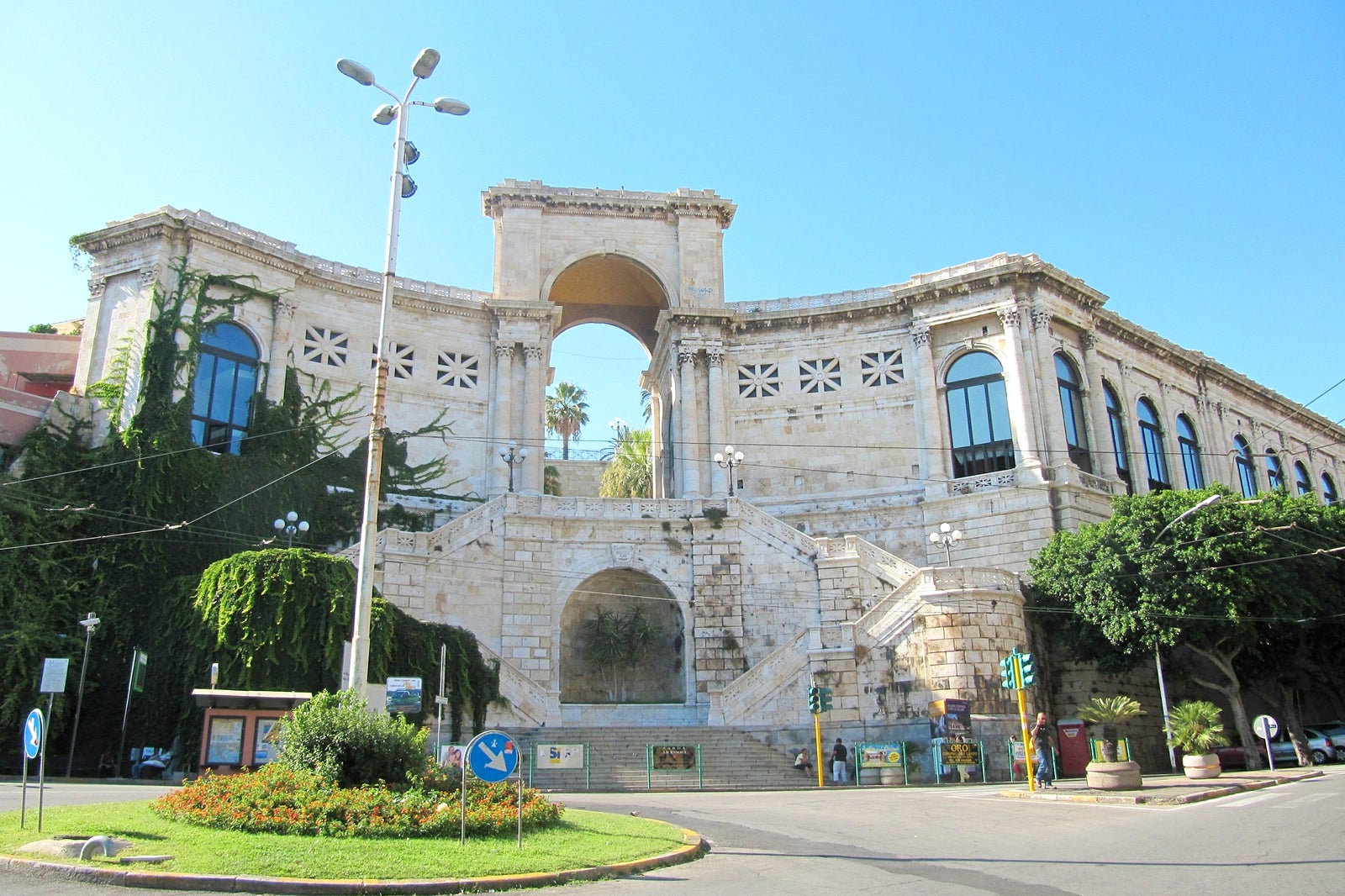 Take in the view at Saint Remy Bastion
Relax on a sun-drenched terrace
Saint Remy Bastion is one of Cagliari's most monumental landmarks and forms part of the Sardinian capital's ramparts, which date back to the Middle Ages. Walk up the massive staircase to this antique building and enjoy the breathtaking views from the Umberto I terrace. Take in the cluttered and coloured rooftops as well as the beautiful hues of the ocean and curve of the mountains.
To get to the terrace, take the stairway on Piazza Costituzione or take one of the elevators found on either Giardino Sotto Le Mure or Piazza Yenne. If you're visiting during summer, sit at the café and enjoy live music until the city lights up in a hearty gold.
Location: Piazza Costituzione, 09100 Cagliari CA, Italy
Phone: +39 070 6771
Families
History
Photo
Budget
Single
Group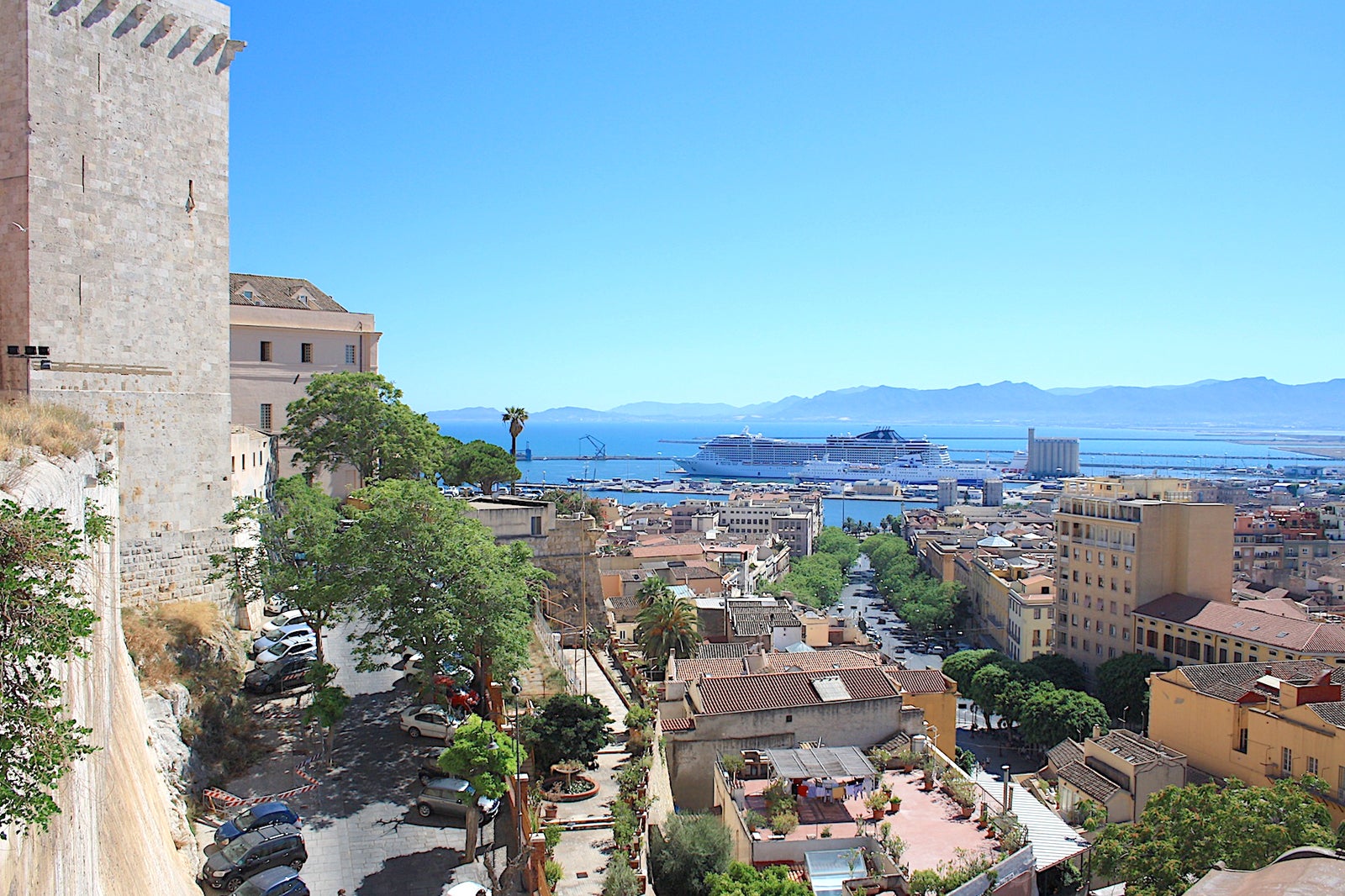 Enjoy the sunset from Via Santa Croce
See where the coast meets the city
The terrace on Via Santa Croce in Cagliari will satisfy visitors who are keen on enjoying a dramatic sunset. Roam the slender streets around the Church of Santa Croce down Via Santa Croce and onto the elegant terrace that'll bring you to breathtaking views.
Everyone knows a sunset view calls for a drink or 2, so grab a bottle of wine and perch on the terrace or pay a visit to Libarium Nostrum, where you can sit and drink cocktails while taking in the views and vibes. The view of Stampace's jumbled roofs and the coast is a sight for sore eyes — get your cameras ready.
Location: Via Santa Croce, 09124 Cagliari CA, Italy
Families
Photo
Budget
Single
Group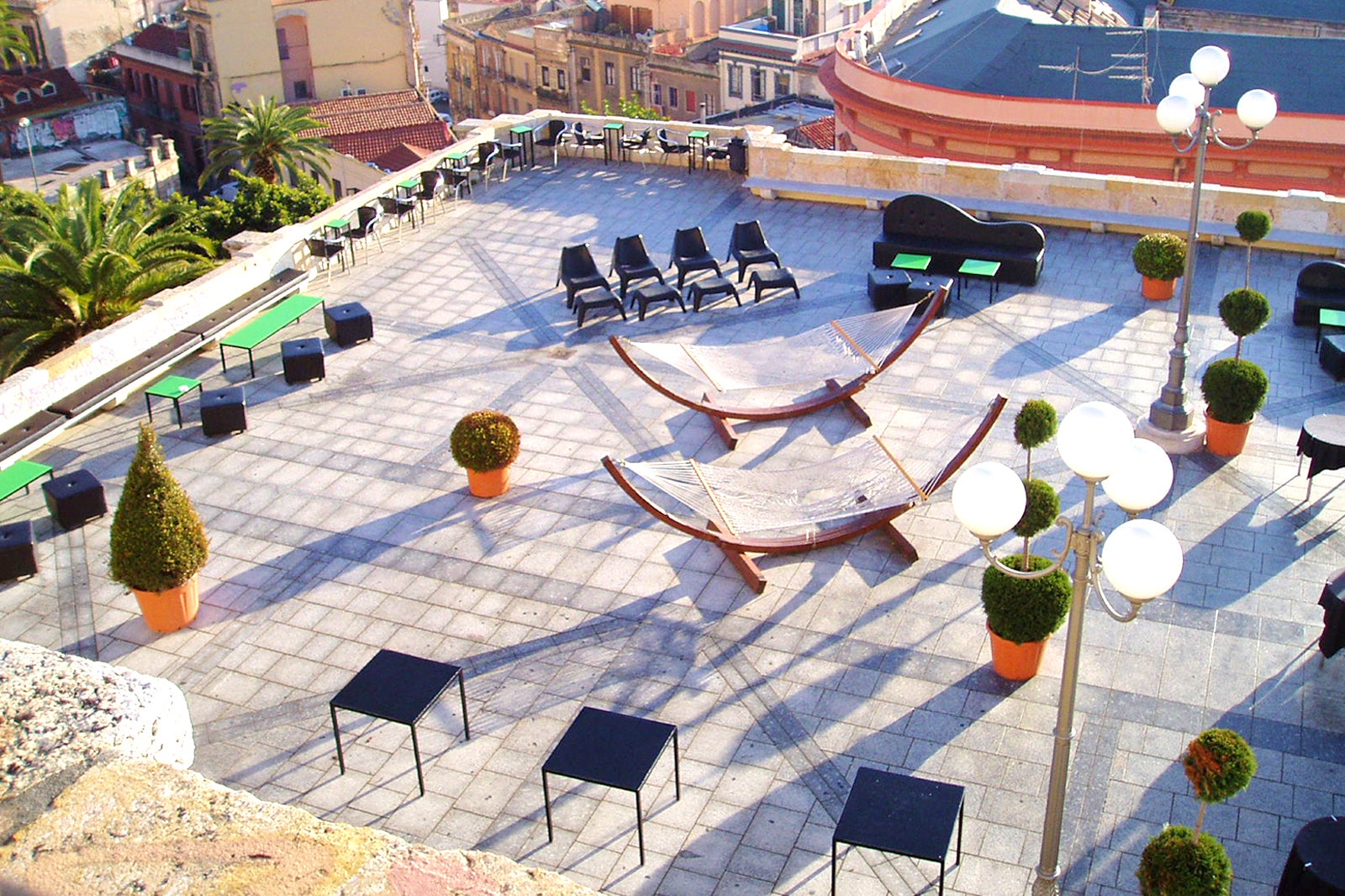 Experience the local nightlife
Head out for a drink on the cobbled streets
As the sun sets over Cagliari and the night comes alive, follow the chatter and the locals to find the best spots in the city to drink and dance. The city's residents take aperitivo hour very seriously and tend to flock towards Saint Remy Bastion.
Another good area to head to is near the university in Cagliari's historic centre. Caffe degli Spiriti near Saint Remy Bastion has live music, hammocks and pretty views of the city.
For chill vibes and well-priced drinks, head to Cafe de Candia. For an Italian version of a dive bar, visit Al Merlo Parlante. To enjoy a range of music and crafted cocktails, hit up Muzak. For excellent live jazz music, visit B Flat Jazz Club, which is open every Thursday to Sunday. For some of the best live DJ sets, dance the night away at Ritual Caffe, found in a grotto near the university.
photo by Cristiano Cani (CC BY 2.0) modified