11 Best Things to Do in Venice
What's Venice Most Famous For?
Venice is one of the world's most beautiful and romantic cities, with good reason. Its skyline is composed of rows of magnificent historical palaces and tall church towers, while the gentle waves of its lagoon are stirred by gondolas whose traditions date back centuries.
Slow evening gondola cruises along the Grand Canal or kissing under a Venetian bridge are high on the bucket lists of many couples. The appeals of the so-called "City of Water" owes much to its collection of gorgeous spots like St. Mark's Square, as well as different neighbourhoods to explore.
What are the best things to do in Venice?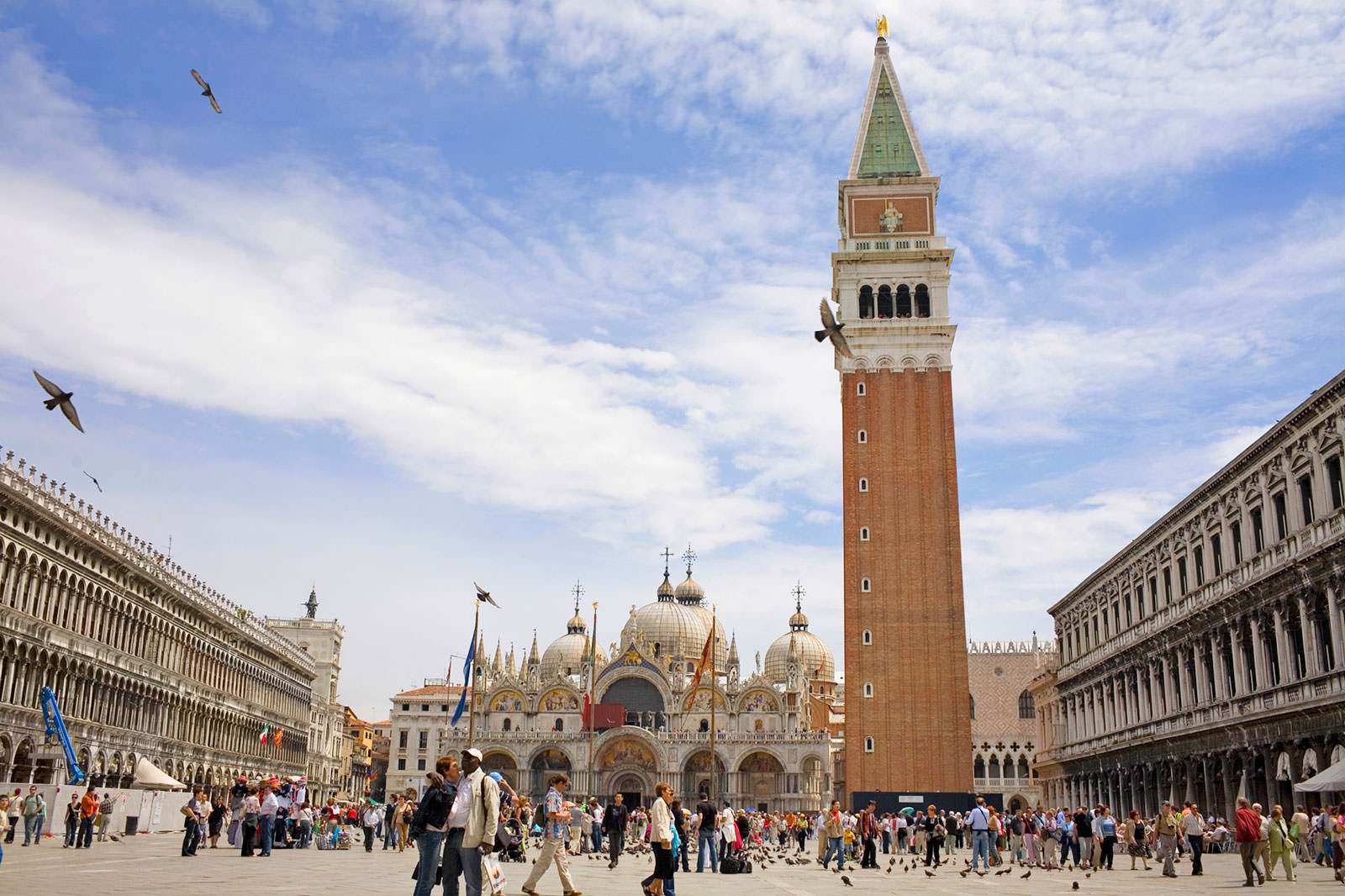 Start the Day at Piazza San Marco
Take in Venice's iconic cityscape at St. Mark's Square
Piazza San Marco (St. Mark's Square) may not be Venice's only piazza, but it's one of the world's most beautiful. St. Mark's Basilica, the bell tower and the Doge's Palace are all close by. Patio cafés and restaurants surround San Marco, from where you can enjoy the mesmerising view over a cappuccino or glass of wine. Don't expect the best Italian food here – prices tend to be expensive (from around €50 for two). If you're in for the experience, check out Caffe Florian. It's among the world's oldest cafés. Although tempting, never feed the pigeons in the square – you'll be fined.
Location: Piazza San Marco, Venice, Italy
Open: 24 hours
Phone: +39 (0)6 0427 40436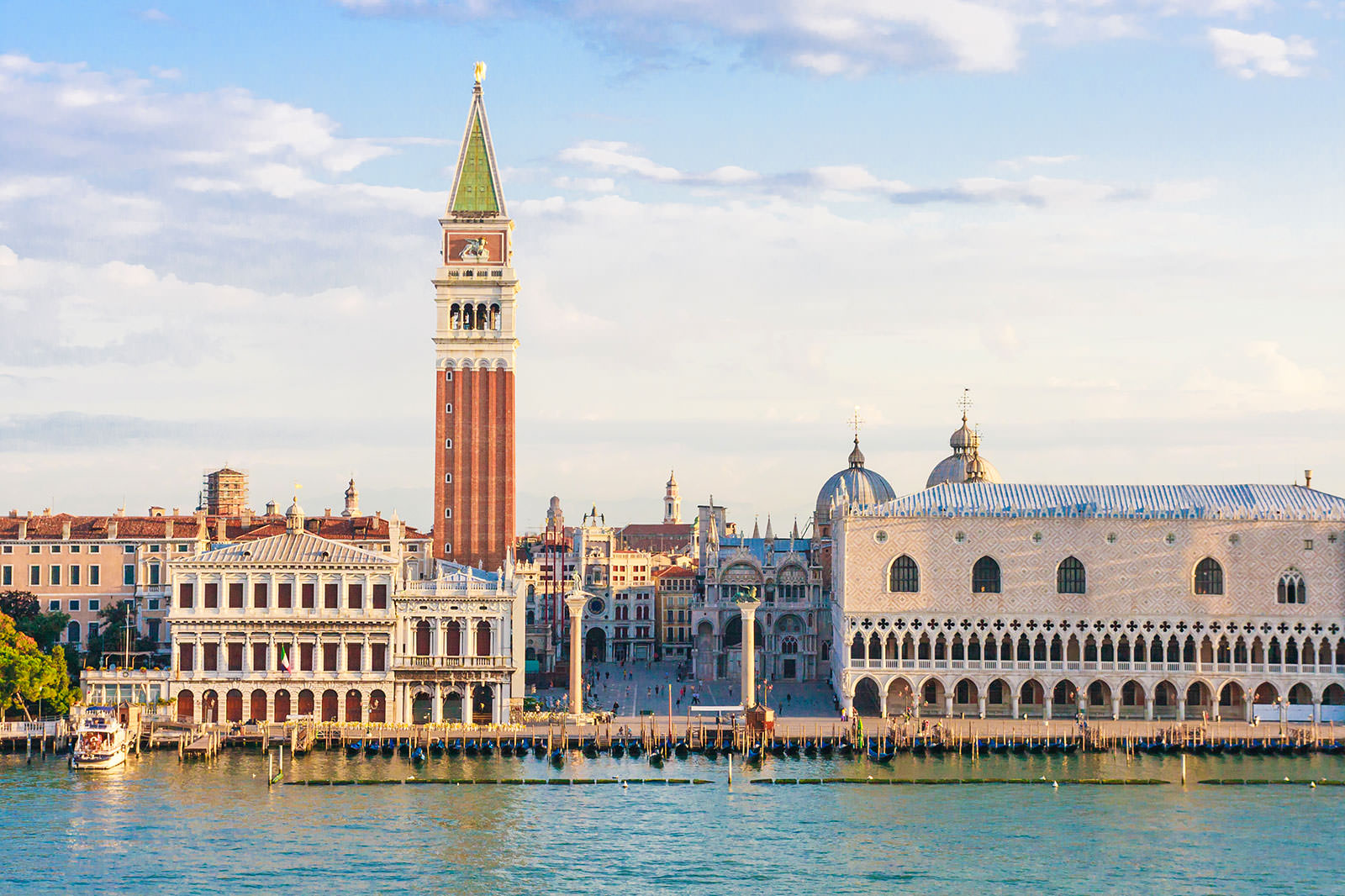 Climb San Marco's Campanile
For stunning panoramas over Venice
The Campanile (bell tower) of St. Mark's Basilica dominates the skyline of its piazza. Towering 90 metres over the square, you can admire Venice's superb cityscape and lagoon from above. Come early in the morning to beat the crowds (expect long queues in summer). For around €8, a lift takes you to the top. Cover your ears when the five large bells chime overhead at the turn of the hour – they can be deafening! It's also a good idea to wear something warm as it can get chilly at the top.
Location: Piazza San Marco, Venice, Italy
Open: Daily from 9.45am to 7pm
Phone: +39 (0)41 270 8311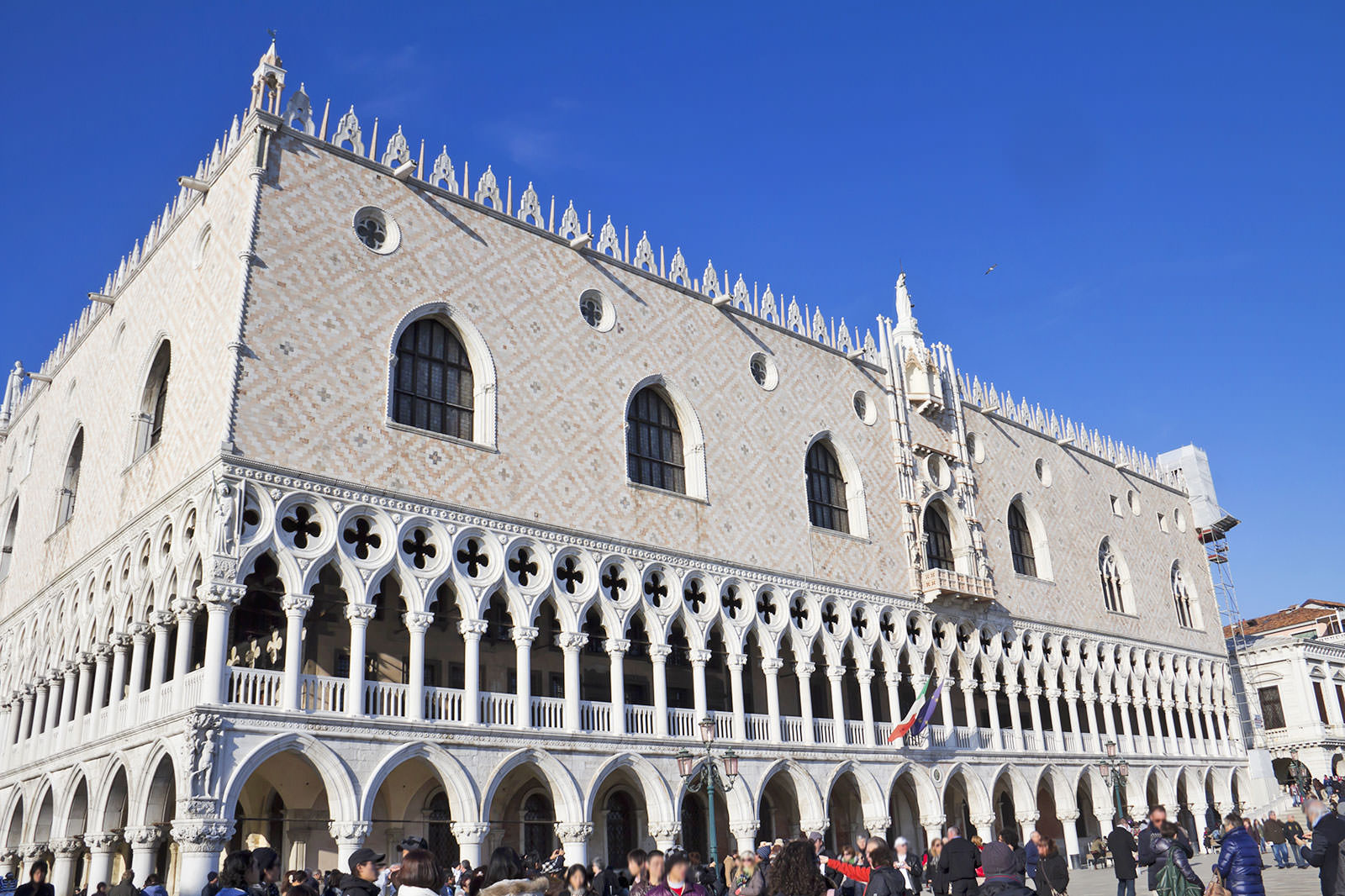 Must-See: Doge's Palace
Marvel at Venetian Gothic architecture and heavenly painted rooms
The Doge's Palace houses a maze of rooms richly decorated in gold-painted panels and Renaissance art. From St. Mark's Square, enter this Venetian Gothic palace via the ornate entrance near the waterfront. The magistrate's apartment features a giant world map by Titian, and the wondrous Chamber of the Great Council is home to the world's largest oil painting, Il Paradiso by Tintoretto. After visiting the armoury and prisons, end your tour by crossing the famous Ponte dei Sospiri (Bridge of Sighs). Go for the 1-hour special 'secret itineraries' tour, available in English for around €20, for access to private chambers.
Location: Piazza San Marco, Venice, Italy
Open: Daily from 8.30am to 6pm (April - October), 8.30am to 4.30pm (November - March)
Phone: +39 (0)41 271 5911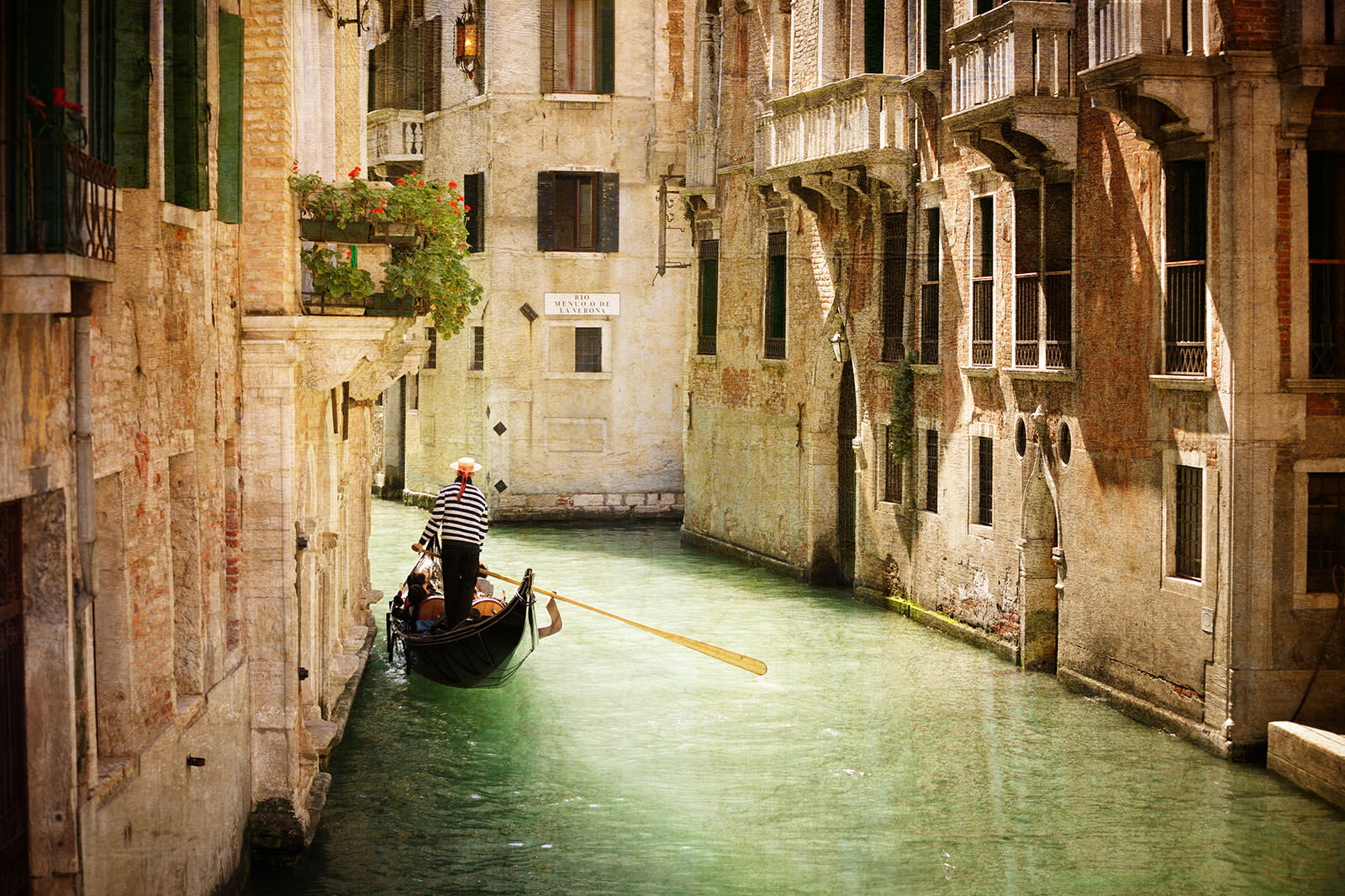 Ride a Gondola
Cruise the Grand Canal, to a gondolier's barcarolle
Gondola rides can seem cheesy and a bit touristy to most, but everyone seems to have a photo or selfie taken with a gondolier and the canal in the background! Rides aren't cheap. Bargain up front, but expect to settle for no less than €80 for your 40-minute ride (as a family or group, a single gondola can carry up to 6). Evening rides are around €100. There are many starting points around the canal. Popular spots include the waterside of the Doge's Palace and Riva del Vin, near the Rialto Bridge. Be very clear on your agreed price and ride duration.
Location: Traghetto di Riva del Vin, Venice, Italy
Open: Daily from 10am to 7pm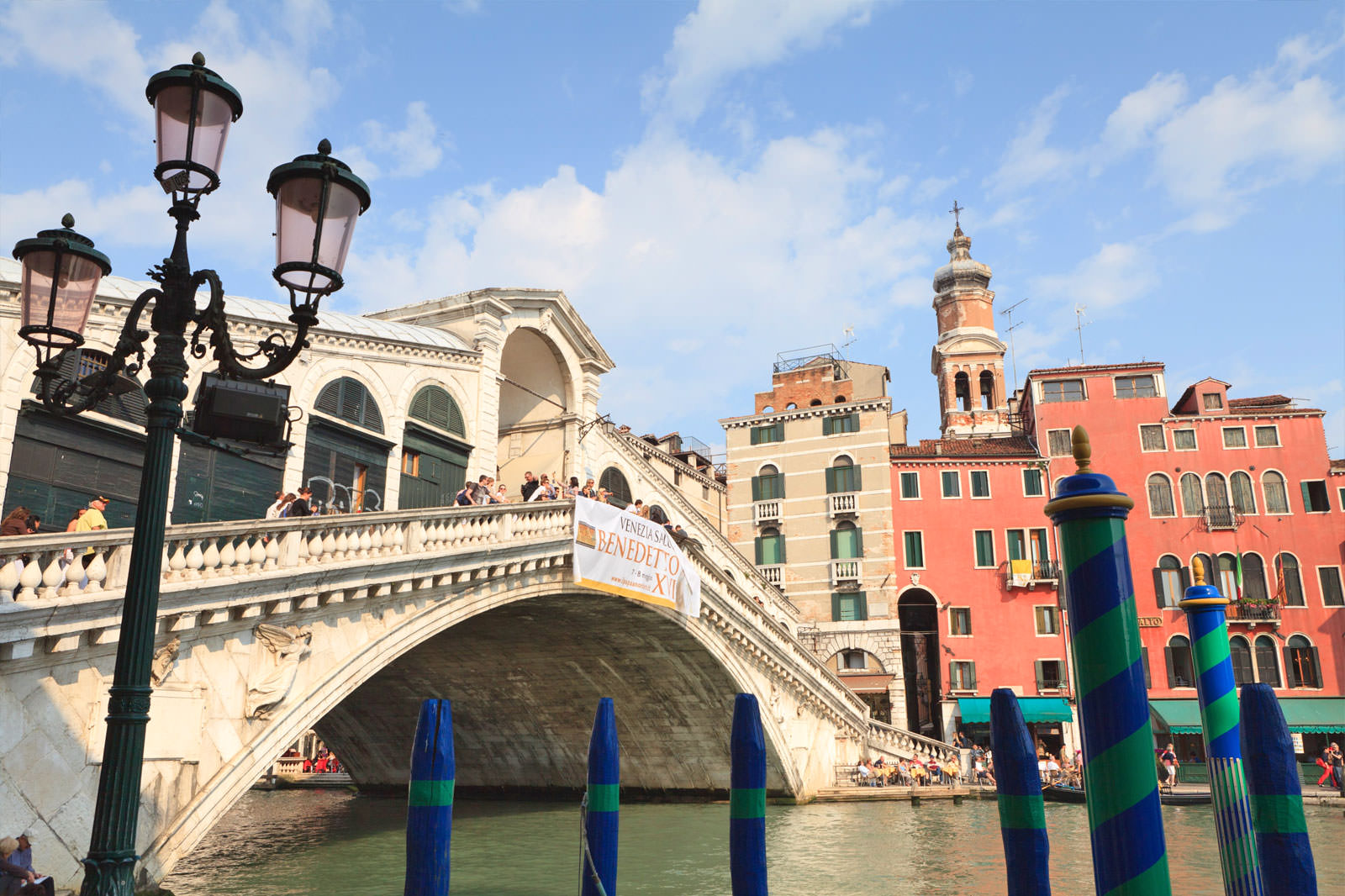 Shop at the Rialto Bridge
A unique shopping walk over the Grand Canal
Ponte de Rialto (the Rialto Bridge) is one of Venice's landmark footbridges. It crosses over the Grand Canal, where you can enjoy a great cityscape from its portico. Uniquely, both sides of the portico are lined with tiny boutiques selling fashion items and trinkets like Venetian blown glass and jewellery. A more vibrant shopping scene awaits at the Mercati di Rialto open market at the bridge's base. The bridge is very popular and can get very crowded. It's most beautiful from a gondola or vaporetto (water taxi) ride, especially in the evenings. Get there earlier to beat the crowds.
Location: Sestiere San Polo, Venice, Italy
Open: 24 hours
Phone: +39 (0)41 250 1801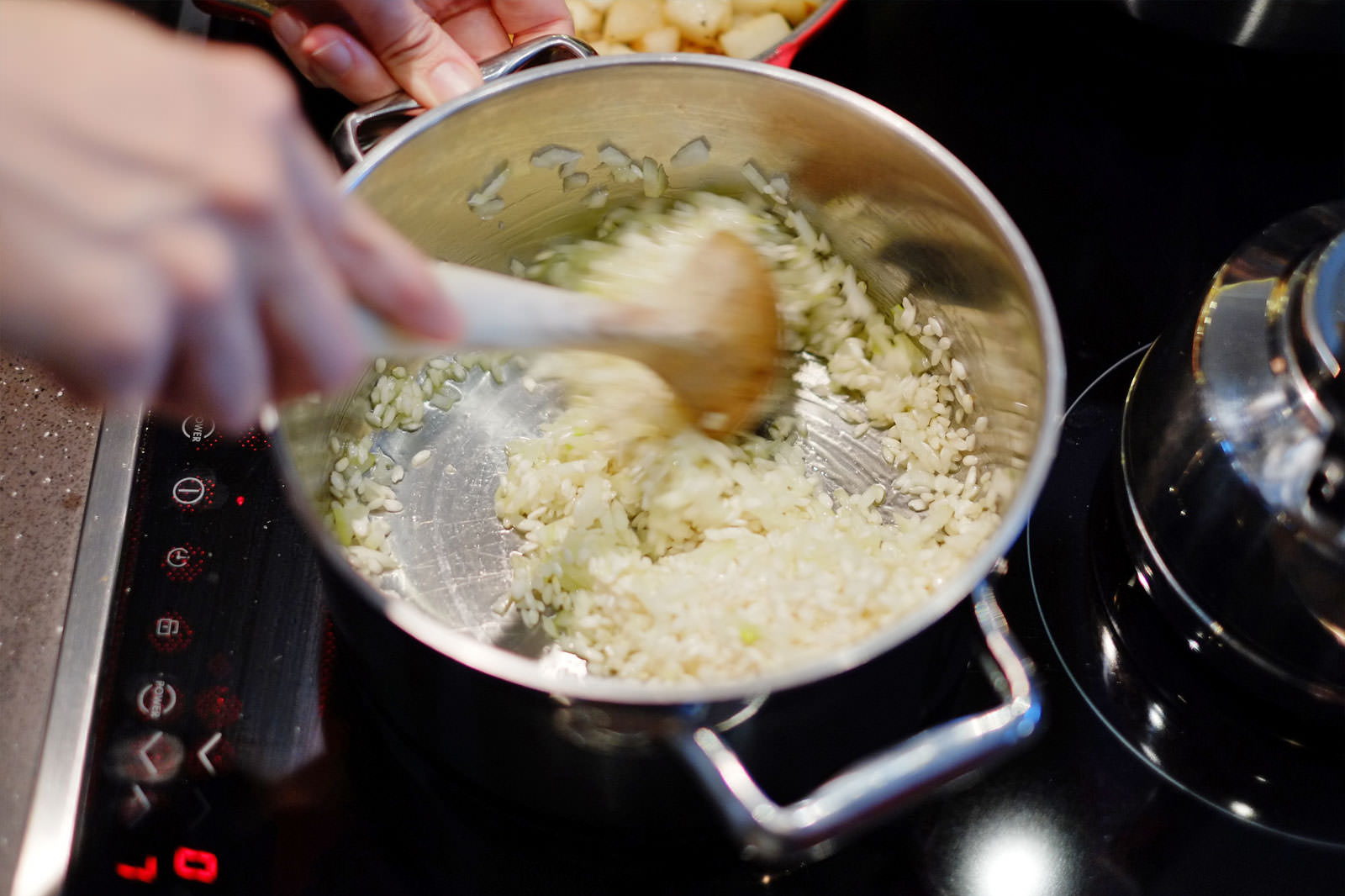 Taste Venetian Cuisine at Trattoria da Romano
Serving one of the best traditional risottos in Venice
You'd be missing out if you visit Venice without trying out the traditional food. Looking for an authentic spot that's also atmospheric? Enter the fisherman's island of Burano (take vaporetto no. 12 from Venice). Burano's famous for traditional Venetian seafood, with must-tries that include the risi e bisi pea risotto. Trattoria da Romano, a classic family-run traditional restaurant, is known as among Venice's best places for risi di go (fish risotto) and other traditional Burano specialties. Meals cost from €36. Note the "per etto" (per hundred grams) fine text on seafood menu listings – they're mostly priced by weight.
Location: Via Baldassarre Galuppi, 221, Burano, Venice, Italy
Open: Monday - Saturday from 12pm to 3pm and 6.30pm to 11.30pm (closed Tuesdays), Sunday from 12pm to 3pm
Phone: +39 (0)41 730030
photo by Petteri Sulonen (CC BY 2.0) modified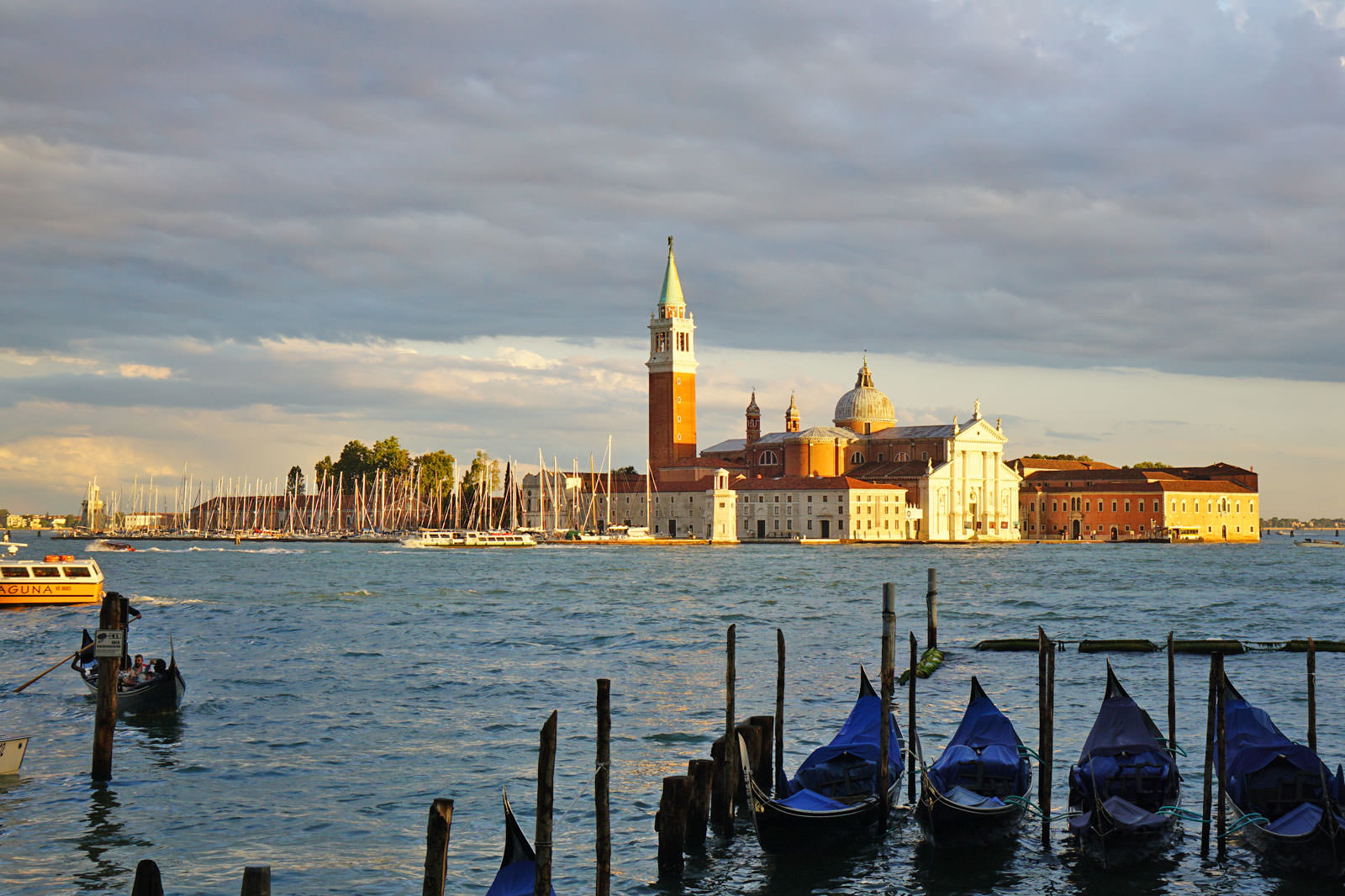 Must-See: San Giorgio Maggiore
Capture superb panoramas over Venice - minus the crowds!
Thinking of escaping Venice's crowds? The island of San Giorgio Maggiore is a great daytrip that's around 5 minutes' ride by vaporetto no. 2 from Piazza San Marco. Its skyline is dominated by the basilica of the same name, built around the 16th century, with a campanile (bell tower) that you can take a lift to the top of for €6. Many consider the views from San Giorgio Maggiore's campanile as better than St. Mark's. The 9 bells inside the campanile hang lower compared to St. Mark's, so it's better to avoid visiting at noon – they'll mark the hour for 12 long, ear-piercing chimes.
Location: Isola San Giorgio Maggiore, Venice, Italy
Open: Daily from 9am to 6.45pm
Phone: +39 (0)41 522 7827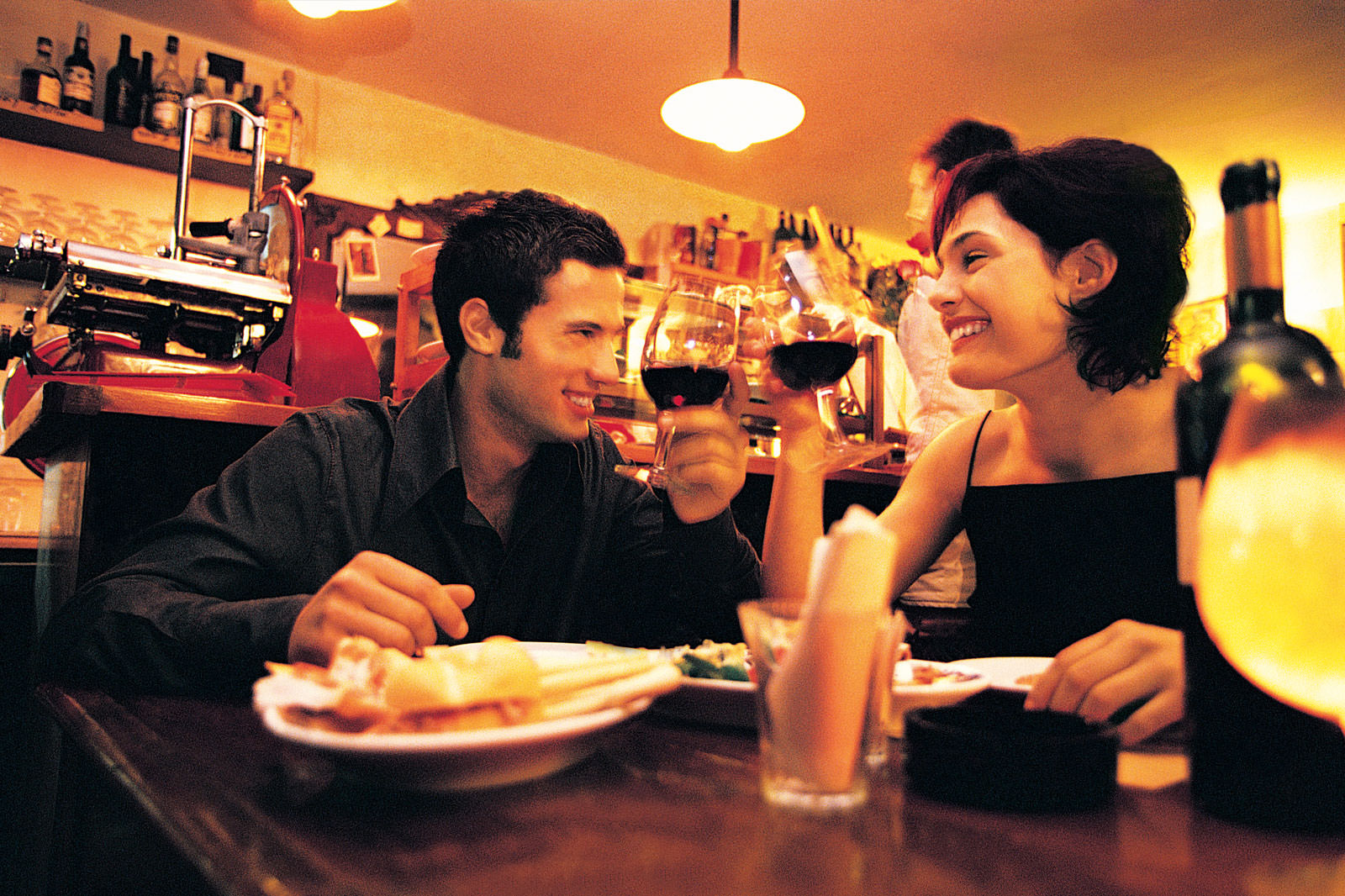 Enjoy Wines and Cicchetti at Vineria all'Amarone
Pick your flight over fine Italian wines
Wine lovers in Venice don't need to set out on a road trip to Prosecco or Verona on the mainland. You can enjoy great wine tastings right in the city hub. Vineria all'Amarone is one of the great wine bars by the Rialto, which offers a good selection of local wines, particularly those from the vinicultural zone of Valpolicella. Simply ask for their wine tasting menu – they have 4 different wine tasting flights available, each from around €40 and featuring 5 of their best Italian selections.
Location: Calle Sbianchesini, Venice, Italy
Open: Thursday - Tuesday from 10am to 11pm
Phone: +39 (0)41 523 1184
Explore Dorsoduro
Watch gondolas being built
Dorsoduro is one of Venice's six main neighbourhoods, where you'll find a more urban and less touristy face of the city. It's home to some of Venice's finest museums, such as the Galleria dell'Accademia, the Punta della Dogana, and the Peggy Guggenheim collection. Dorsoduro is a 10-minute ferry ride across the Grand Canal, west from San Marco's Piazza. Take a pleasant walk along the scenic promenade of Zattere to the boatyard of Squero di San Trovaso. It's where you can witness gondolas being built or repaired from across the canal.
Location: Sestiere di Dorsoduro, Venice, Italy
Phone: +39 (0)41 2424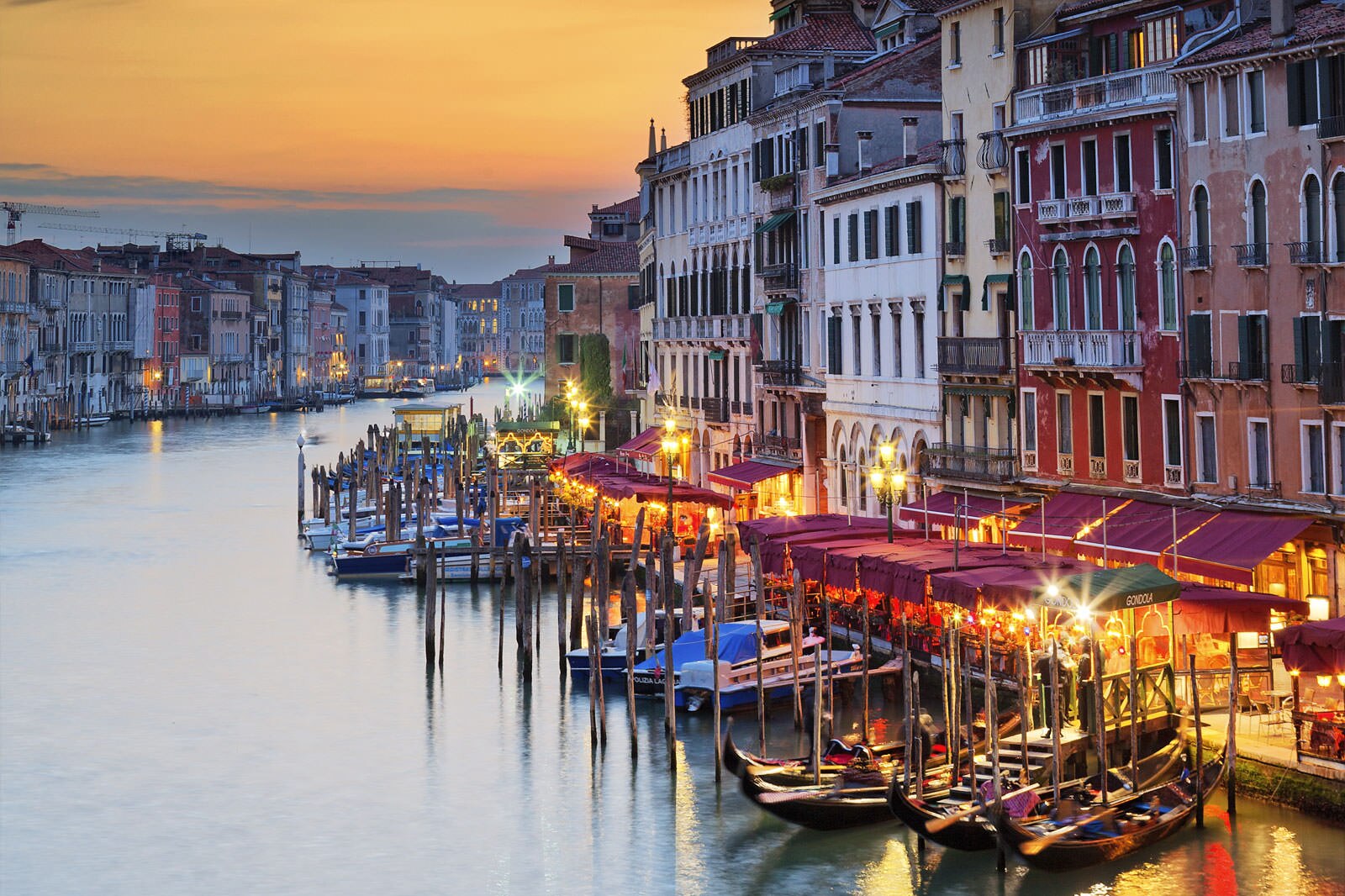 Dine by the Waterfront at Riviera
Romantic fine dining over the Venetian waterfront
Complete your visit to Venice with a fine waterfront dining experience. There are plenty of options along the waterfront promenade right off the Piazza San Marco. For fine settings with panoramic views over the lagoon, as well as magical sunsets over the island of Giudecca, Riviera tops the lists. The impressive view from the table setups over their long boat docks go well with their variety of traditional and contemporary Venetian dishes. Consider their 7-course tasting menu with the chef's personal selections, from about €100. Whatever you try, don't miss their - cercami sù, a mouth-watering tiramisu with a twist.
Location: Fondamenta Zattere Al Ponte Longo, Venice, Italy
Open: Friday - Tuesday: from 12.30pm to 3pm and from 7pm to 10.30pm
Phone: +39 (0)041 522 7621
Couples
Families
Food
Luxury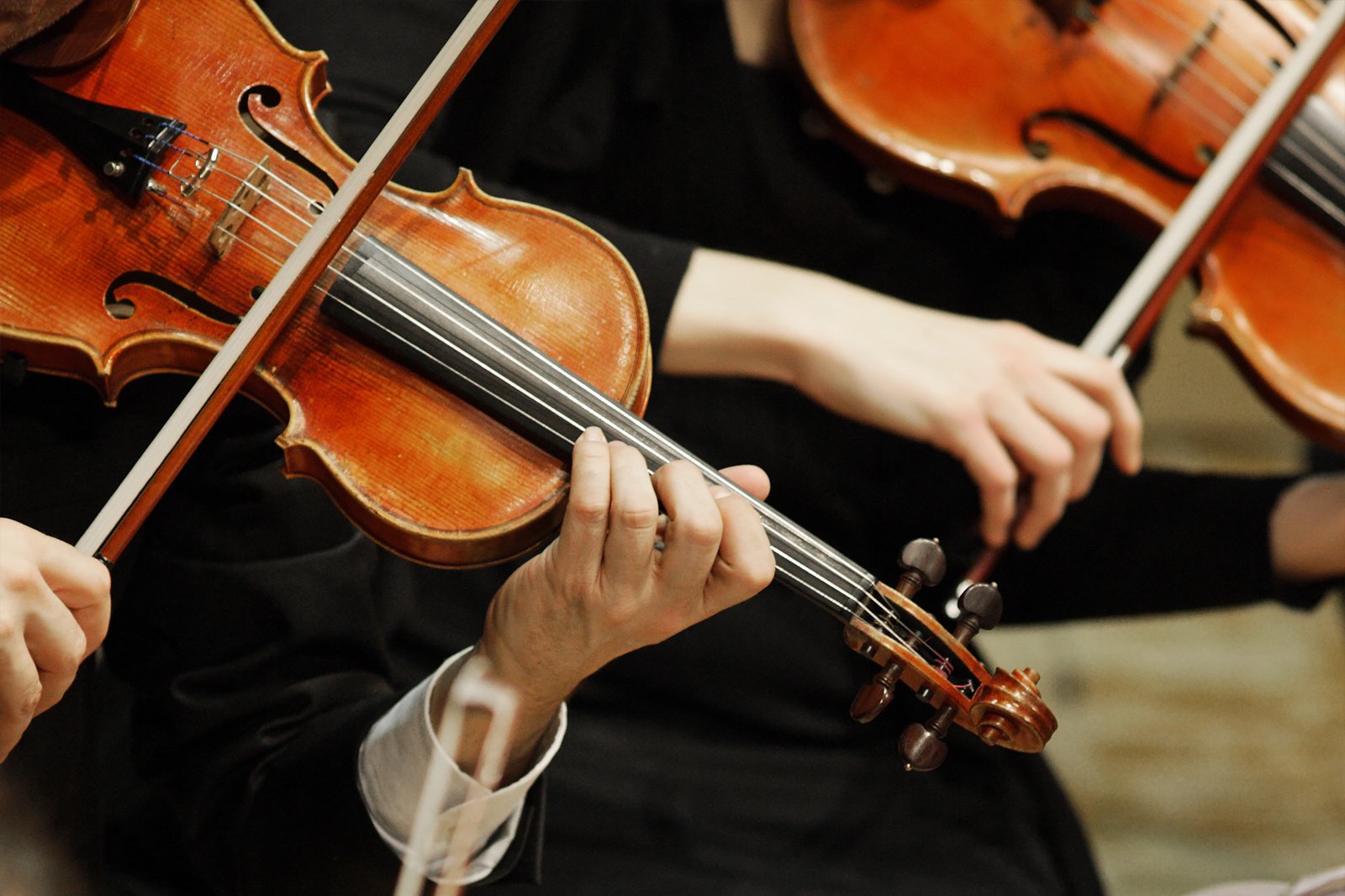 End the Day Watching Vivaldi in Venice
Classical orchestras at Chiesa Santa Maria della Pieta
When you've seen some of Venice's best, it's worth experiencing the sounds. As the birthplace of the famous Italian Baroque composer and violinist, Venice features different tribute concerts and orchestras. Many are hosted at palaces and churches, the likes of Palazzo delle Prigioni, Palazzo Barbarigo Minotto and Chiesa di San Vidal. However, the most appropriate would be Chiesa della Pieta, nicknamed "Vivaldi's Church", where the maestro worked and lived. It's 350 metres east from the Doge's Palace. Tickets are from around €23.
Location: Calle della Pietà, 3701, Venice, Italy
Open: Daily from 8.30pm
Phone: +39 (0)41 5222 171