9 Best Nightlife in Vientiane
Where to Go at Night in in Vientiane
The best nightlife in Vientiane shows that it has evolved from a sleepy little Mekong fishing town to a city lined with riverfront restaurants, cosy bars, and vibrant nightclubs playing modern tunes. The Laotian capital's nightlife scene is more of a low-key affair, but that doesn't mean quality and quantity have been spared.
The ever-growing collection of places to go at night in Vientiane gives you the opportunity to enjoy the evening, spark up a conversation with a chatty stranger, or exchange travel tips with a backpacker on the same path.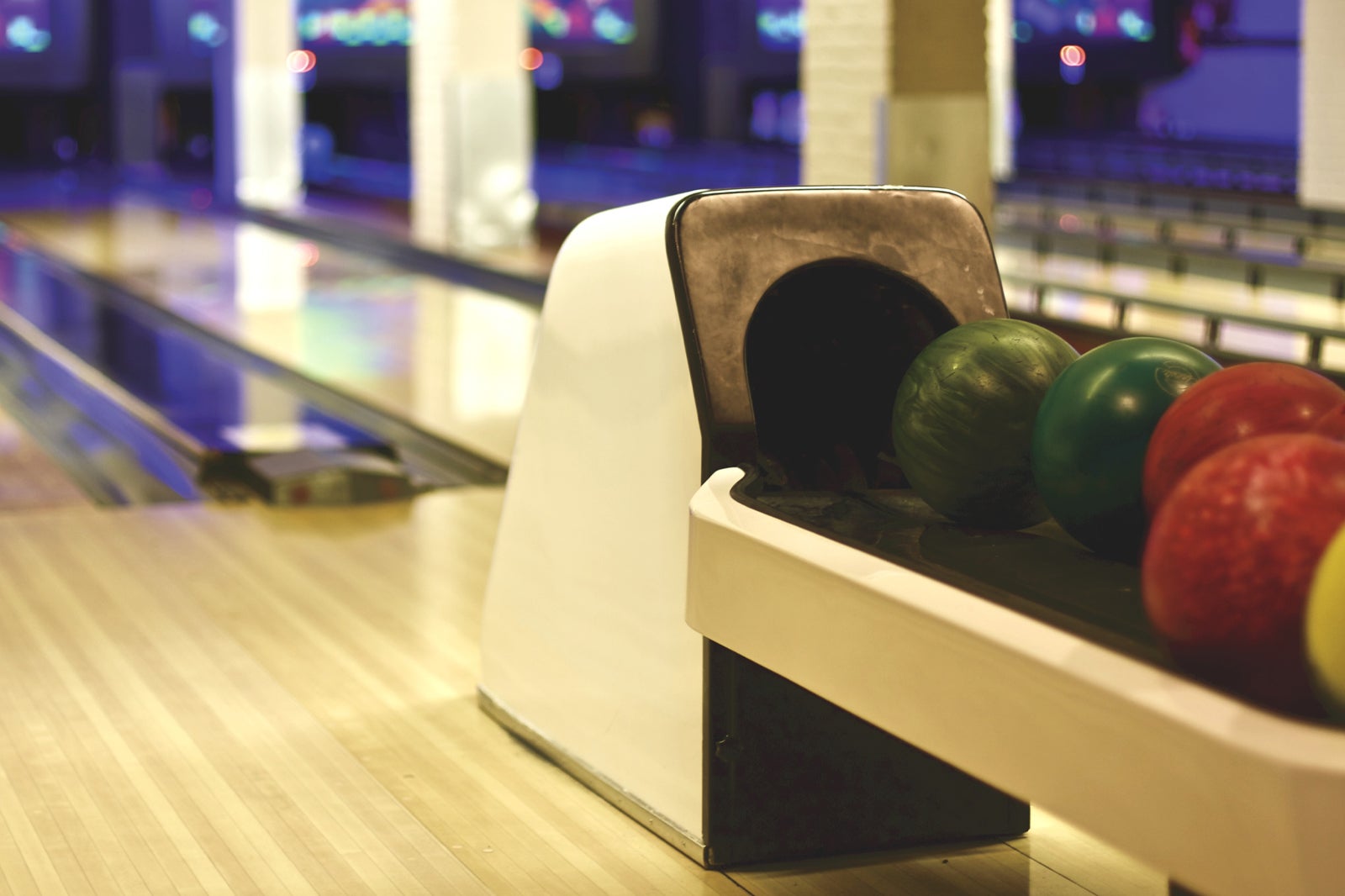 Lao Bowling Centre is where locals enjoy a night out with loud music, cold beer, and a few rounds of bowling. Sure, the balls are a little chipped, the scoreboard is temperamental, and instructions are somehow in Spanish, but the 10-lane bowling alley is one of the few places in Vientiane that stays open past midnight.
Fees include shoe hire (bring your own socks) – you can even follow the locals by playing barefoot!
Location: Rue Le Ky Huong, Vientiane 0100, Laos
Open: Daily from 9am to 2am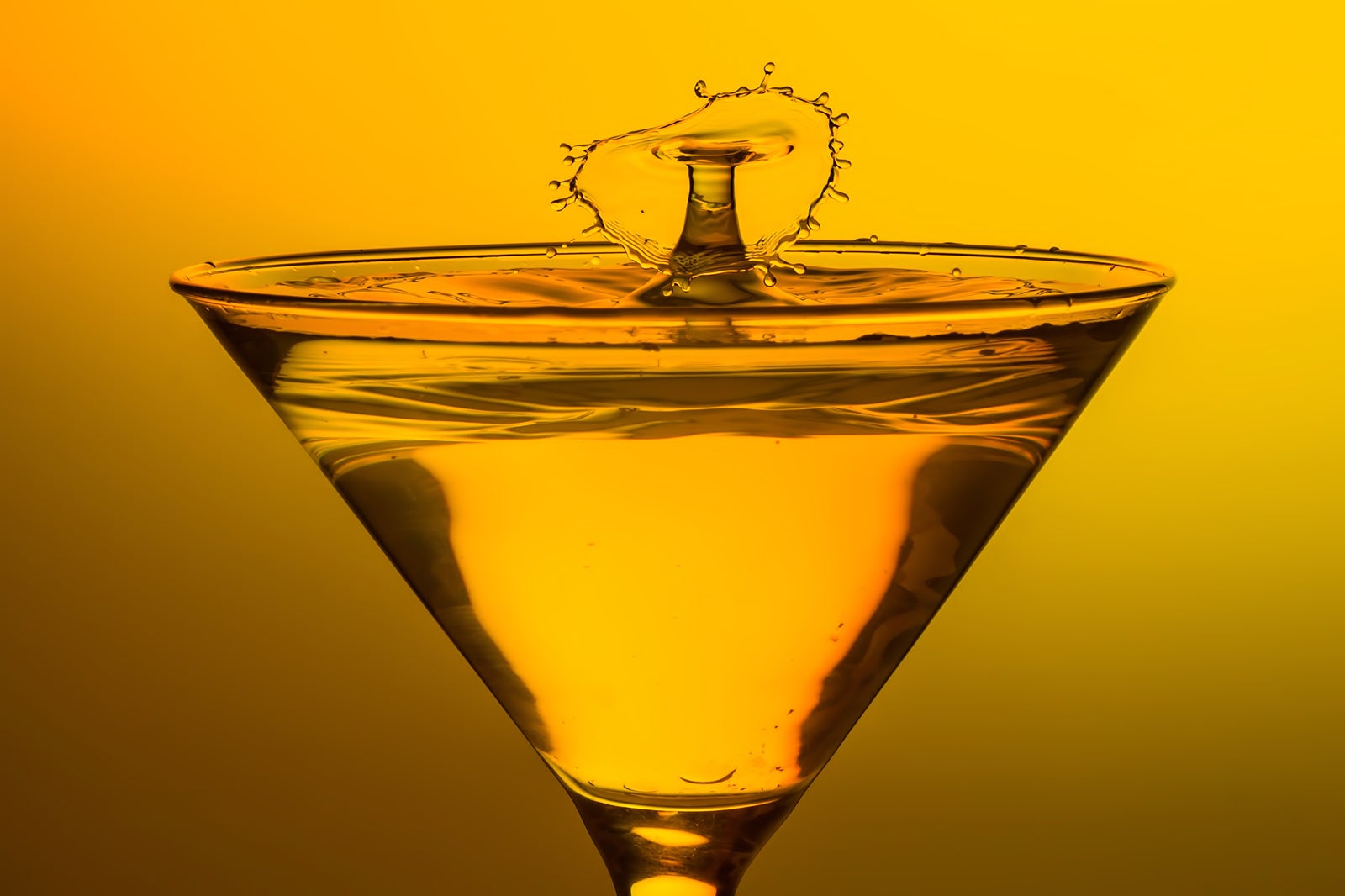 The Spirit House Bar & Restaurant
The Spirit House Bar & Restaurant is an all-day riverside spot that really comes alive in the evening. The stylish wooden interior and tasteful background music give the bar an upmarket feeling, which attracts mostly expats and affluent locals.
Cocktails are must-tries at Spirit House Bar & Restaurant – you'll find creative combos like martini mixed with sake and pickled ginger, and green-tea infused gin and tonic. There's also a good range of international beers, wines and (as the name would suggest) spirits.
Location: 09/093, Fa Ngum Road, Baan Seetarn Neua, Sikhottabong District, Vientiane, Laos
Open: Daily from 7am to 11pm
Phone: +856 21 243 795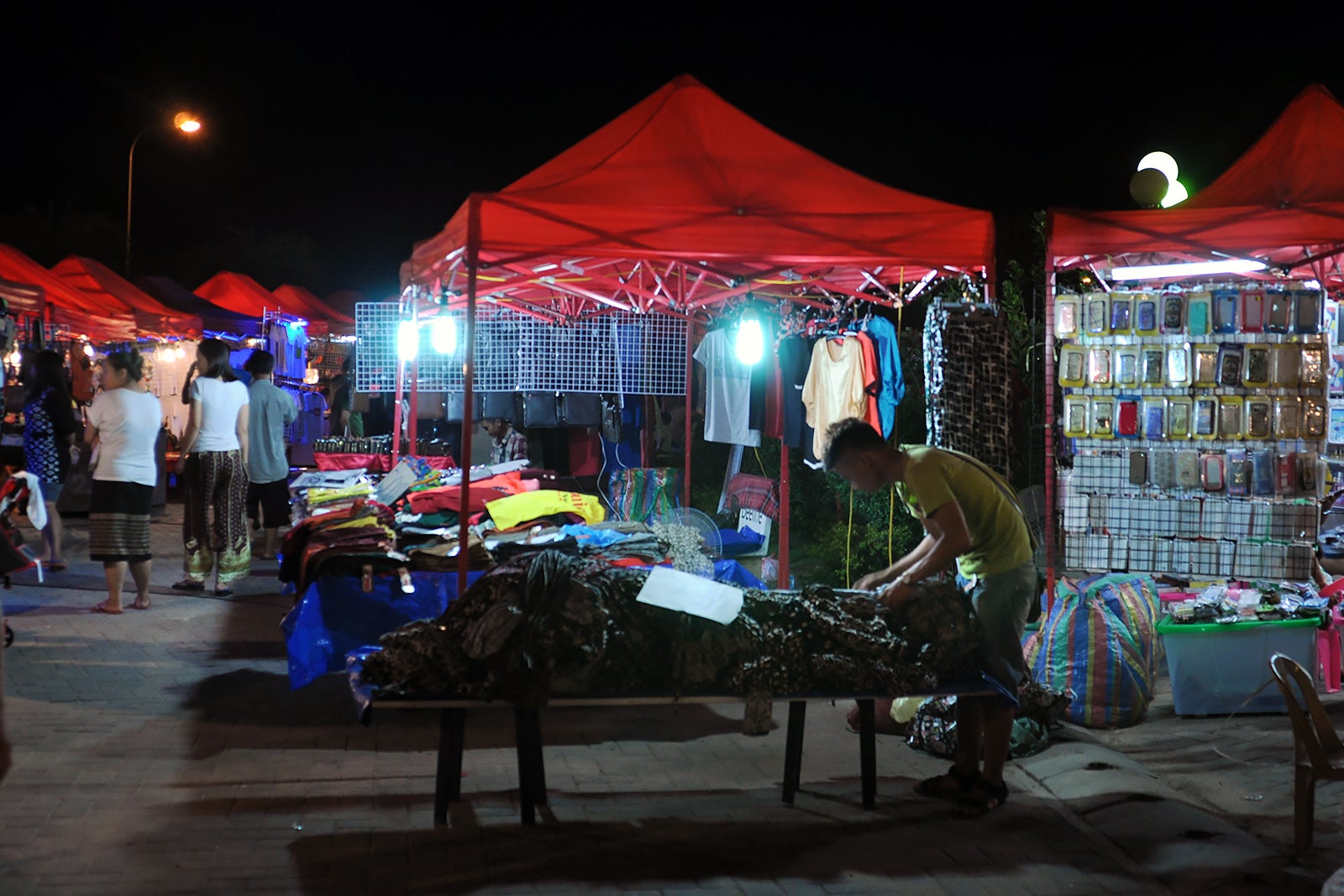 The Vientiane Night Market takes place along the Mekong Riverfront, where you can see rows of red-roofed stalls selling handicraft, clothes, and electronics. Vendors begin to set up their stalls around sunset – the market is busiest around 8pm, so head there early to avoid a large crowd.
The Vientiane Night Market is well worth a visit in the evening for its gorgeous sunset alone, as well as the many street food stalls selling authentic Lao dishes.
Location: Mekong Riverfront, Vientiane, Laos
Open: Daily from 6pm to 9.30pm
photo by shankar s. (CC BY 2.0) modified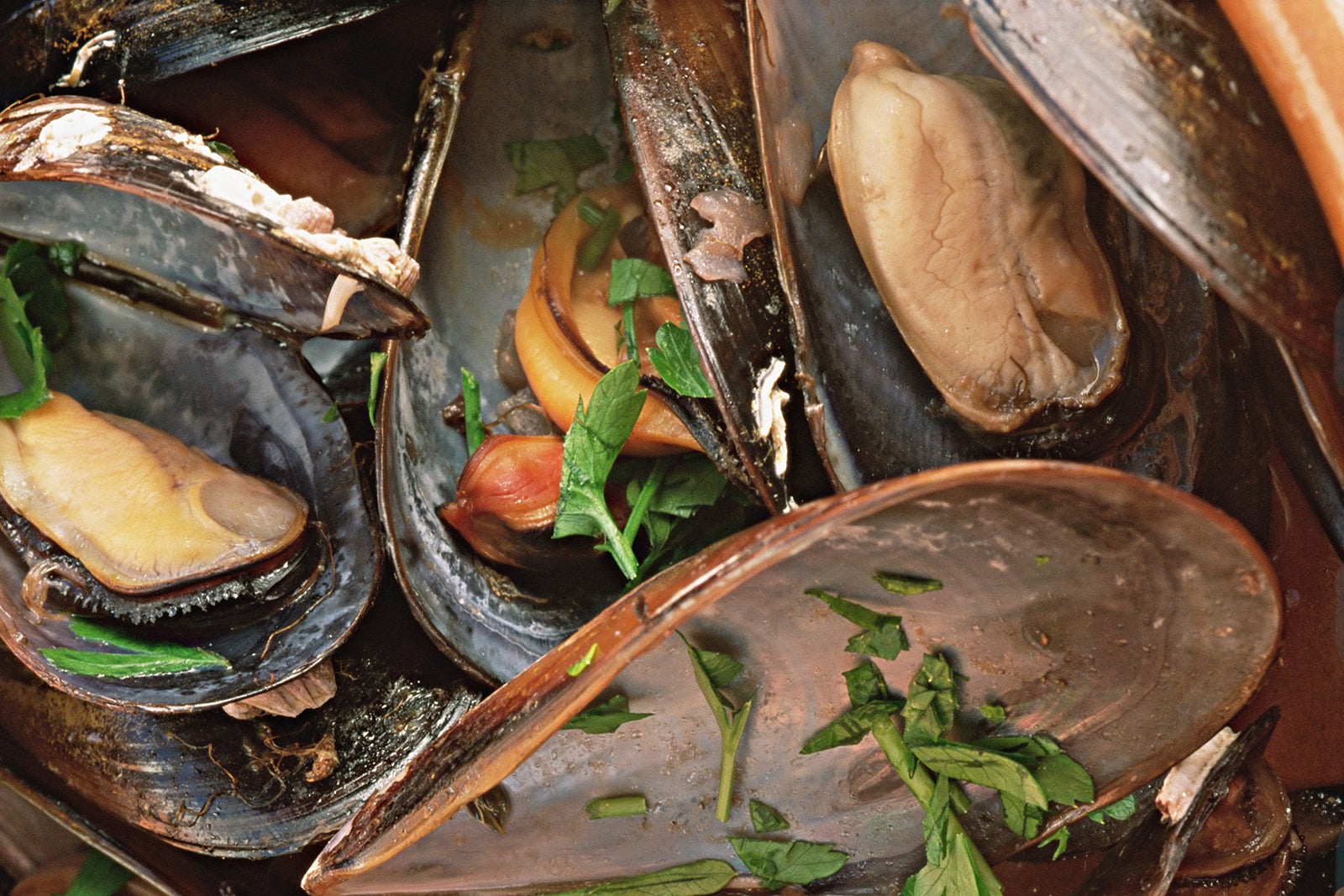 Beer connoisseurs need to look no further than the colourful and quirky Chokdee Café and Belgian Beer Bar. Located on the main riverfront of Vientiane, it's known for serving international lagers, ales and ciders – Guinness, Magners, Savanna Dry, Leffe, Hoegaarden, La Chouffe – and of course, no watering hole in Vientiane would be complete without the local Beerlao.
Chokdee Café and Belgian Beer Bar has an extensive food menu to complement your beer sampling session. Standouts include mini hamburgers, cheese plate, pork cold cuts, and spring rolls.
Location: Quai Fa Ngum, Ban Signeun, Vientiane, 00010 Laos
Open: Daily from 10am to 11pm
Phone: +856 20 56 103 434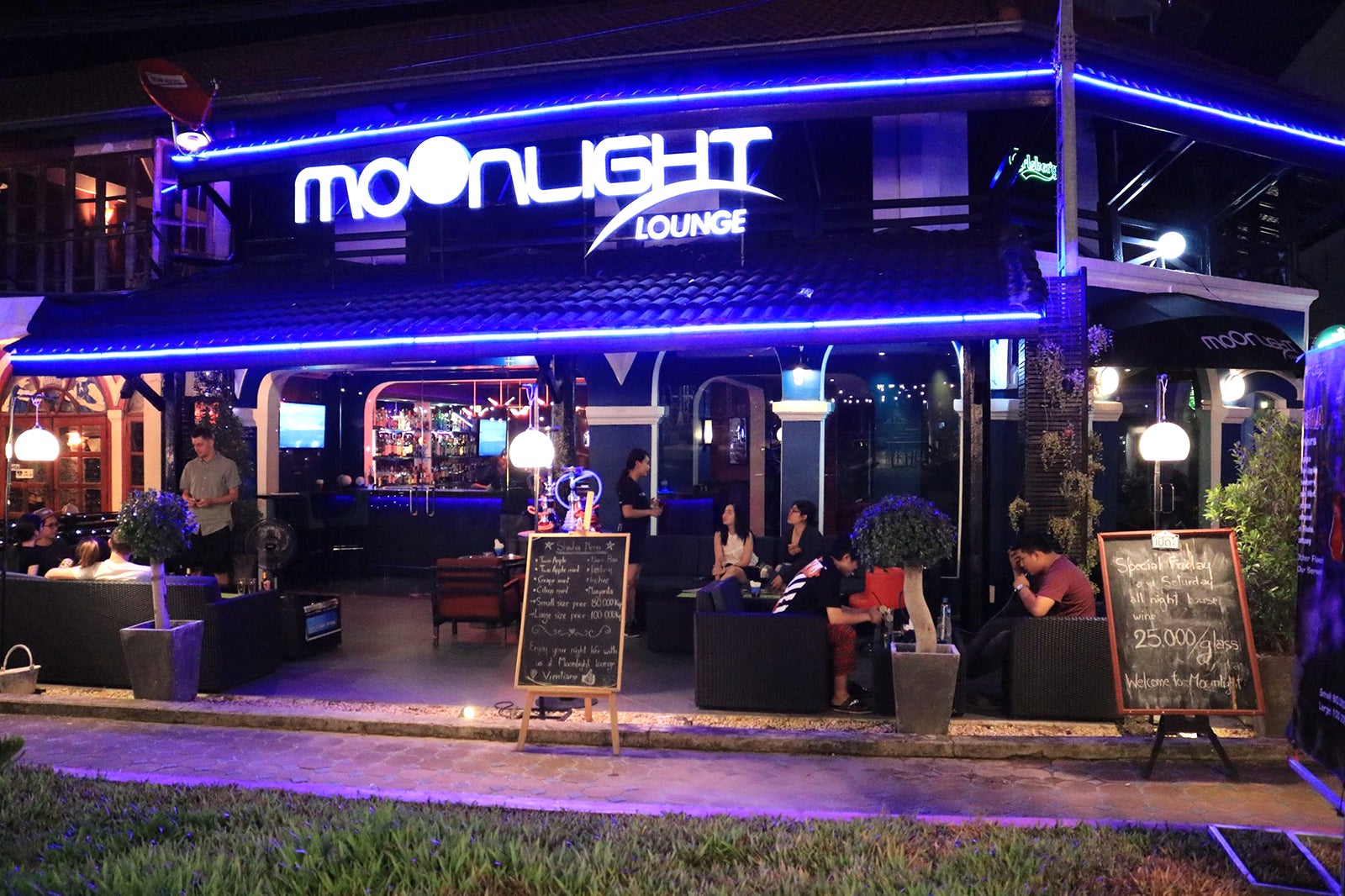 Moonlight Lounge is an upmarket bar and club about 350 metres west of the Presidential Palace. The early evenings see the lounge playing jazzy house and ambient beats, while vibrant parties with hip-hop, dance, and trap music take place until the next morning.
The extensive drinks list at Moonlight Lounge includes cocktails, draft and craft beers, wines, and over 20 types of bourbons. You can also enjoy cigars and hookah pipes during your late night out at this Vientiane nightlife spot.
Location: 1 Namphu Fountain, Post Box 8837, Vientiane 01000, Laos
Open: Daily from 4pm to 4.30am
Phone: +856 20 55 444 893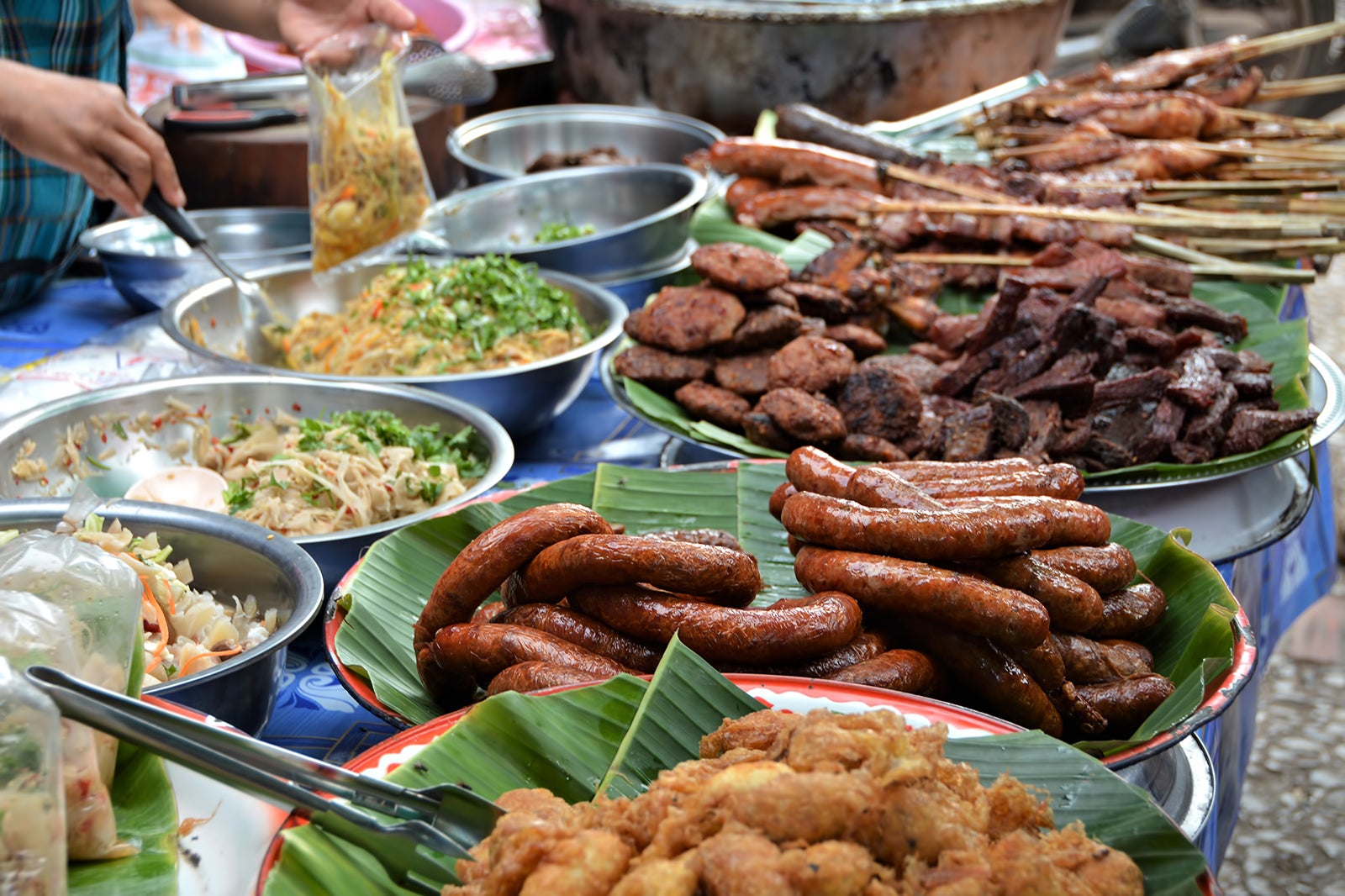 Vangthong Evening Food Market
The Vangthong Evening Food Market attracts locals and tourists looking to enjoy authentic Laotian food at affordable prices. After sunset, the market becomes a hive of activity with dozens of stalls preparing traditional dishes such as bla kan sung (grilled fish), sai oua (Laotian sausage), and bet yang (roasted duck).
A walk through Vangthong Evening Food Market also provides plenty of good photo opportunities – just make sure you ask for permission before clicking that shutter.
Location: Rue Phai Nam, Vientiane, Laos
Open: Daily from 5pm to 10pm
Bor Pen Nyang is a 4-storey bar and restaurant overlooking the Mekong River and central Vientiane. The vibe changes throughout the day, so depending on the time of your visit, you may find a chill-out bar with pool tables, a sunset roof terrace, or a vibrant backpacker-friendly club. If you're planning to catch the sunset, head there early as seats by the terrace get filled up fast.
Bor Pen Nyang's food menu ranges from fajitas and pizzas to Lao-style BBQ and stir-fried dishes – standouts include larb (minced meat salad), spicy seafood soup, and the special Swiss cheeseburger. Draught BeerLao is served in pints, pitchers and beer towers.
Location: Quai Fa Ngum, Vientiane, Laos
Open: Daily from 10am to midnight
Phone: +856 21 261 373
Kong View Restaurant provides a great setting to enjoy stunning views of the Mekong River, together with an excellent menu of Laotian, Thai, and European dishes. The restaurant is decked out with wooden fixtures and tasteful mood lighting, which add to that chilled-out ambience and welcoming feel.
Half of the restaurant is set outside in a garden overlooking the river, and those who don't mind sacrificing those stunning river views can enjoy the comfort of air conditioning inside the main building instead.
Location: 183 Souphanouvong Road, Vientiane, Laos
Open: Daily from 8am to 11pm
Phone: +856 21 243 686
Samlo Pub is rather easy to spot, thanks to its bright yellow exterior and central location in Vientiane. This old-school joint might be grungy and the decor dated, with a liberal indoor smoking policy, but Samlo Pub still attracts plenty with its cheap prices.
Live sports are aired on widescreen TVs, and there's a variety of classic pub games, such as pool and foosball.
Location: Rue Setthathirath, Vientiane 0100, Laos
Open: Daily from 6pm to 2am
Phone: +856 20 55 519 097