10 Best Things to Do in Salamanca
What is Salamanca Most Famous For?
Salamanca is a university town with a vibrant youth community made up of various nationalities. Its many open squares are home to restaurants, bars, boutiques, and cafes, as well as a sandstone cathedral, monuments, and museums dating back to the 13th century.
Buildings with Plateresque facades are popular sightseeing spots in Salamanca. This form of Spanish architecture dates back to the early 16th century and features ornate designs typically found in Renaissance silverware. Common themes include flowers, medallions, scallop shells, skulls, and animals. It's also worth checking out Salamanca University, which is one of the oldest education institutes in the world. From the best places to party with fun-loving locals to museums that you shouldn't miss, read on for our guide on things to do in Salamanca.
What are the best things to do in Salamanca?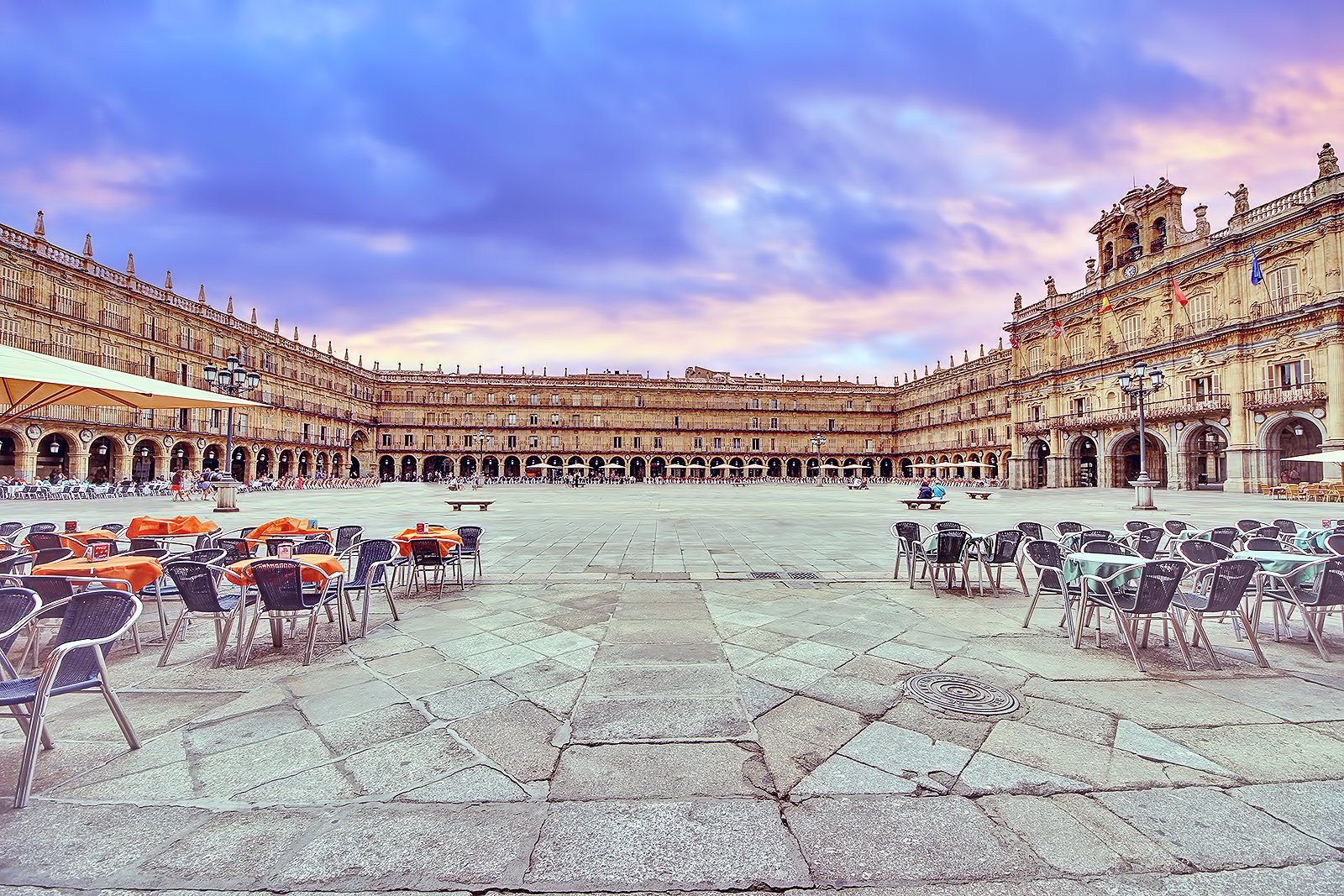 Start the day at Plaza Mayor
Enjoy breathtaking sunset views of Salamanca Old City
Plaza Mayor is a historical square in Salamanca that's known for its Romanesque, Gothic, Moorish, Renaissance, and Baroque architecture. Set within the UNESCO-listed Old City, it dates back to the 18th century and has more than 80 archways, each fitted with relief medallions of prominent kings, poets, and politicians. Must-visits here include Ayuntamiento (Town Hall), Iglesia de San Martín Cathedral, and Teatro Liceo. At dusk and dawn, the sandstone buildings in Plaza Mayor are bathed in a golden glow, earning Salamanca its nickname 'Golden City'.
Location: Plaza Mayor, 37002 Salamanca, Spain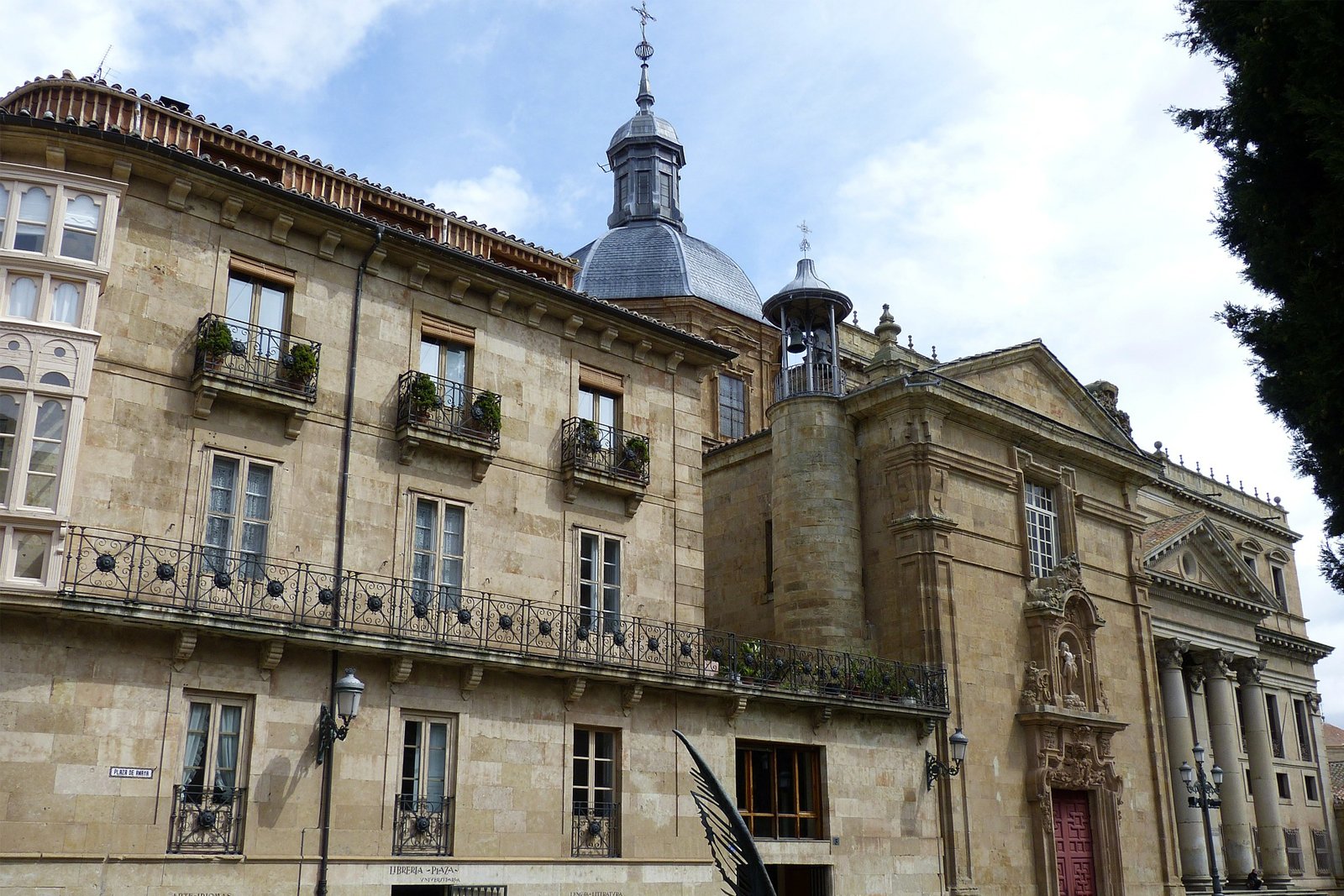 Must-See: University of Salamanca
Browse through over 900,000 Spanish literature at the library
The University of Salamanca was built in 1218 under the reign of Alfonso IX, making it one of the world's oldest universities. You can visit to get a nice impression of the heritage and enjoy the architecture. The main building, called the Escuelas Mayores, features a 16th century Plateresque façade filled with Catholic symbols such as the eagle of Saint John and Charles V's coat of arms. The tree-shaded Patio de Escuelas is a popular spot for spotting the 'frog on a skull' carvings, which are hidden within the façade. Tickets costs about €10 for adults, which include admission to Escuelas Mayores and Archbishop Fonseca College.
Location: Plaza Patio de Escuelas Menores, 37008 Salamanca, Spain
Open: Monday - Friday from 9.30am to 1.30pm and from 4pm to 7pm, Saturday from 9.30am to 1.30pm and from 4pm to 6.30pm, Sunday from 10am to 1pm
Phone: +34 923 294 648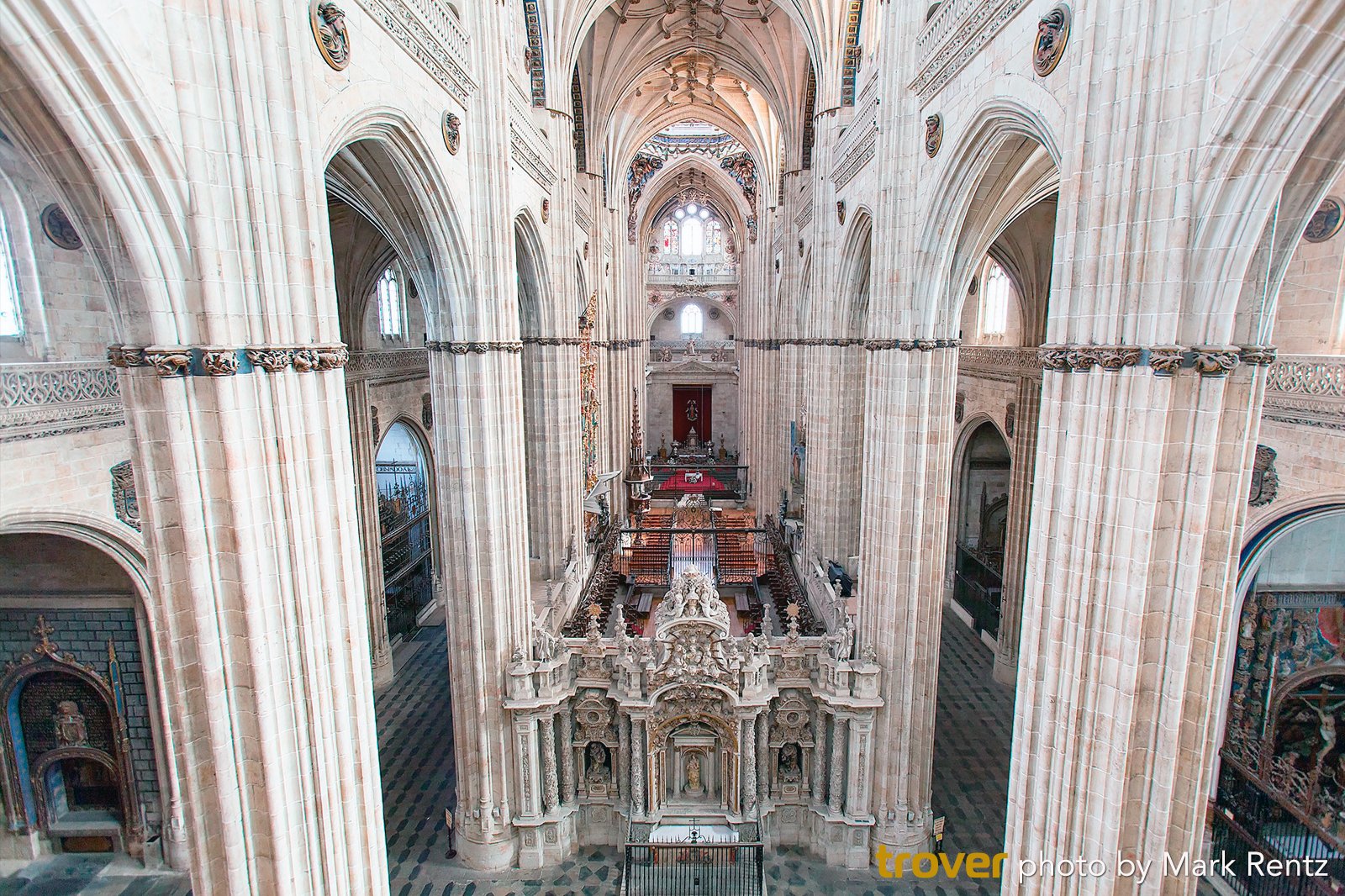 Visit the Old and New Cathedrals of Salamanca
Find the astronaut sculpture at the New Cathedral
Catedral Vieja, known as the Old Cathedral of Salamanca, is a 12th century Romanesque structure with a 110-metre tall clock tower. Called La Torre Del Gallo, you can climb the winding stairway to the top of the tower for beautiful views of the Old Town. Its main altar features one of Europe's oldest organs and more than 50 paintings of biblical scenes dating back to the 15th century. The Catedral Nueva (New Cathedral) dates back to the 16th century, featuring a mix of Renaissance, Gothic, and Baroque architecture. One of its most unique carvings is the one of an astronaut, which was added in 1992.
Location: Catedral Vieja de Salamanca, Plaza Juan XXIII, 37008 Salamanca, Spain
Open: Daily from 10am to 7.30pm
Phone: +34 923 281 123
Couples
Families
History
Photo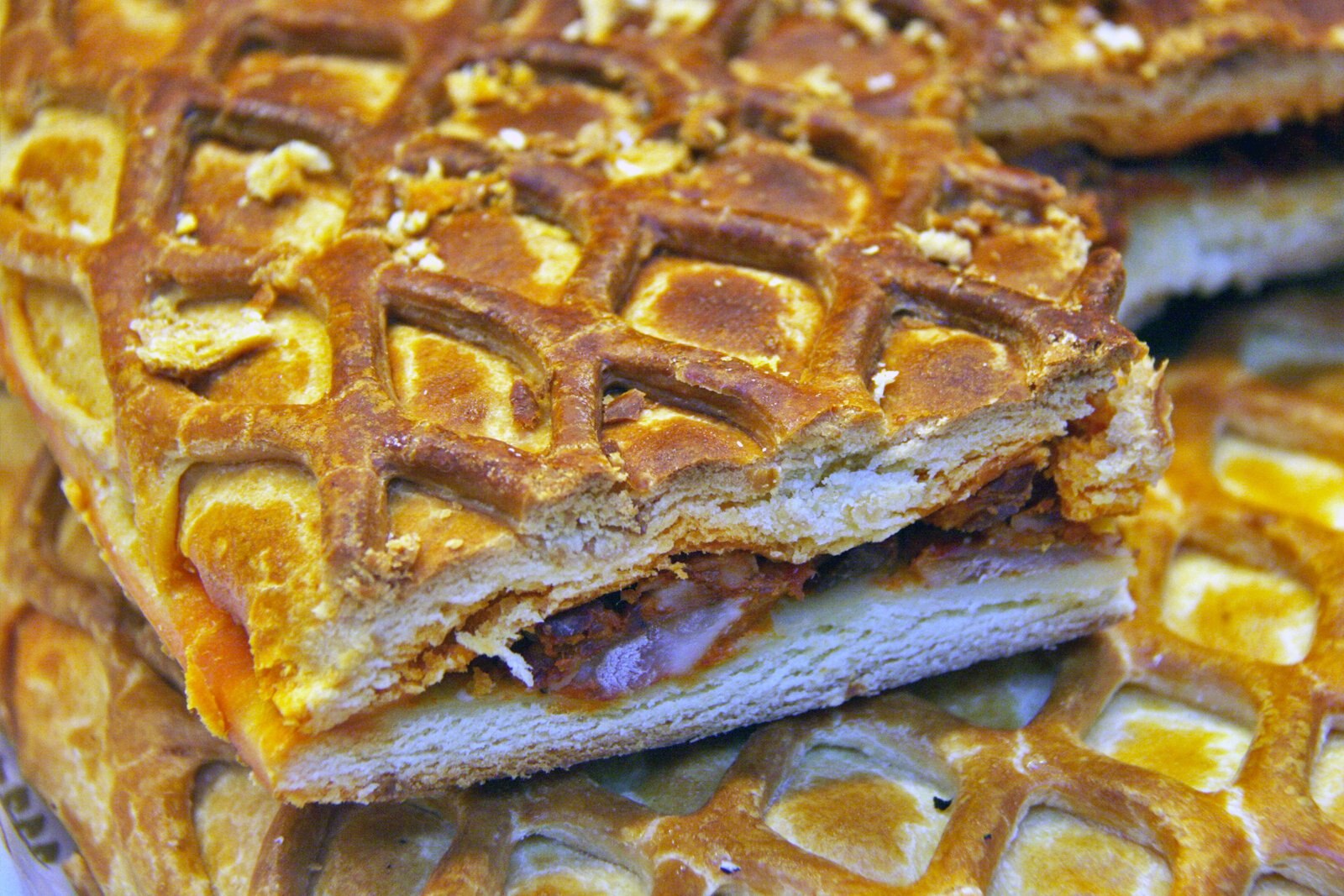 Eat hornazo
Enjoy this meat pie with coffee at La Tahona De La Abuela Café
Hornazo is a flat Spanish pie typically eaten during the Lunes de Aguas Festval at the end of Easter. The crust is flaky and soft to the bite, with a meaty filling of hard-boiled eggs, pork loin, and chorizo. You can get this meat pie at almost every bakery and supermarket in Salamanca, though some use cured ham for variety. La Tahona De La Abuela Café is a quaint café that serves freshly baked hornazo, as well as decent coffee, cakes, and pastries in Plaza Mayor.
Location: La Tahona de la Abuela, Plaza Mayor, 37005 Salamanca, Spain
Open: Monday - Thursday from 8.30am to midnight, Friday - Saturday from 8.30am to 2am, Sunday from 9am to midnight
Phone: +34 923 271 411
photo by Tamorlan (CC BY-SA 3.0) modified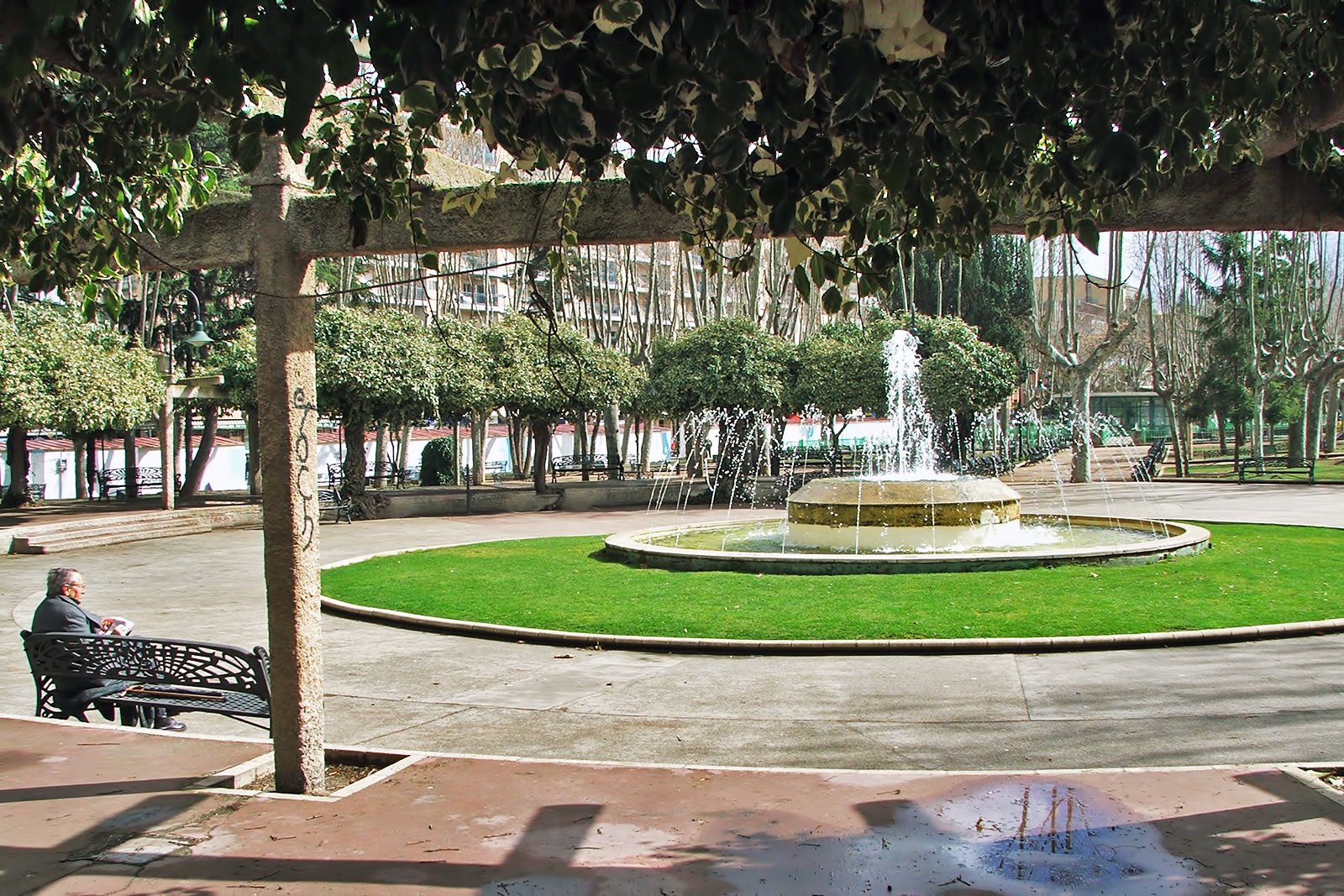 Take a break at Parque de la Alamedilla
Check out art installations at this city park
Parque de la Alamedilla is a family-friendly park just outside Salamanca's Old Town. Built in 1882, its central square is especially popular with children as it has a large fountain with dancing water features and colourful lights. You can also spot swans and ducks swimming in the park's artificial lake. Various plants, trees, and even art installations can be found throughout the park, making it a popular spot for picnicking during warmer months.
Location: Parque de la Alamedilla, Salamanca, Spain
Open: Daily from 9am to 9pm
photo by Björn Láczay (CC BY-SA 2.0) modified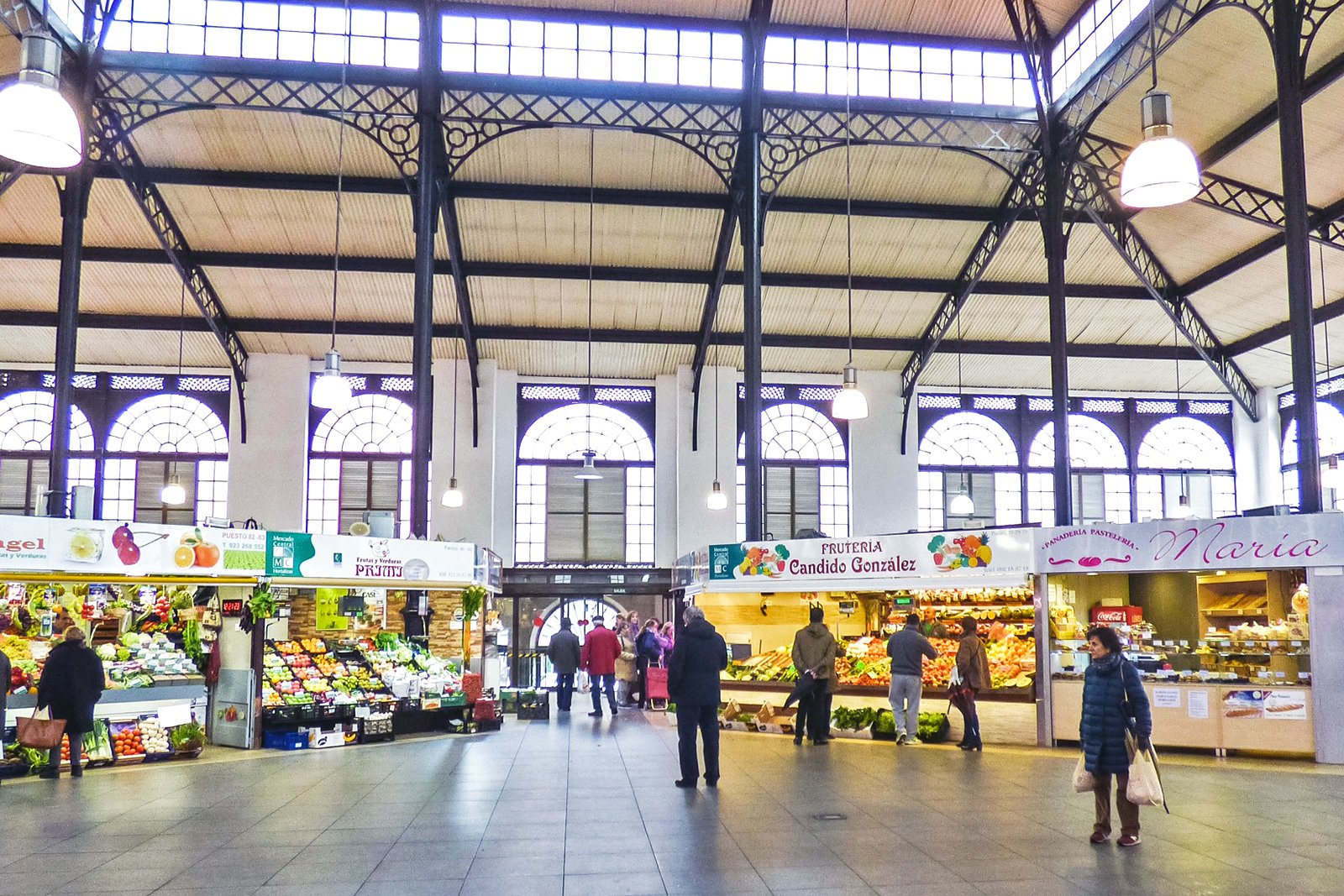 Shop at Mercado Central
Shop for quality regional produce at this local market
Mercado Central occupies a 19th-century building by architect Joaquín de Vargas Aguirre, who also constructed Casa Lis in Salamanca. This historical market is where locals frequent to stock up on fresh produce, meat and seafood as well as Spanish hams, wines, and cheeses. Grab a seat at an onsite tapas bar and dine on some tapas while you're here. Mercado Central is located in Plaza del Mercado, about 100 metres east of Plaza Mayor.
Location: Mercado Central, Plaza del Mercado, 37001 Salamanca, Spain
Open: Monday - Saturday from 9am to 2pm (closed on Sundays)
Phone: +34 923 213 000
Couples
Families
Shoppers
Food
Budget
photo by michael clarke stuff (CC BY 2.0) modified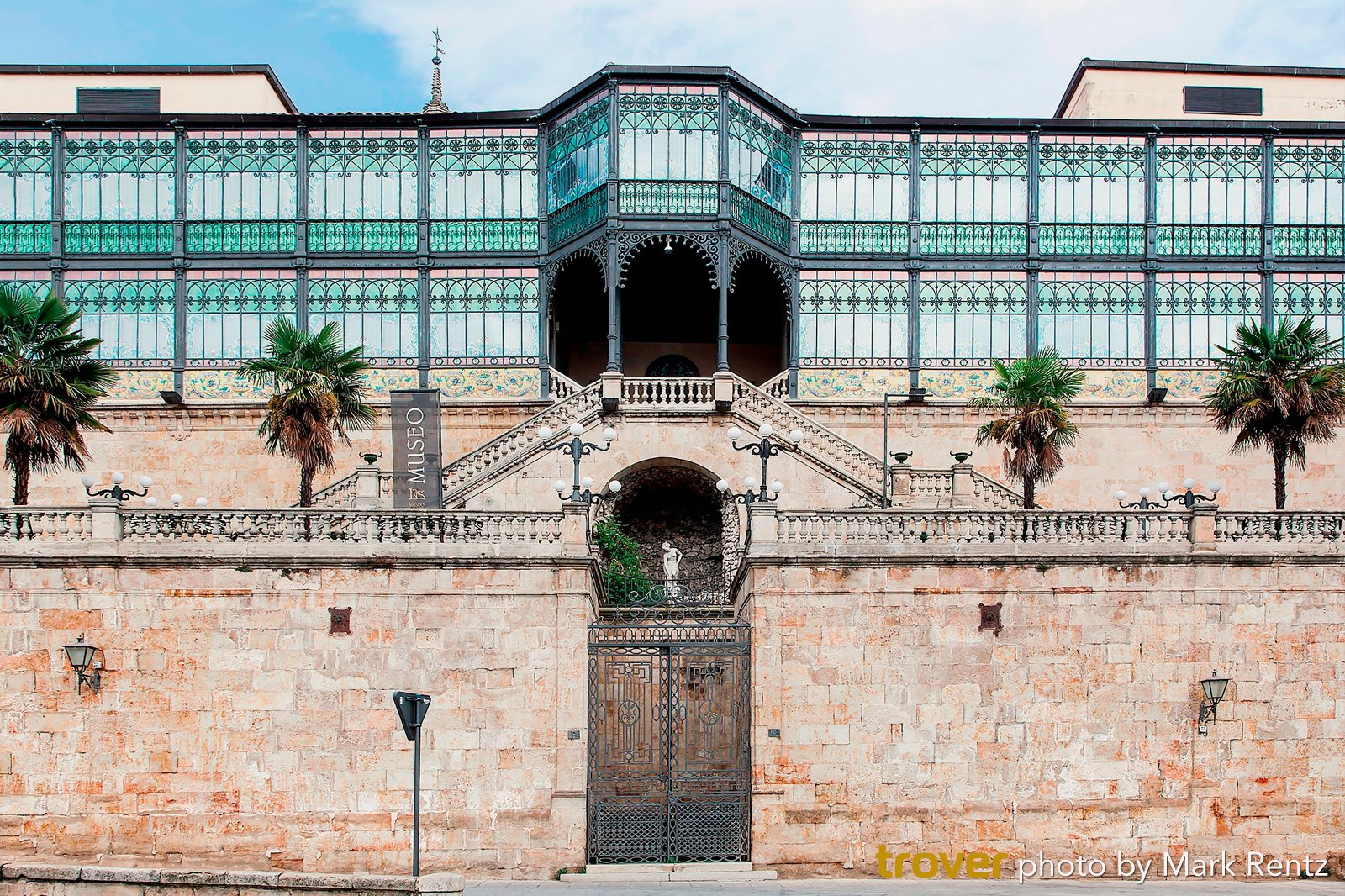 See Art Nouveau décor at Museo Art Nouveau & Art Decó
See over 2,000 pieces of stained glass on the central patio's ceiling
Museo Art Nouveau & Art Decó is set inside Casa Lis, a Modernist building fitted with colourful stained-glass windows and ceiling. Here, you can explore 19 exhibits dedicated to the Art Nouveau period. Decorative arts on display here include bronze statues, porcelain figures, and paintings by renowned artists throughout the 19th and 20th centuries. See beautiful jewellery by Masriera and Faberg, Chryselephantine sculptures by Demetre Chiparus, and furniture by Homar, and Majorelle.
Location: Gibraltar, 14, 37008 Salamanca, Spain
Open: Tuesday - Sunday from 11am to 8pm (closed on Mondays)
Phone: +34 923 121 425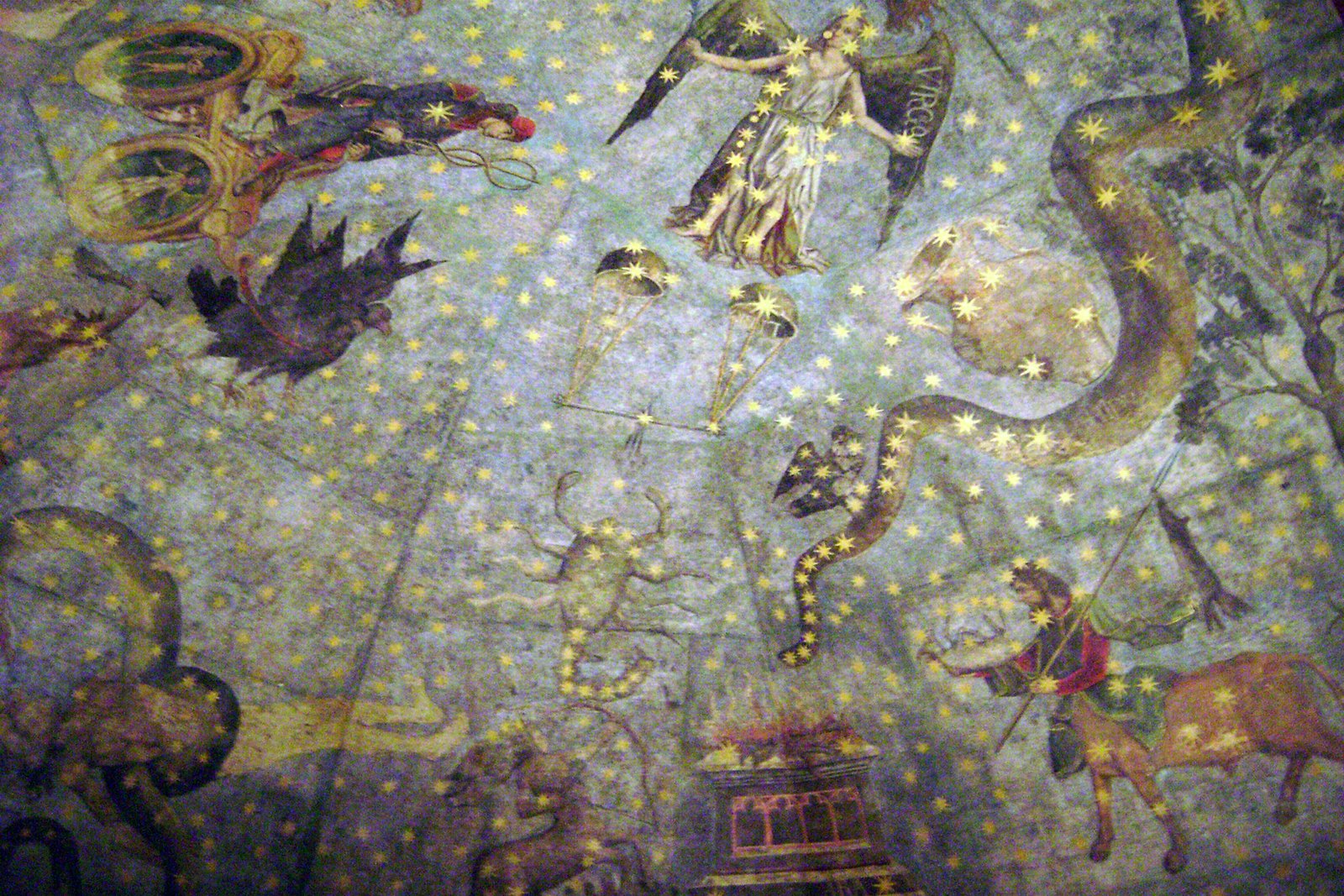 Stargaze at Cielo de Salamanca
Find your zodiac sign at this 15th-century ceiling fresco
Cielo de Salamanca is a beautiful ceiling fresco inside the University of Salamanca's library. It's painted by Fernando Gallego between 1483 and 1486, depicting astrological signs, constellations, and planets. As you gaze at the intricately decorated painting, its 12 zodiac signs seem to change in colour thanks to the changing light emitting from the library's large windows. Note that photography isn't allowed here and refrain from making loud noises out of respect for the library's patrons.
Location: Plaza Fray Luis de León, 3, 37008 Salamanca, Spain
Open: Monday - Saturday from 10am to 2pm & 4pm to 8pm (closed on Sundays)
photo by portengaround (CC BY-SA 2.0) modified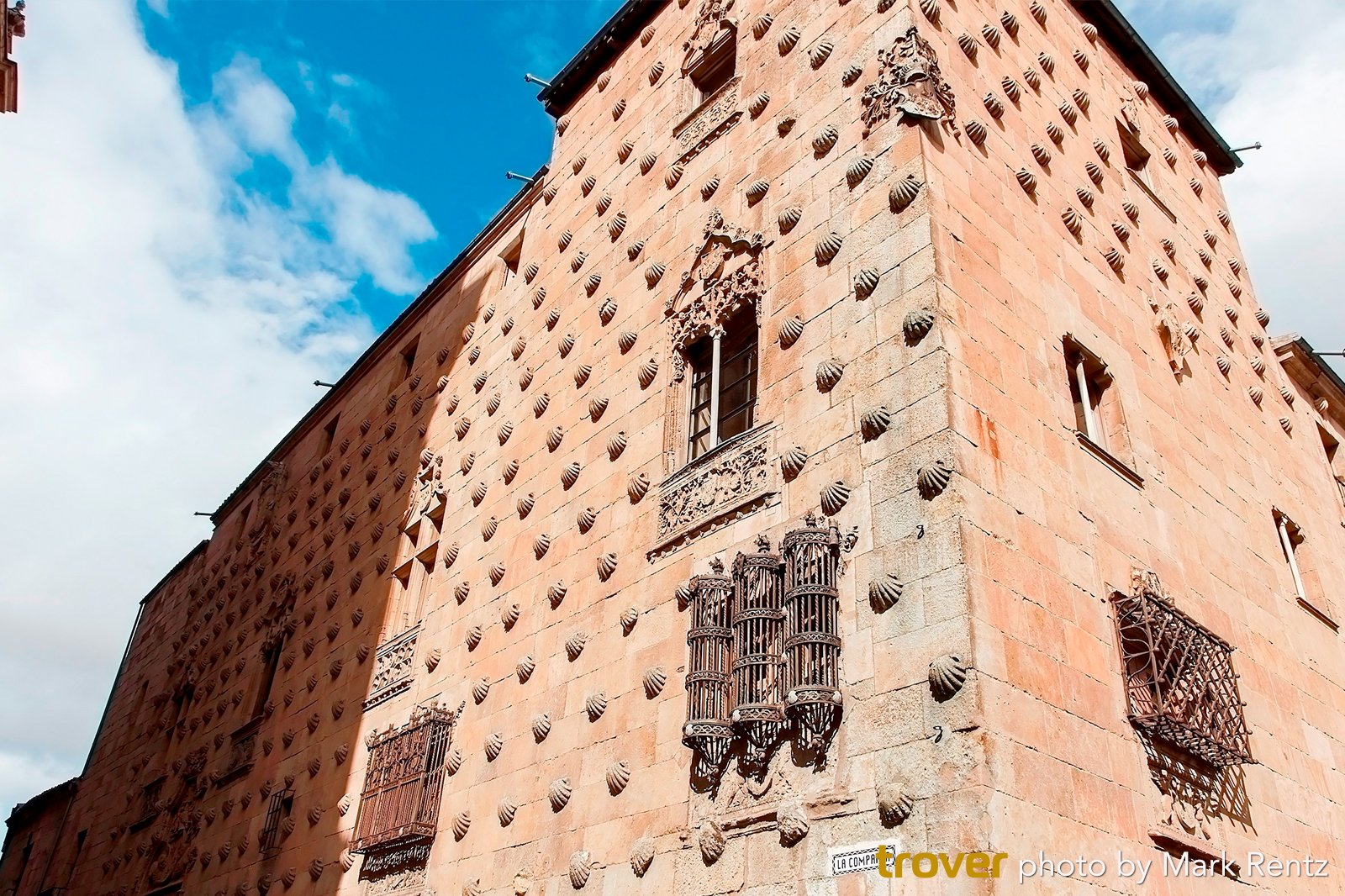 Must-See: Casa de las Conchas
Look for carvings of dolphins and Gothic coat of arms at the main entrance
Casa de las Conchas (House of Shells) is an impressive Gothic structure in Salamanca that was built in 1493. It's most renowned for its ornate Plateresque façade, which is decorated with over 300 stone shells to represent the Santiago Order's emblem. Many locals believe gold is hidden behind one of these shells. The main patio is a prime example of Isabelline Gothic architecture with Carrara marble columns and stone gargoyles perched on the walls. From here, you can access a modern library with an extensive collection of books and DVDs.
Location: Casa de las Conches, Calle Compañía, 2, 37002 Salamanca, Spain
Phone: +34 923 269 317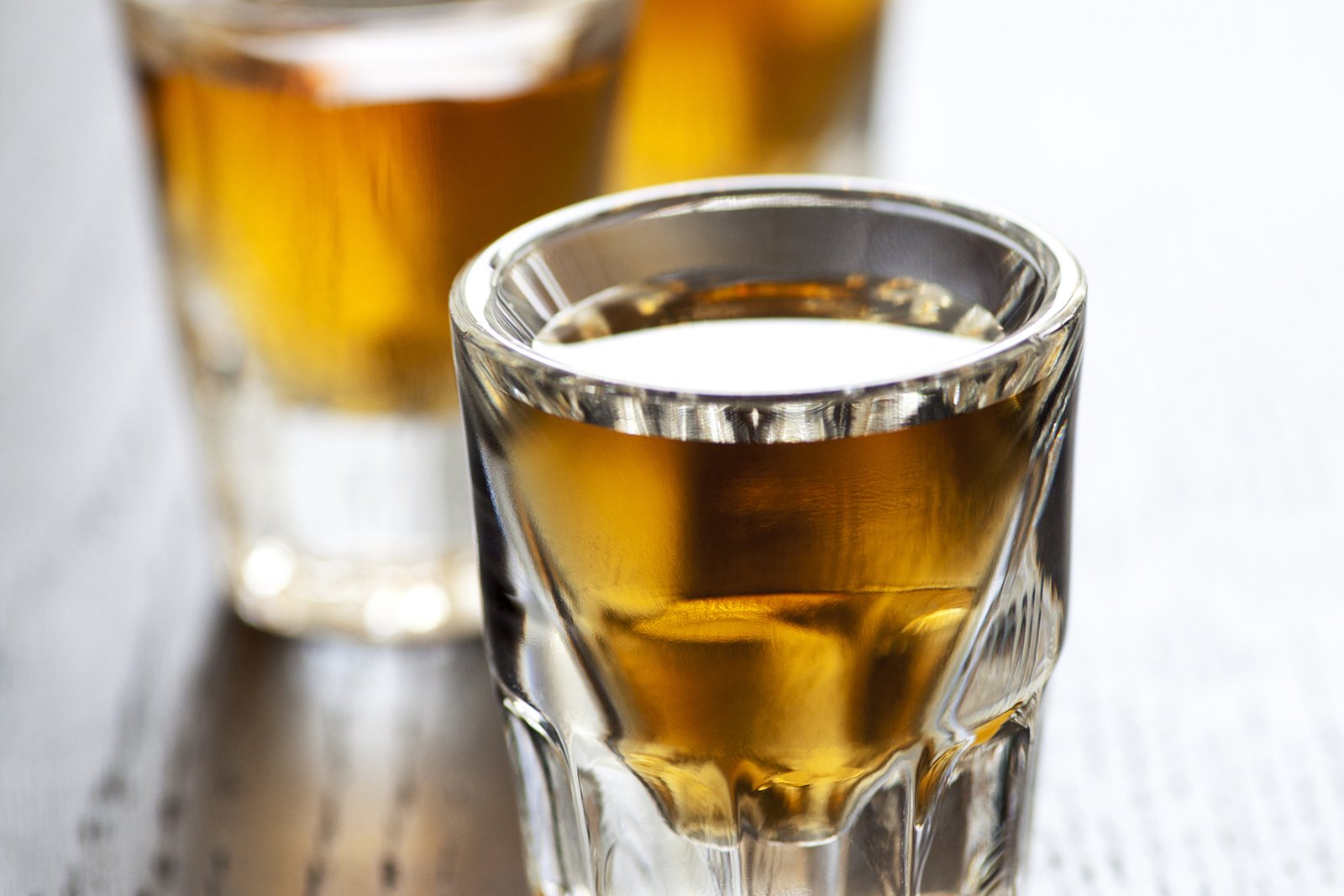 End the day at a shot bar
Order diablo verde shot at La Chupitería
Chupiterías or liter bars are arguably some of the most unique nightlife spots in Salamanca. These venues serve an extensive range of shots for about €1 each, making them popular hangout spots amongst university students and travellers with a modest budget. The streets surrounding Plaza Mayor and Plaza de San Juan Bautista are teeming with chupiterías, many of which offer tapas at affordable prices. A local favourite is La Chupitería, which is just a 5-minute walk from the University of Salamanca.
Location: Calle Rúa Mayor, Salamanca, Spain
Open: Monday - Wednesday from 10pm to 3am, Thursday - Saturday from 10pm to 4.30pm, Sunday from 10pm to 3am
Phone: +34 625 123 456
Couples
Food
Nightlife
Budget