10 Things to Do with Your Family in Seattle
Fun Places in Seattle to Take Your Kids
Seattle offers plenty of family fun. This is thanks to the well-varied collection of attractions and recreational spots in and around the city where you and your kids can sightsee, play, and learn together. Here, we've gathered the best family-friendly places in Seattle, ranging from dedicated arts and cultural centres in downtown, to beautiful urban parks and lakes for outdoor fun.
There are some Seattle attractions that you simply can't miss. The Seattle Aquarium is sure to inspire young kids with its touch pools, and there are plenty of cultural hands-on exhibits at the Seattle Children's Museum too. For a scenic ride, share a gondola on the Seattle Great Wheel overlooking Elliot Bay. Find more ideas on great things to do with your family in Seattle below.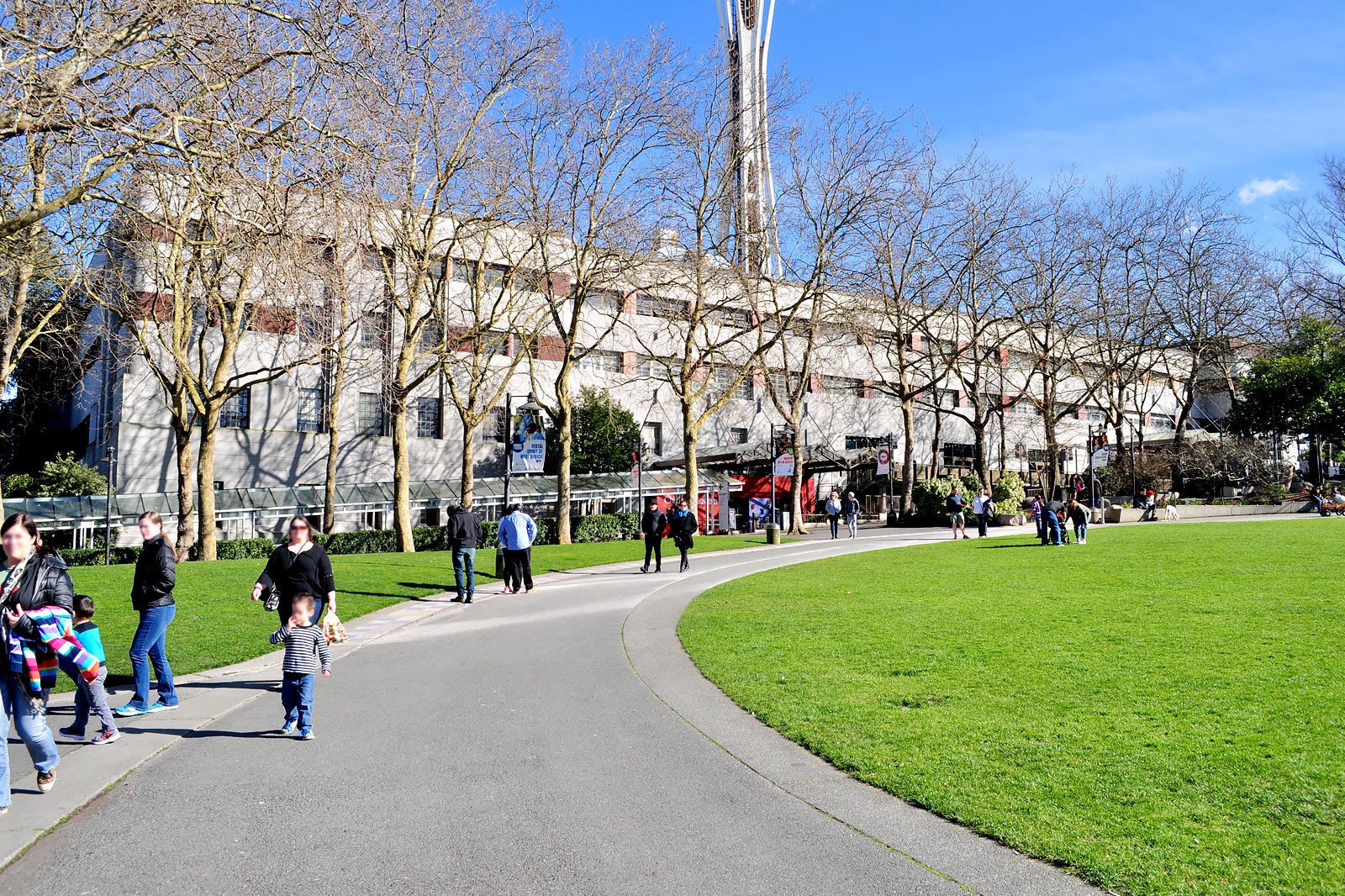 Enjoy arts and culture at the Seattle Center
A one-stop spot in Seattle for family fun
If your family trip to Seattle is short and you're sparing just a day to treat your whole family to some active fun, then the Seattle Center might just be your best bet. This 74-acre park in the Lower Queen Anne neighbourhood is filled with green spaces with pathways that lead you down to public art and installations, a large kids' playground, the Dupen Fountain that offers splashing fun times, a skate park, and a dining area that's serviced by food trucks.
Location: 305 Harrison St, Seattle, WA 98109, USA
Open: Daily from 7am to 9pm (Fridays and Saturdays until 10pm)
Phone: +1 206-684-7200
photo by Joe Mabel (CC BY-SA 4.0) modified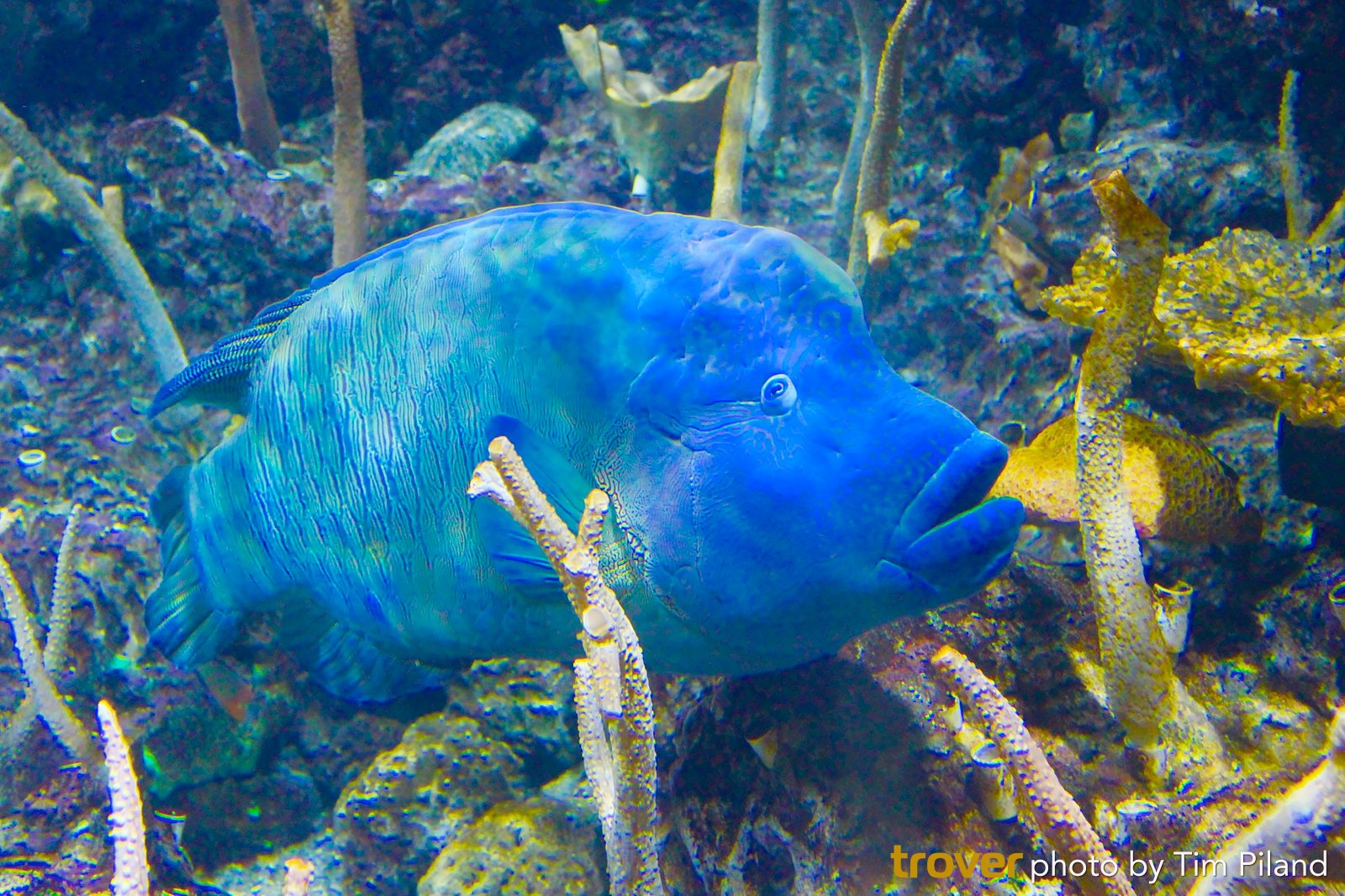 Pet a starfish at Seattle Aquarium
Various exhibits showcasing diverse aquatic life
A colourful collection of specimens awaits you at Seattle Aquarium, on Pier 59. These include Pacific coral reefs, marine mammals of the Atlantic, fishes from Puget Sound, and a touch pool where kids can get a hands-on experience petting starfish. Impressive viewing spots include a 20x40-feet window, as well as an underwater viewing dome where you can see schools of salmon, sharks, vividly coloured rockfish and large sturgeon swimming about. Tickets are around $30 for adults and $20 for kids between 4 and 12.
Location: 1483 Alaskan Way, Seattle, WA 98101, USA
Open: Daily from 9.30am to 5pm
Phone: +1 206-386-4300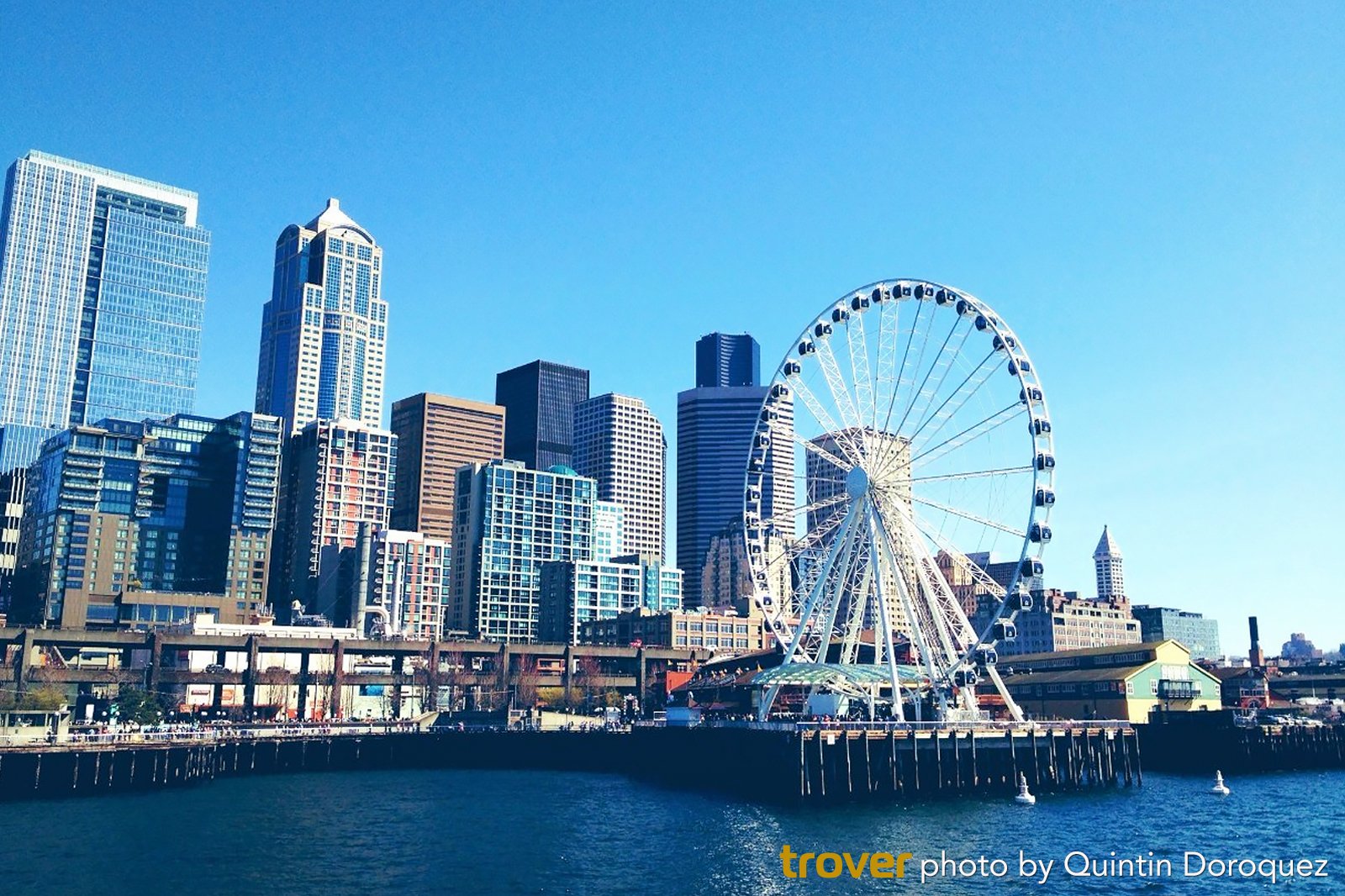 Ride the Seattle Great Wheel
For some memorable aerial sights of Seattle
Take in breathtaking sights of Seattle, Elliot Bay and Puget Sound on this 175-feet tall Ferris wheel. The Seattle Great Wheel sits at the end of Pier 57, and features gondolas that take you up for around 3 turns to enjoy bird's-eye views. Each gondola is fully enclosed, and there's a VIP option with a glass-bottomed floor for added thrills. You get impressive views on clear days, and sunset rides are also amazing with city lights. Tickets are from $14 for adults and $9 for kids between 3 and 11.
Location: 1301 Alaskan Way, Seattle, WA 98101, USA
Open: Daily from 10am to 11pm (Fridays and Saturdays until 12am)
Phone: +1 206-623-8607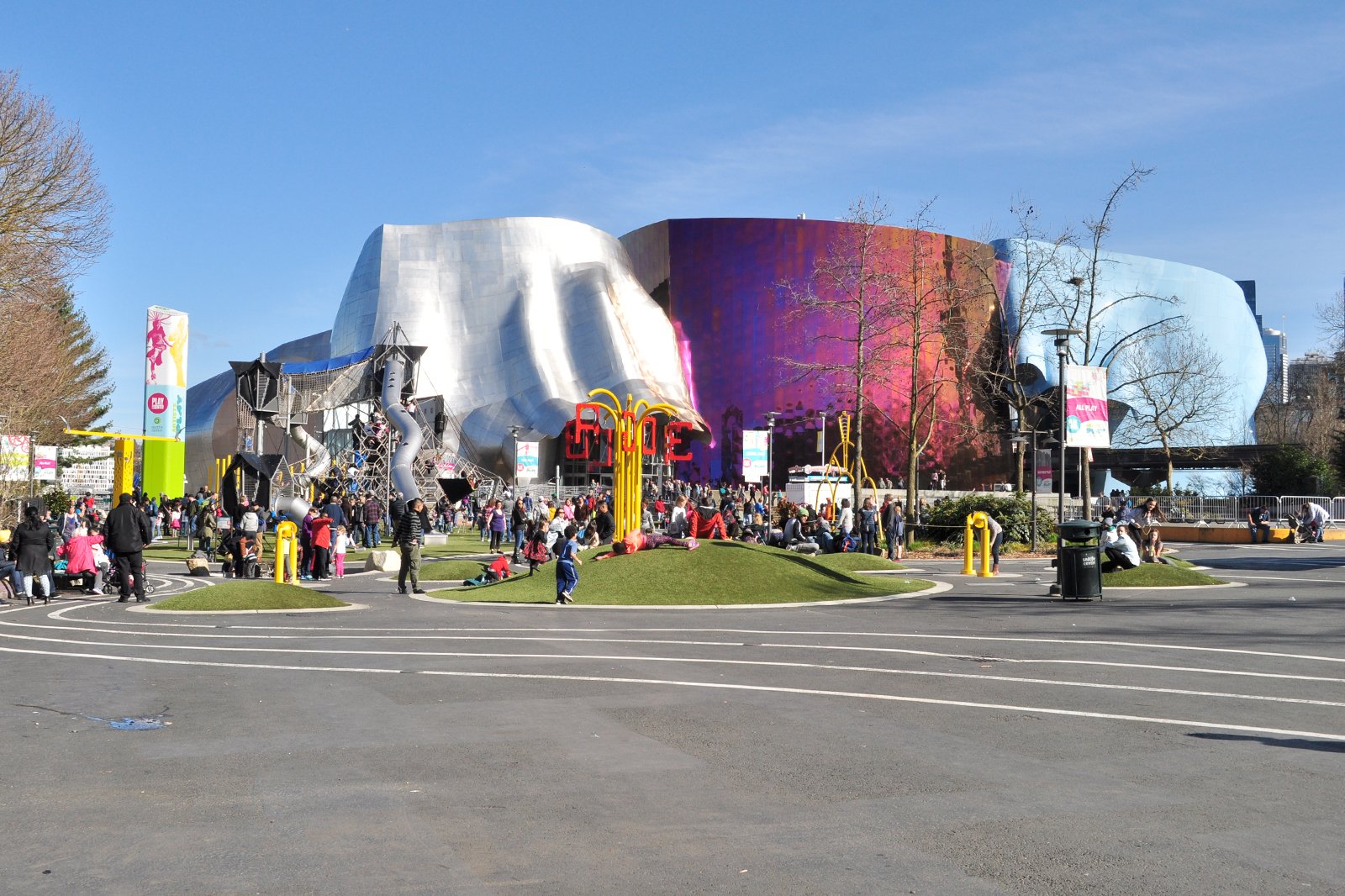 Meet Darth Vader at the Museum of Pop Culture
Legendary pop culture artefacts under one roof
Microsoft co-founder Paul Allen started the Experience Music Project at the turn of the millennium, which gave birth to the Museum of Pop Culture. This museum is dedicated to all things pop culture, ranging from music to television and film. You can get hands-on by channelling your inner DJing skills at its Sound Lab or admire the life-size models and busts of your favourite Star Wars or most recent video game characters. The museum is right next to the Space Needle.
Location: 325 5th Ave N, Seattle, WA 98109, USA
Open: Daily from 10am to 7pm
Phone: +1 206-770-2700
photo by Joe Mabel (CC BY-SA 4.0) modified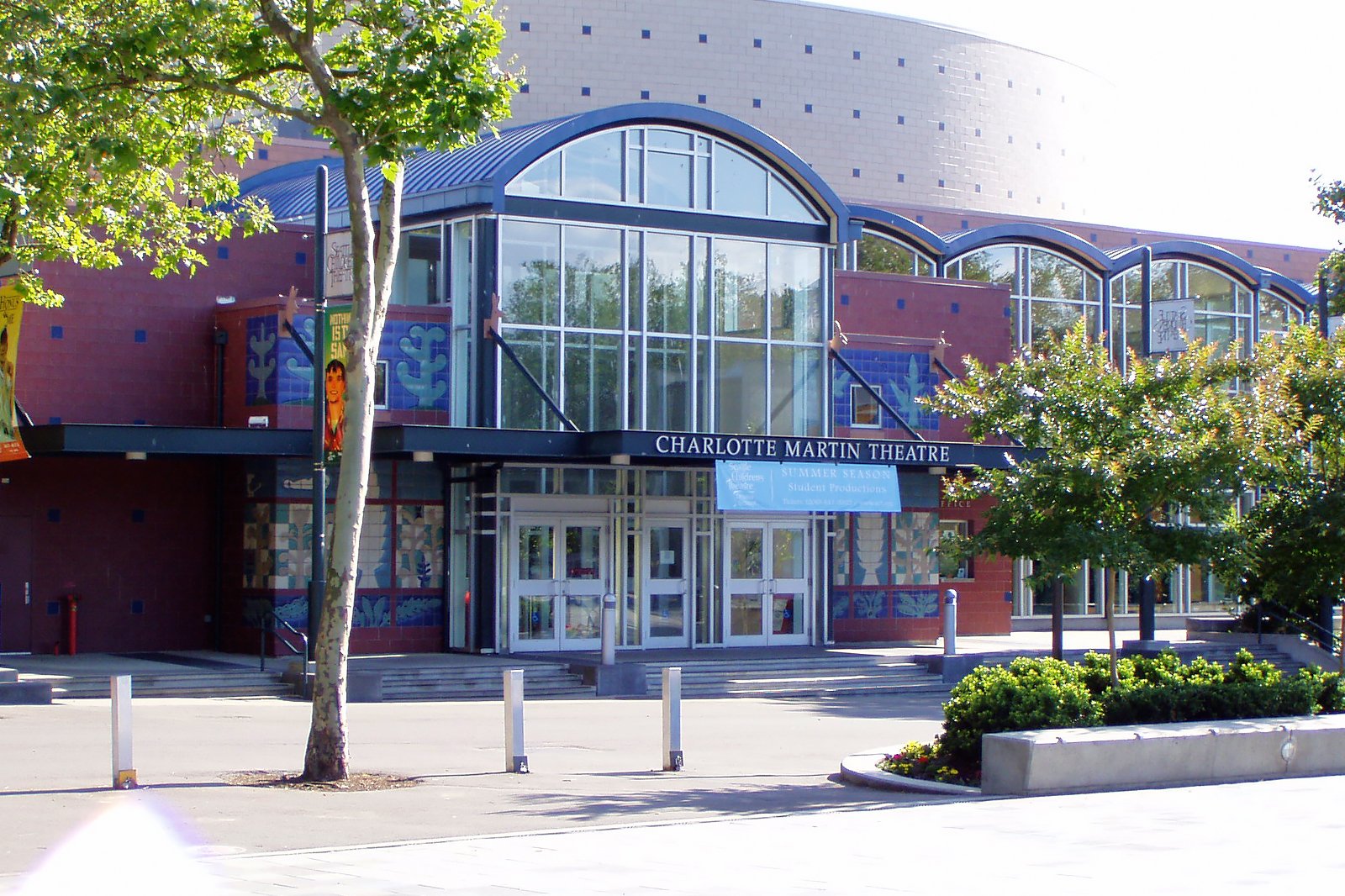 See kids' shows at Seattle Children's Theatre
A regional theatre for young audiences
Regularly showing plays in front of an audience of different ages in its 2 theatres, the Seattle Children's Theatre is a great place to be entertained and spark your kids' appreciation of the world of performing arts. Favourite kids' storybook tales such as The Very Hungry Caterpillar and The Velveteen Rabbit are brought to life on stage by an energetic cast. Tickets are from $15. The theatre is also home to a drama school, which allows for participatory theatre arts education and training by professional artists.
Location: 201 Thomas St, Seattle, WA 98109, USA
Open: Scheduled season shows mostly start around 1pm
Phone: +1 206-441-3322
photo by Seattle.gov (CC BY 2.0) modified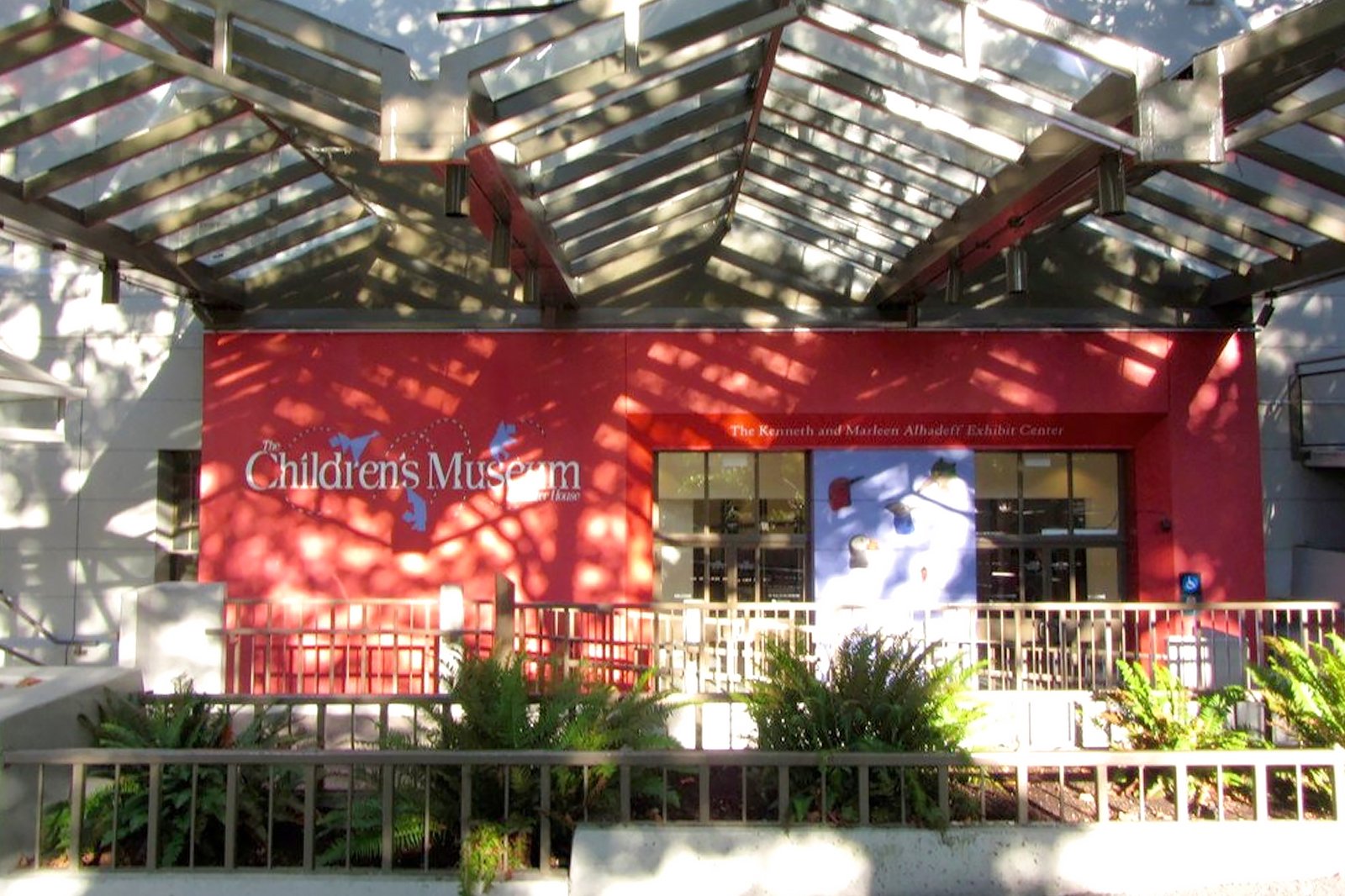 Let the kids learn at Seattle Children's Museum
Hands-on arts and cultural learning experiences
If you're a family with kids aged 10 years or under, you can enjoy a cool range of interactive arts and cultural learning exhibits at the Seattle Children's Museum. Find it in the basement area of the Seattle Center, featuring over 22,000 sq feet of exhibition space. Play areas include a Cog City where kids can explore the science behind motion with balls, magnetic gears, conveyor belts, tubes, and air flow pipes. Its Imagination Studio is a great place to let them explore their artistic skills.
Location: 305 Harrison St, Seattle, WA 98109, USA
Open: Tuesday – Sunday from 10am to 5pm (closed on Mondays)
Phone: +1 206-441-1768
photo by Richie Diesterheft (CC BY-SA 2.0) modified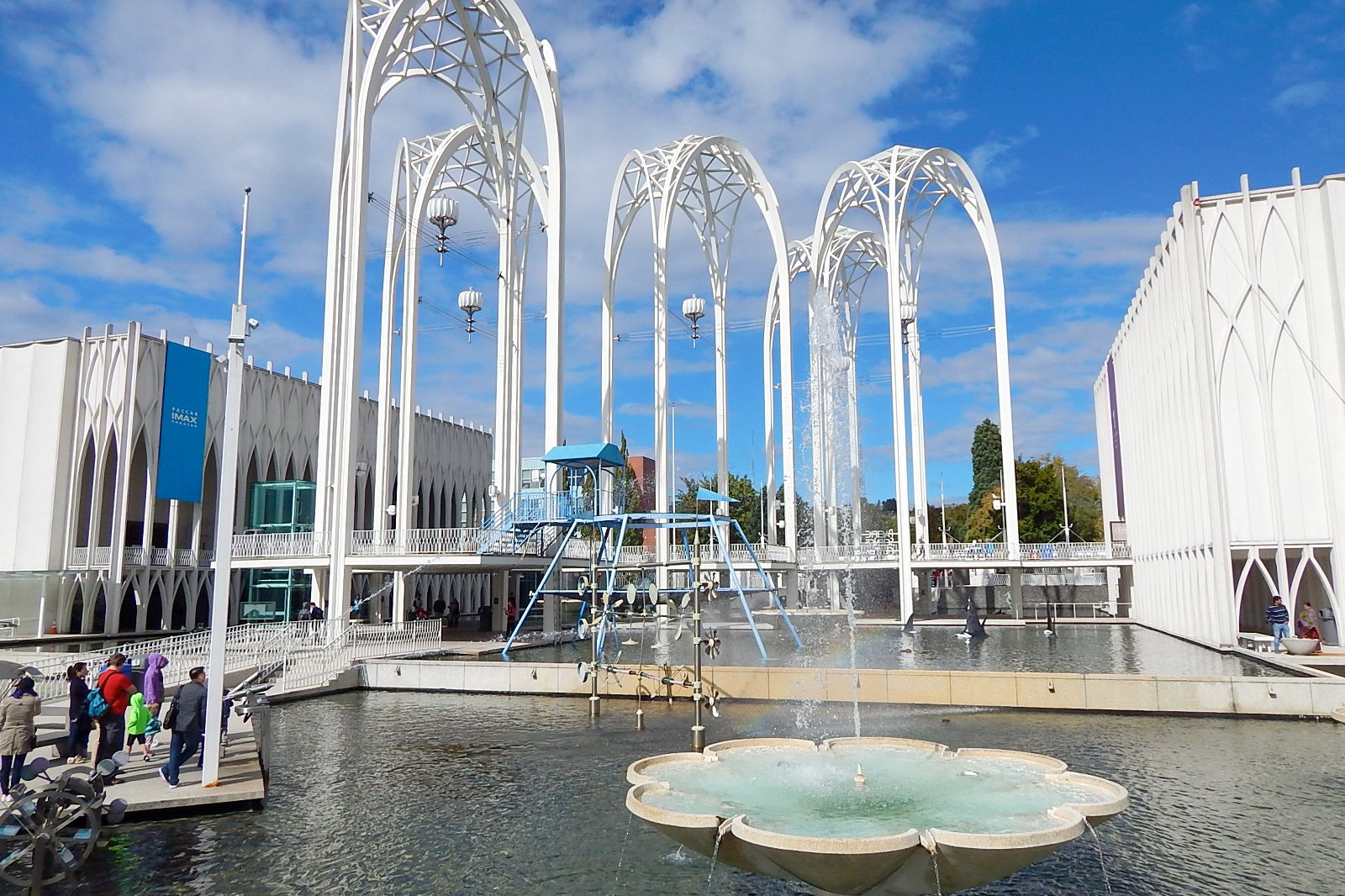 Watch IMAX movies at the Pacific Science Center
A place to ignite your kids' passion for discovery
A host of hands-on exhibits at the Pacific Science Center are designed to keep the little ones' minds and hands busy. Intriguing exhibits that even parents will admire at this independent science centre in Seattle include the virtual reality space where you can don the latest VR tech gear and immerse yourselves in a digital world. The Pacific Science Center's Willard Smith Planetarium takes you on immersive visual journeys through the solar system. You can also watch the latest and greatest documentary movies at its IMAX theatre.
Location: 200 2nd Ave N, Seattle, WA 98109, USA
Open: Daily from 10am to 6pm
Phone: +1 206-443-2001
photo by Ron Clausen (CC BY-SA 4.0) modified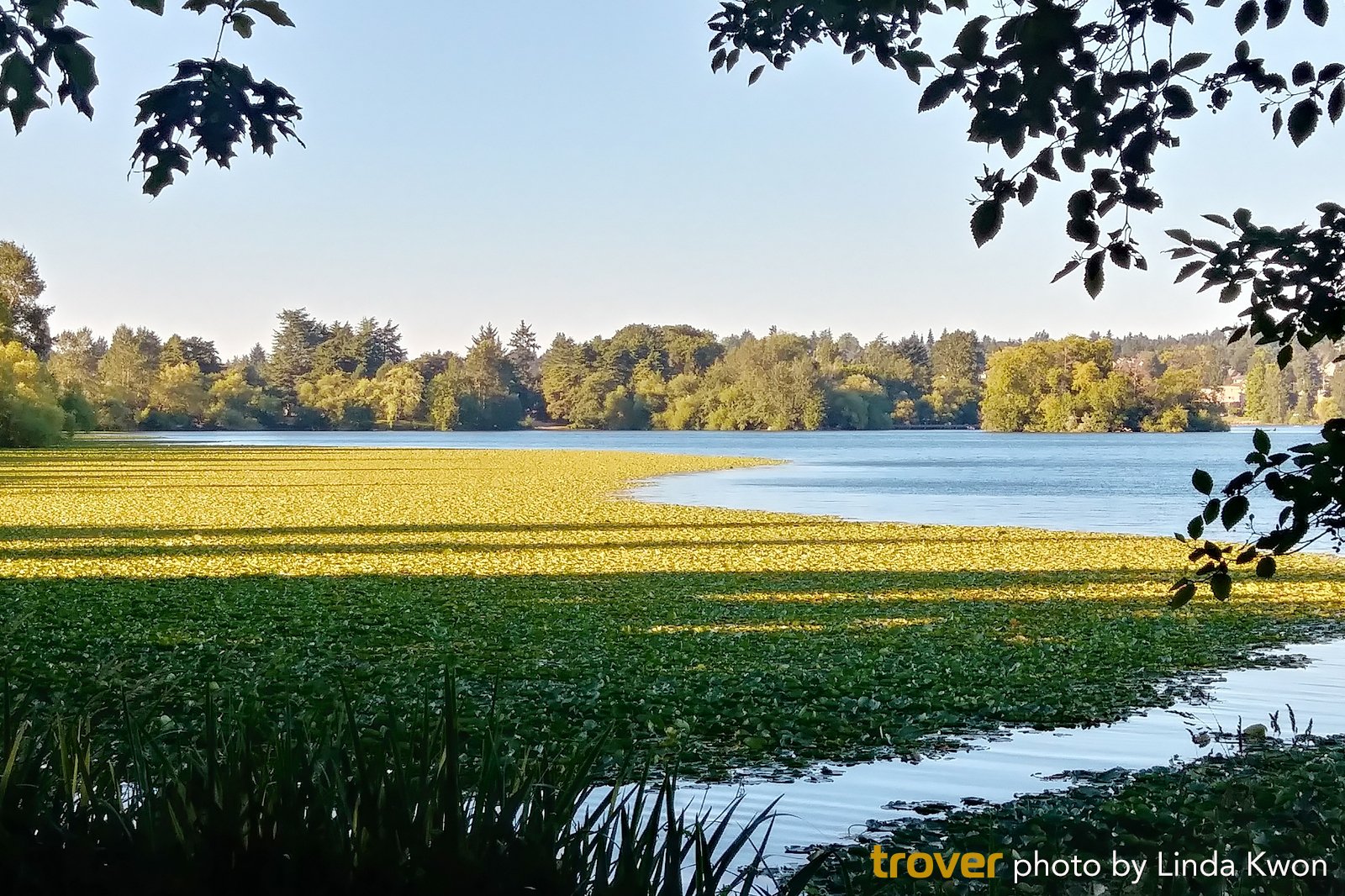 Picnic at Green Lake Park
A scenic lakeside for picnics, swimming, and playing
Seattle's Green Lake offers a great time out for the whole family, with plenty to see and do in the water and around the lakeside. There's a scenic trail for strolls around the lake, with special lanes for skaters and cyclists. The Green Lake Park on the north-eastern corner serves as the main recreational area, with spacious lawns and kids' playgrounds. You can also rent pedalboats that can seat up to 4 and make your way to the tiny mound in the lake known as Duck Island.
Location: 7201 East Green Lake Dr N, Seattle, WA 98115, USA
Phone: +1 206-684-4075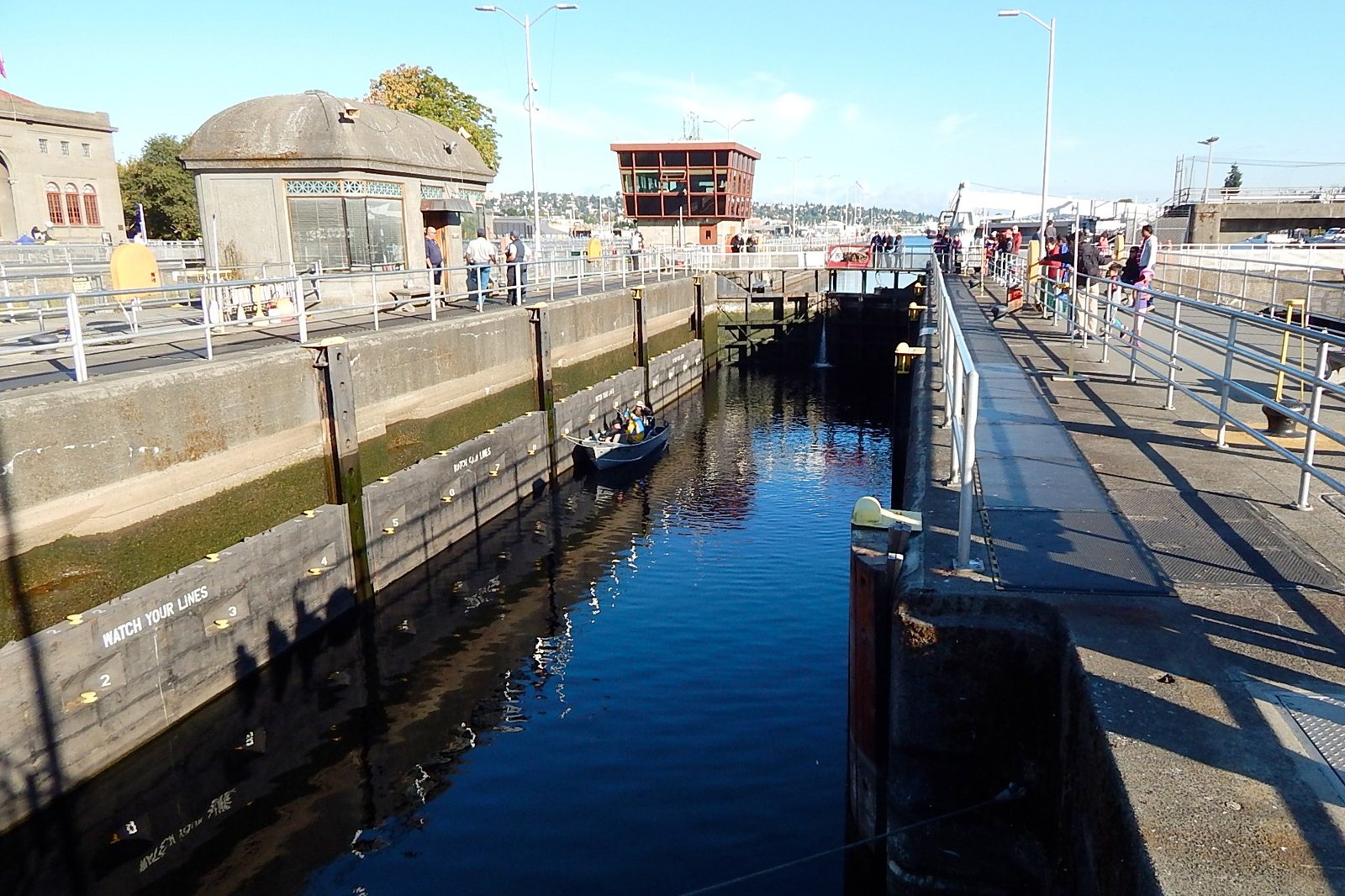 See salmon swim at the Hiram M. Chittenden Locks
Century-old fish ladder with viewing windows
If you visit Seattle around mid-June through October, you're in for a seasonal spectacle of nature. During these months, schools of salmon go on their "salmon runs', migrating by climbing up the fish ladder at the century-old Chittenden Locks in Ballard. You can reach the locks on a 15-minute drive north from downtown. Here, you can see the runs through viewing windows. You can also opt for free public scheduled walking tours that you can join from the visitor centre, which last around an hour.
Location: Ballard Locks, 3015 NW 54th St, Seattle, WA 98107, USA
Open: Daily from 7am to 9pm
Phone: +1 206-780-2500
photo by Visitor7 (CC BY-SA 4.0) modified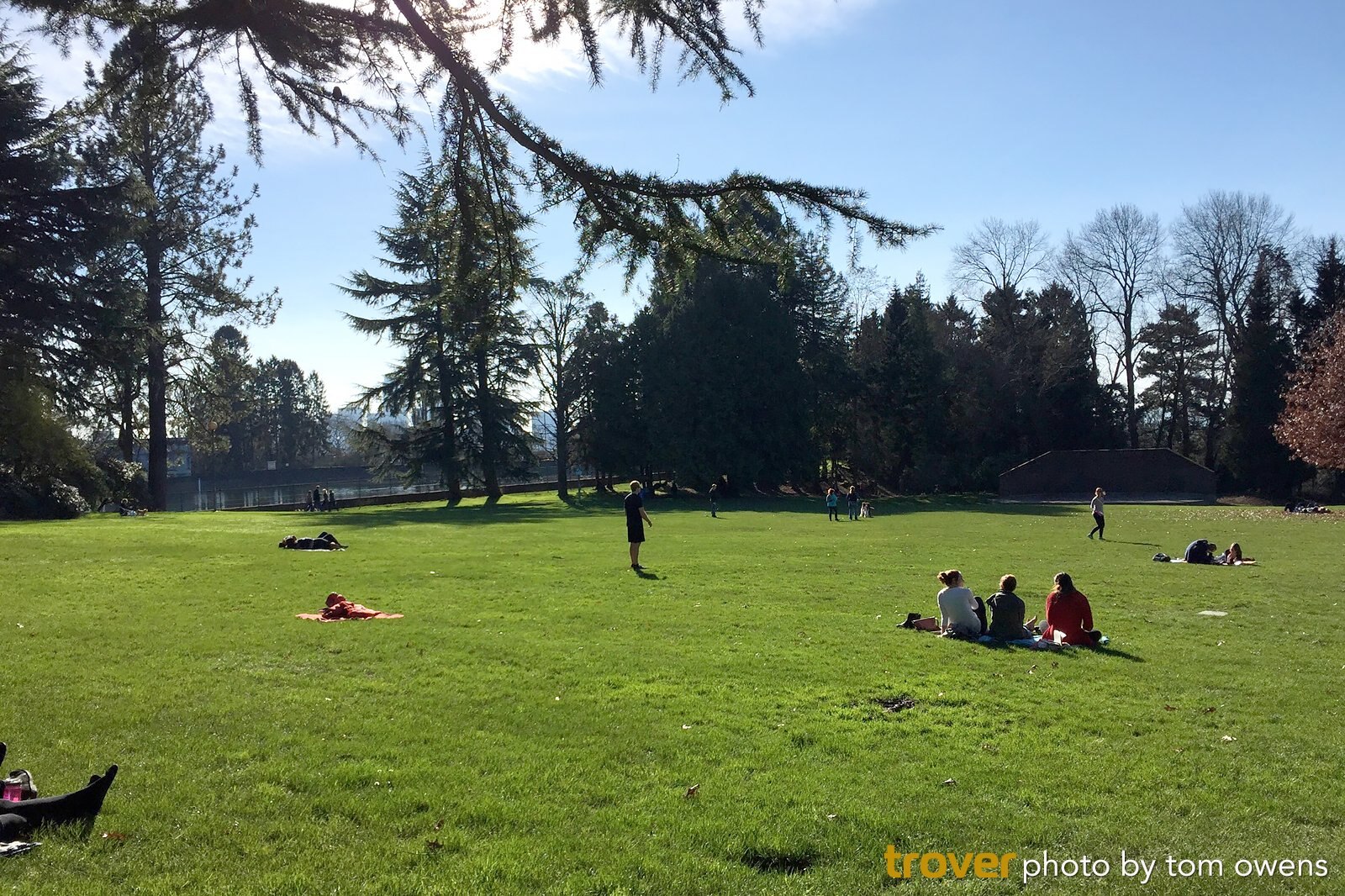 Hike and play at Volunteer Park
A verdant urban space with great city views
This park in Seattle's Capitol Hill neighbourhood covers over 48 acres, filled with recreational features fit for families. Spacious lawns are laden with picnic tables and pathways lead you past lily ponds, flower gardens, and kids' playgrounds. Climb up its water tower observation deck for impressive city views. In the summer, there's a music pavilion where gigs usually take place. From July through the early winter months, you can see usually beautiful dahlias in full bloom, overseen by the Puget Sound Dahlia Association.
Location: 1247 15th Ave E, Seattle, WA 98112, USA
Open: Daily from 6am to 10pm
Phone: +1 206-684-4075