11 Best Things to Do in New York
What is New York Most Famous For?
New York is a fast-paced city where you get to experience plenty of things to do, a variety of cultures, sightseeing spots, and activities throughout your holiday. Get your retail therapy by exploring the swanky streets of SoHo and Fifth Avenue, before catching your breath at the city's expansive urban green spaces like Central Park and Bryant Park.
If you're looking for a fun night out, the city is teeming with Broadway shows and street performances, as well as underground clubs blaring various genres of music until late. It's safe to say that this metropolitan landscape suits just about any traveller, so plan your holiday accordingly with our diverse list of things to do in New York.
What are the best things to do in New York?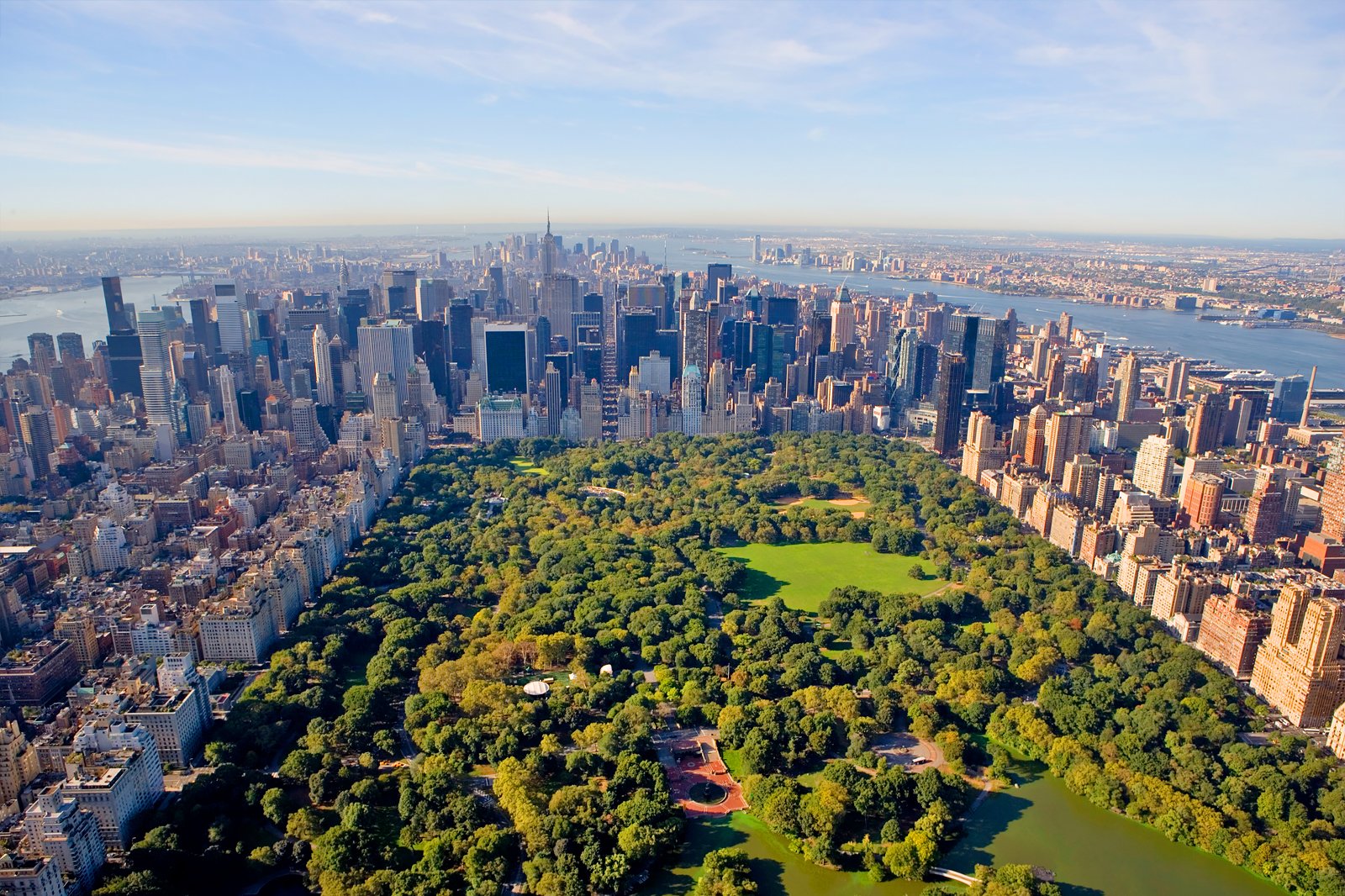 Start the day in Central Park
See the wildlife at the Central Park Zoo
Central Park, the largest green space in New York, features over 20 playgrounds, manmade lakes and ponds, as well as extensive walking tracks. It often hosts a variety of activities, exhibitions, and concerts, especially during spring and summer. Central Park has plenty of family-friendly things to do in New York – most kids will enjoy the Carousel, Central Park Zoo, the Central Park Conservatory Garden, and Belvedere Castle. It's open to the public all year round, and guided tours are available for a few dollars.
Location: New York, NY, USA
Couples
Families
Photo
Budget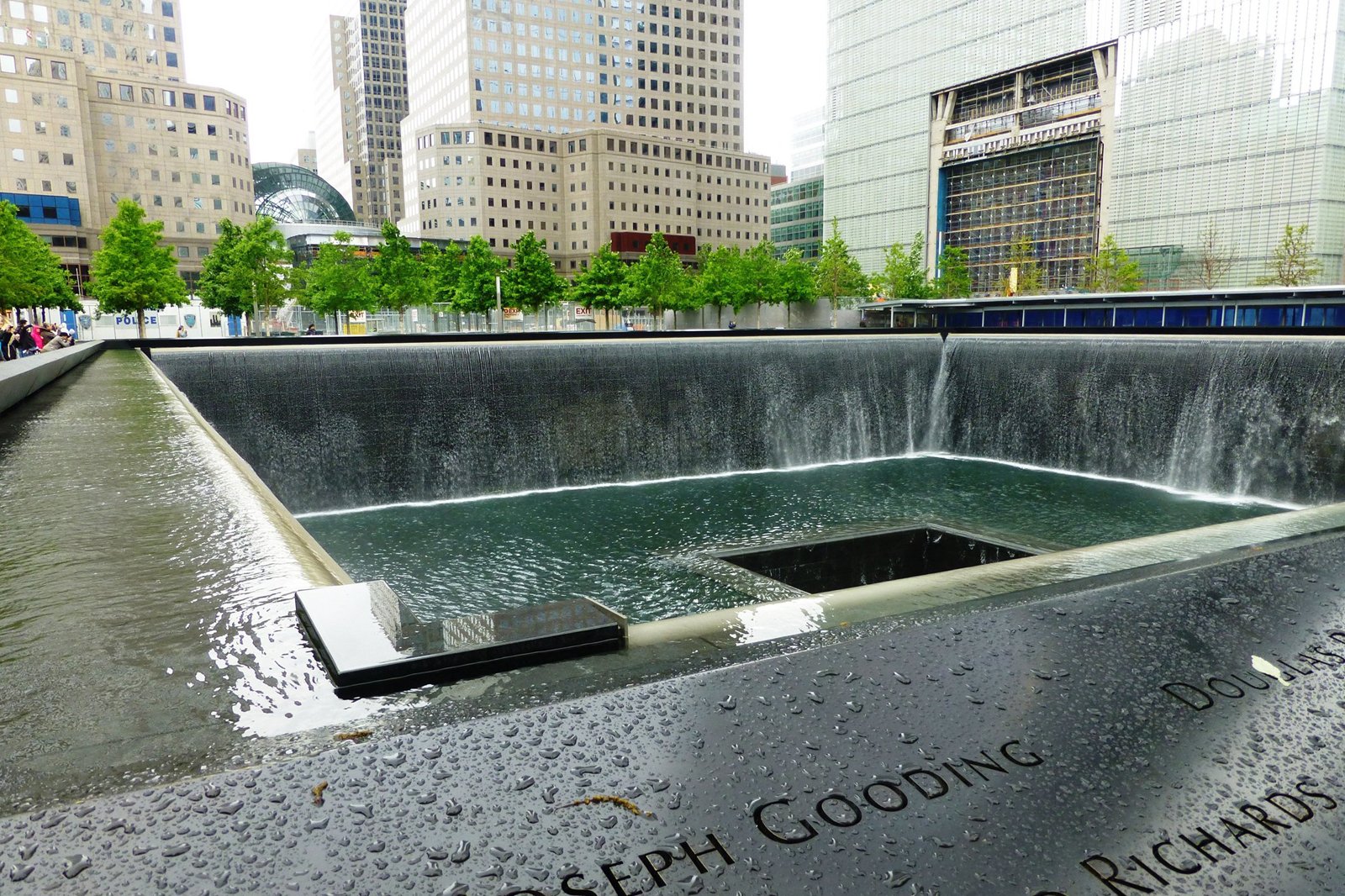 National September 11 Memorial
Join the "Understanding 9/11" Museum Tour
The National September 11 Memorial was built to commemorate those who were killed in the terror attacks of September 11, 2001. One of its most stunning features is the twin reflecting pools, which were built to symbolize the fallen Twin Towers. You can also see the names of the deceased inscribed around the bronze edges of the pools. There are 2 main exhibitions within the memorial. One showcases the past, the present, and aftermath of the event, while the other is a 270° panoramic media installation of the memorial.
Location: 180 Greenwich St, New York, NY 10007, USA
Open: Daily from 9am to 8pm
Phone: +1 212-312-8800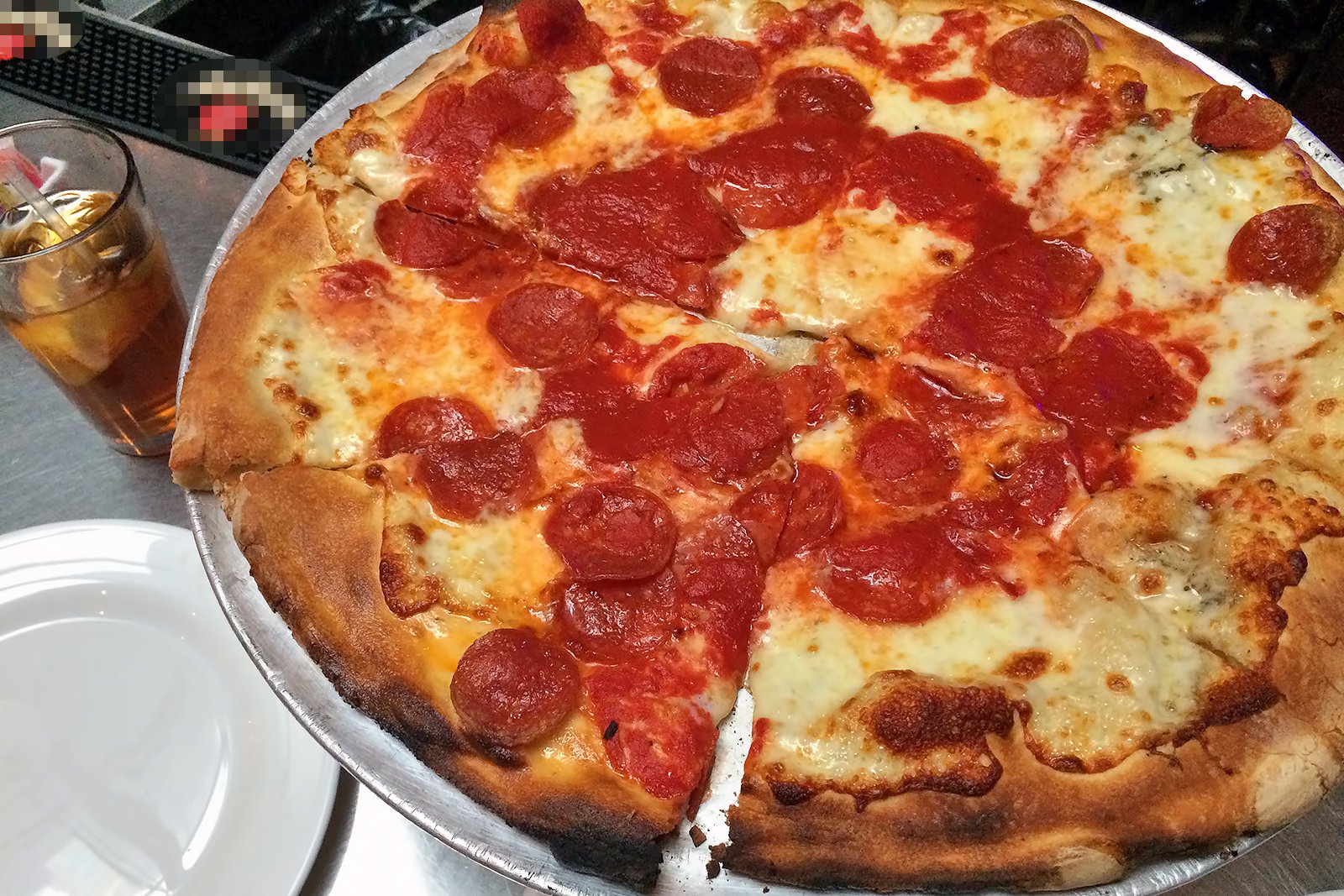 Eat pizza
Grab a slice at Joe's Pizza
It may seem strange to some, but eating pizza is actually a compulsory thing to do in New York. There's a lot of competition for the title of 'the best pizza in New York', but Joe's Pizza has been a local favourite and a strong contender since 1975. Aside from its original shop on Carmine Street, you can find many branches all over New York, including in Williamsburg, East Village, and Midtown. Best of all, it costs as little as $1 for a slice of piping hot pizza topped with tomato sauce, mozzarella, and pepperoni.
Location: 7 Carmine St, New York, NY 10014, USA
Open: Monday – Thursday and Sunday from 10am to 4am, Friday – Saturday from 10am to 5am
Phone: +1 212-366-1182
photo by Steam Pipe Trunk Distribution Venue (CC BY 2.0) modified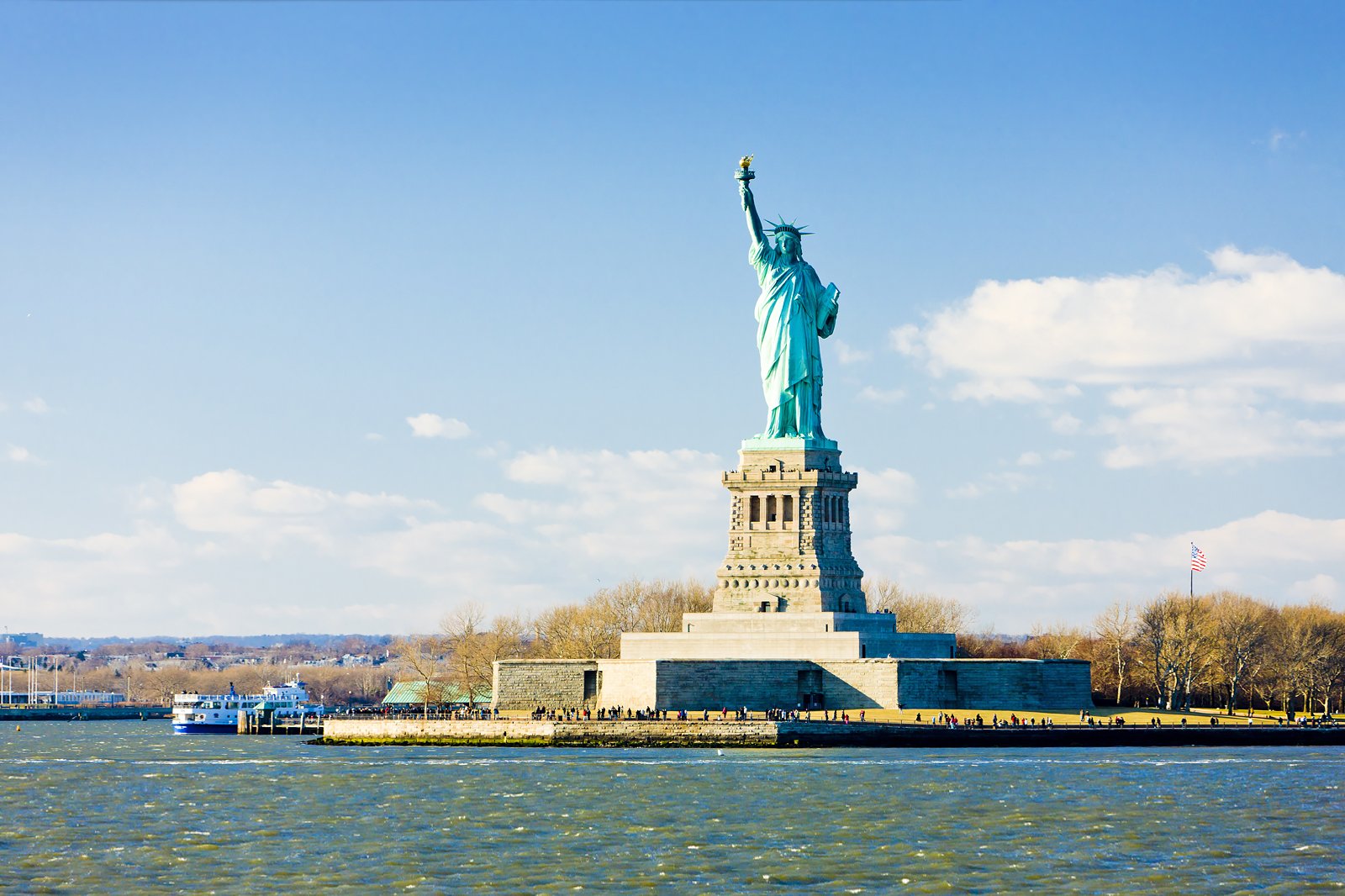 Hop on a ferry to the Statue of Liberty
Climb up to the crown
The Statue of Liberty is usually the first thing travellers spot when they're visiting New York. Dedicated in 1886, this national monument offers panoramic views of New York, New Jersey, New York Harbor, and the nearby Ellis Island. The 2nd floor of the pedestal houses an exhibition hall, where you get to learn its history through scale replicas, photographs, texts, and video footage. To get to Liberty Island, you need to buy a ferry ticket, which includes a self-guided audio tour. There's also an additional fee if you're planning to climb to the crown of the Statue of Liberty, but be sure to book in advance because it's one of the most popular things to do in New York.
Location: Liberty Island, New York, NY 10004, USA
Open: Daily from 8.30am to 4pm
Phone: +1 212-363-3200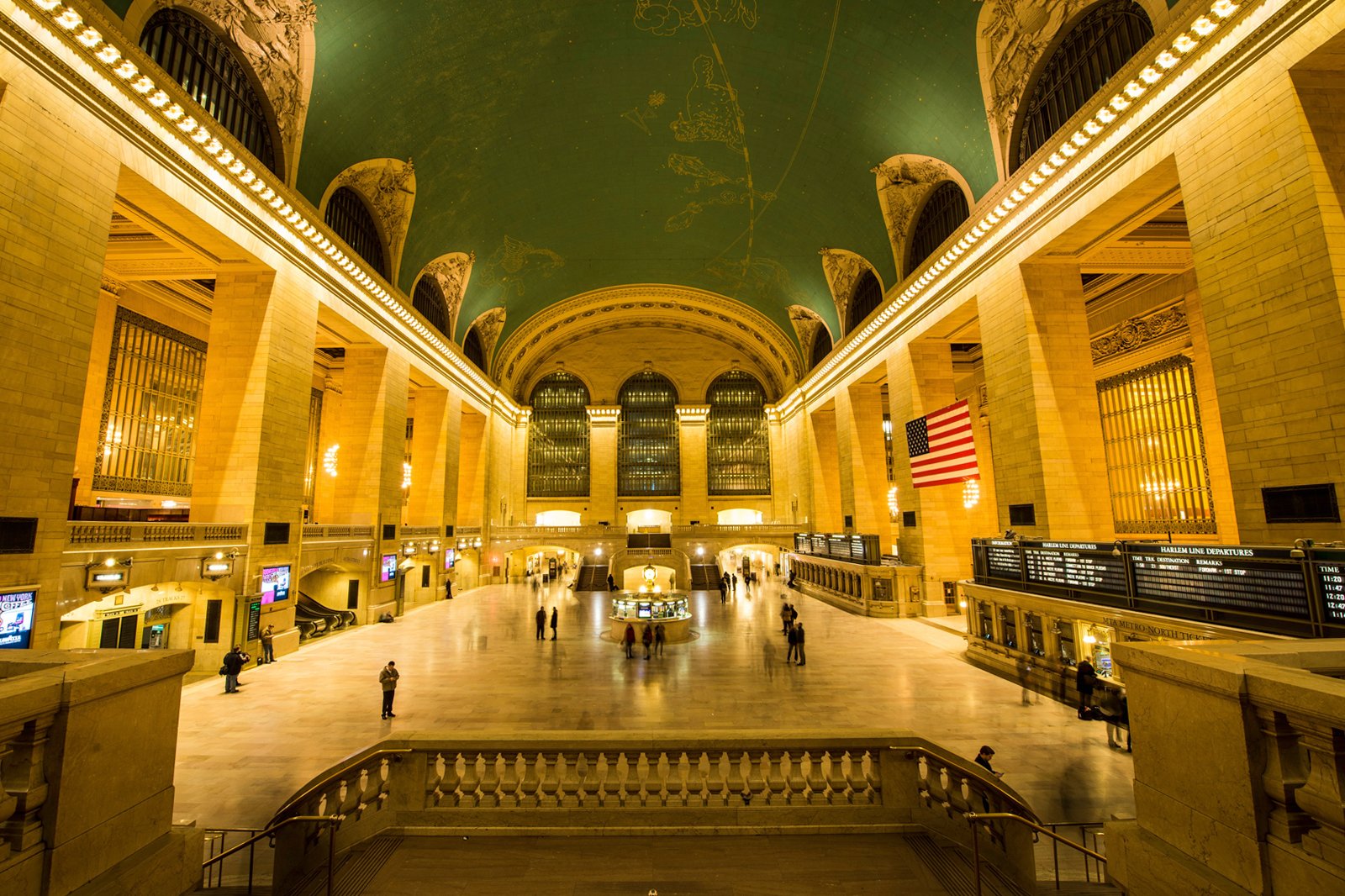 Must-See: New York Grand Central Terminal Station
See the astronomical ceiling mural in the main concourse
New York Grand Central Terminal Station is one of the city's busiest landmarks, with thousands of New Yorkers passing through it on their daily commute. Located in Midtown, its exterior features Beaux-Arts sculptures and architecture while 44 train platforms and numerous restaurants can be found within. The main concourse is always packed with commuters, but you can find iconic features like the 4-sided clock, an astronomical ceiling mural, and a gourmet food market. Even if you're not planning to catch a train, it's not hard to spend hours exploring hidden nooks within New York Grand Central Terminal Station.
Location: 89 E 42nd St, New York, NY 10017, USA
Phone: +1 212-340-2583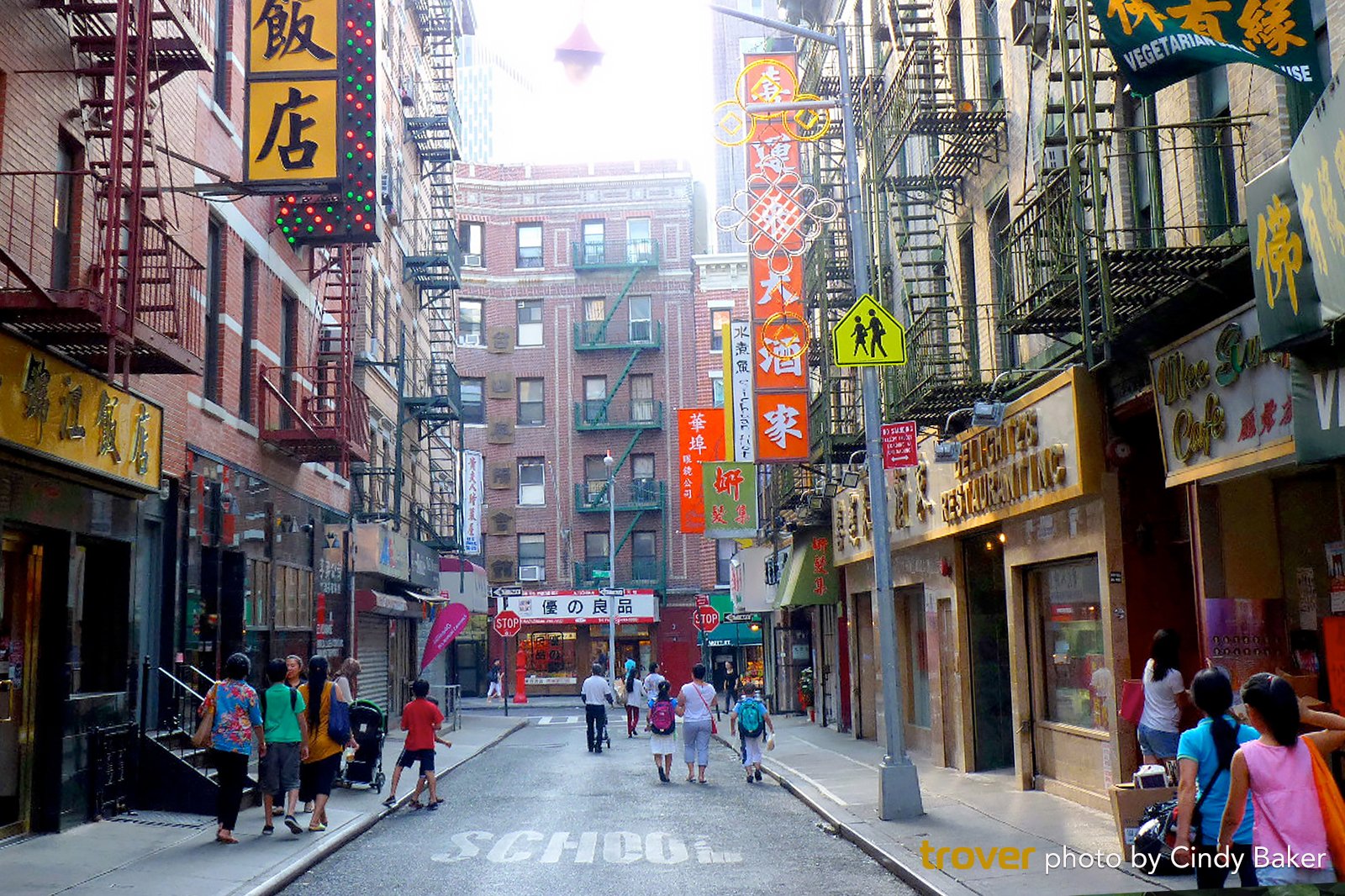 Experience Asian culture in Chinatown
Check out quirky collectibles at Mmuseumm
Chinatown is a vibrant neighbourhood in the area south of Broome Street and east of Lafayette in Lower Manhattan. One of the best things to do in New York is exploring its busy streets. You'll feel as if you're travelling to a different continent, with dozens of restaurants representing the cuisine of Southeast Asia, mainland China, and Hong Kong. If you're a fan of eclectic items, the tiny Mmuseumm exhibits quirky objects from all over the world, including counterfeit beauty products, selfie sticks, and toys left behind by immigrants.
Location: Lower Manhattan, New York, NY, USA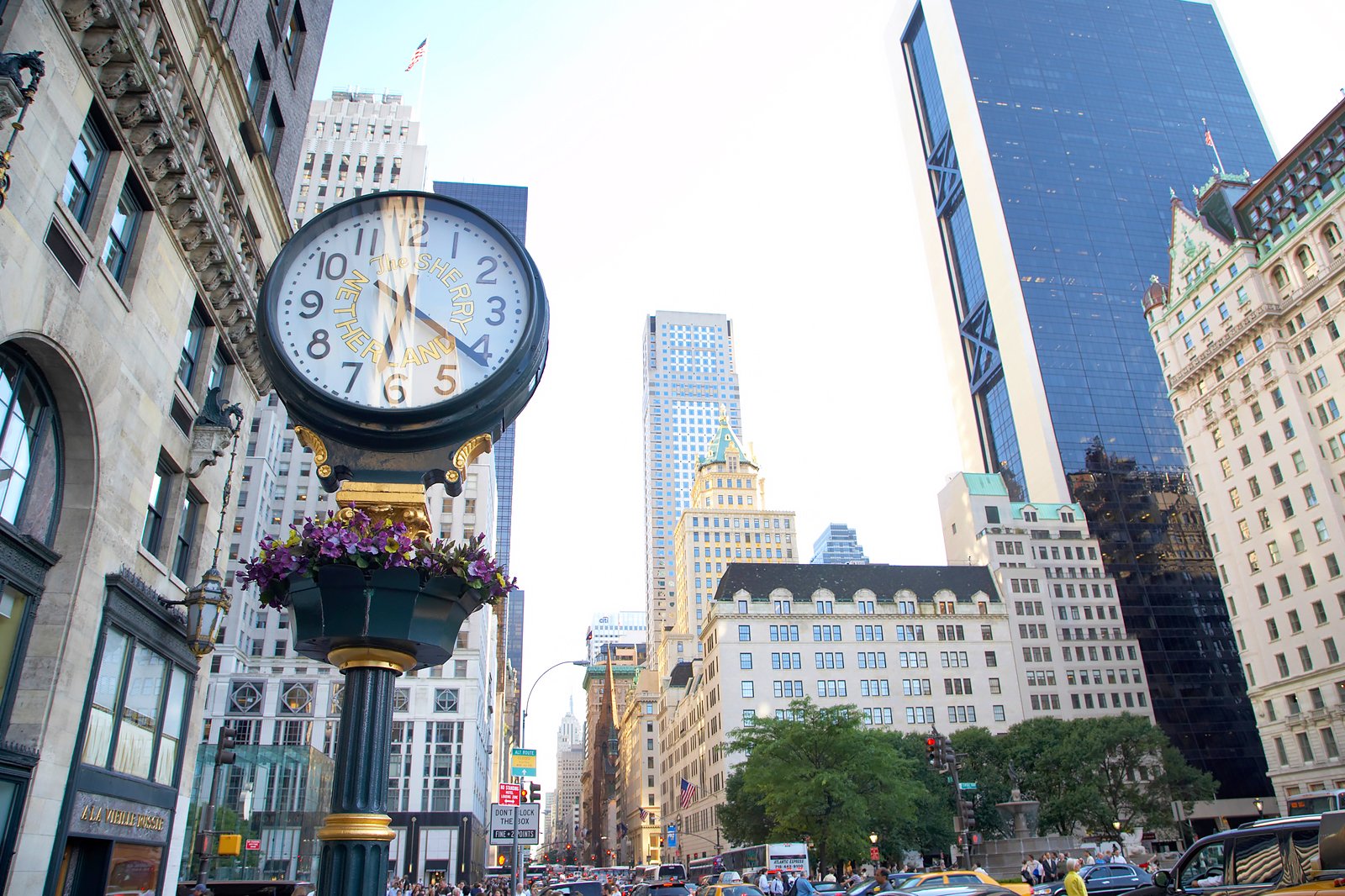 Shop on Fifth Avenue
Enjoy views of Central Park from the 4th floor of Bergdorf Goodman
Fifth Avenue is a swanky shopping street in New York's Manhattan borough. The Bergdorf Goodman department store has been attracting the rich and famous since 1928, thanks to its extravagant window displays and international brands such as Burberry, Balenciaga, and Marc Jacob. A walk between 39th and 60th Streets leads you to flagship outlets for Louis Vuitton, Henri Bendel, Armani, and Dolce & Gabbana.
Location: 5th Avenue, New York, NY 10003, USA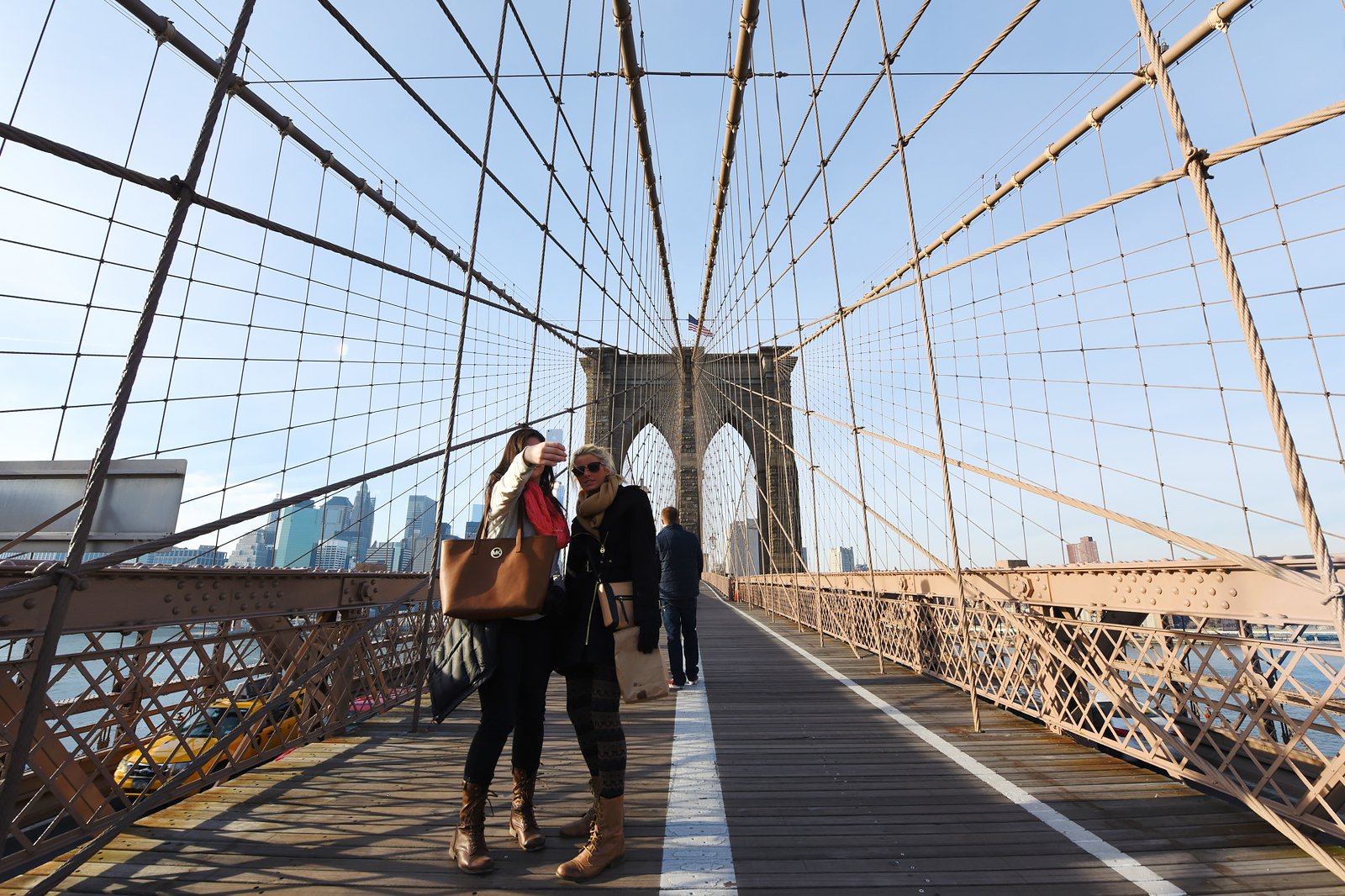 Cross the Brooklyn Bridge
Enjoy views of the East River and Governors Island
The Brooklyn Bridge spans the East River, connecting New York's Manhattan and Brooklyn boroughs. There are 2 lanes on the pedestrian pathway, one is for cyclist and the other for pedestrians. The latter gets notoriously crowded with tourists, which isn't surprising since you get to stop to take photos of the East River, Lower Manhattan, Governors Island and the Statue of Liberty. After crossing the mile-long pathway, visit the many attractions surrounding the bridge, like the Brooklyn Children's Museum and Brooklyn Bridge Park, as well as the various sports fields, playgrounds, bicycle rentals, restaurants, and piers.
Location: Brooklyn Bridge, New York, NY 10038, USA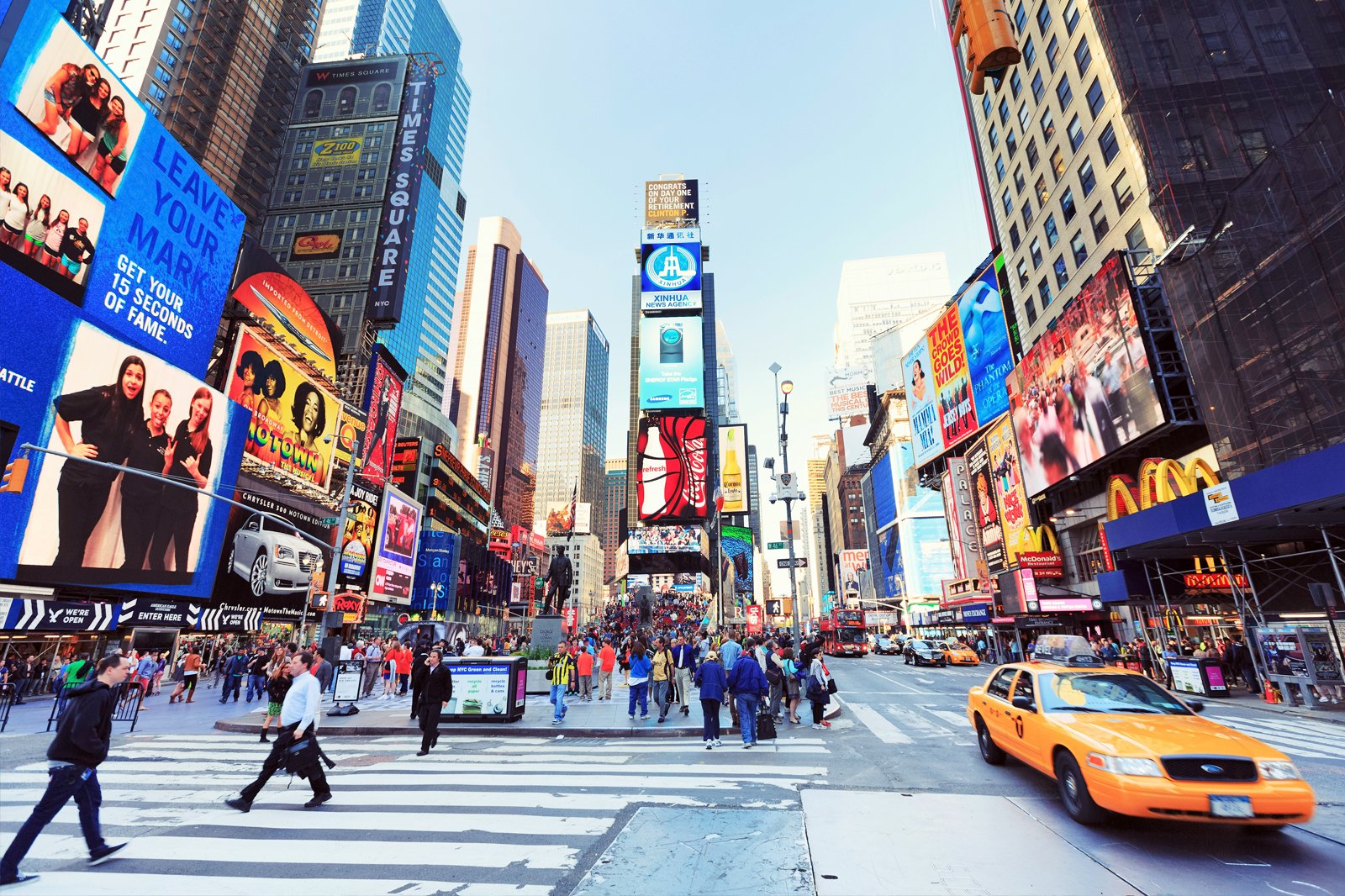 Times Square
Catch a popular Broadway production
Visiting Times Square, located in Midtown Manhattan, is one of the most popular things to do in New York. You can enjoy street performances, explore museums and galleries, as well as catch award-winning Broadway shows. One of the city's major gathering spots, this open square also offers unique attractions like Madame Tussauds Wax Museum, Ripley's Believe It or Not! Museum, and Radio City Music Hall. If you're here in late December, you get to watch star-studded concerts and the iconic New Year's Eve ball drop.
Location: Manhattan, NY 10036, USA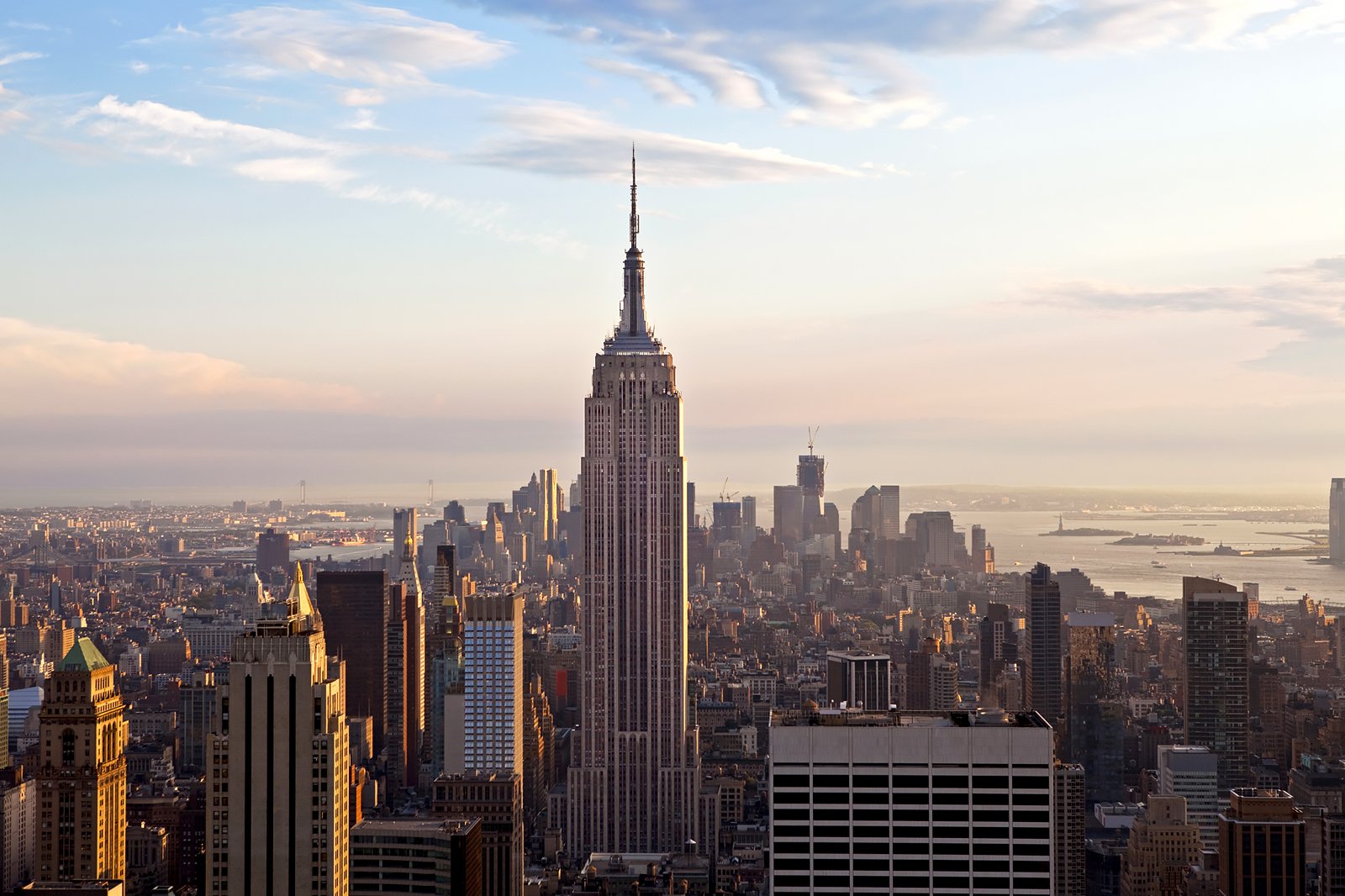 Empire State Building
Visit the observation decks for outstanding views
The Empire State Building has 2 observatories, both of which offer panoramic views of New York City and beyond. Its open-air 86th floor observation deck has been featured in many movie and television scenes. The top deck is on the 102nd floor, where you get to spot landmarks like the Statue of Liberty, Central Park, the Brooklyn Bridge, and Times Square. Aside from the observatories, the Empire State Building houses a visitor's centre and 2 exhibition spaces.
Location: 350 5th Ave, New York, NY 10118, USA
Open: Daily from 8am to 2am
Phone: +1 212-736-3100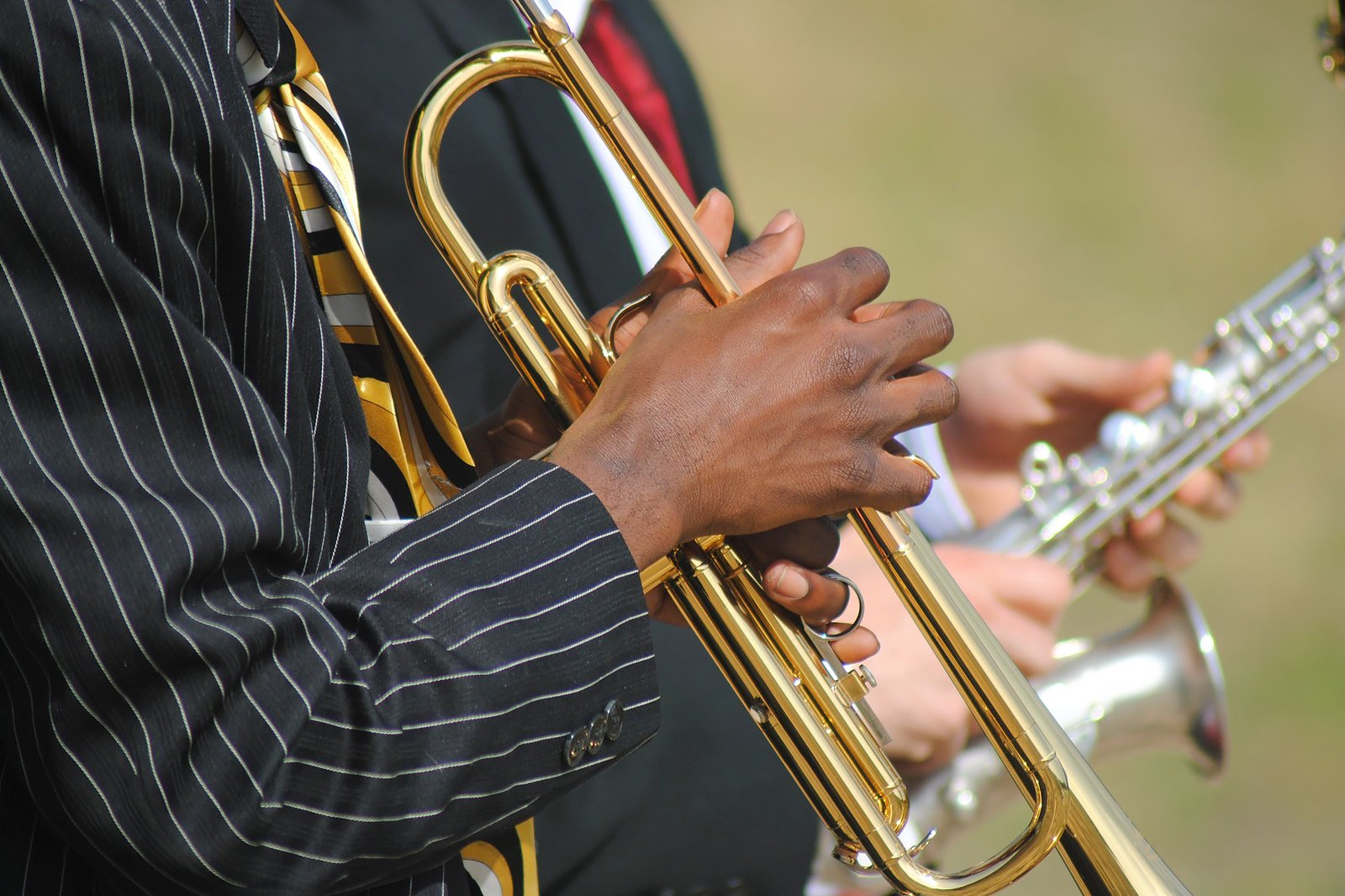 End the day watching live jazz in Harlem
Check out jazz memorabilia and films at the National Jazz Museum
Harlem is known for hosting unique things to do in New York for music lovers . This vibrant neighbourhood has an extensive collection jazz clubs (and a museum) playing swing, Latin, Bebop, and cool jazz all year round. Popular venues include Bill's Place, Minton's Playhouse, and Showman's Jazz Club, but if you want to learn more about the history of jazz, the National Jazz Museum is a must-visit. This free museum often hosts interesting exhibits, photographs, audio and film archives, as well as weekly talks and concerts.
Location: 58 W 129th St, New York, NY 10027, USA